The Loop
Golf Digest Ambush: Are You Next?
Another month--another Ambush. This will be the tenth interruption of an annual buddies trip that Golf Digest will feature in the January issue. When we started this new travel section in March, we wanted to celebrate our golf trips in the pages of the magazine, but we also wanted to celebrate your golf trips. We've now had over 1,600 entries to choose from. Keep 'em coming. And if I missed you and your group in 2008, don't hesitate to submit another itinerary in 2009.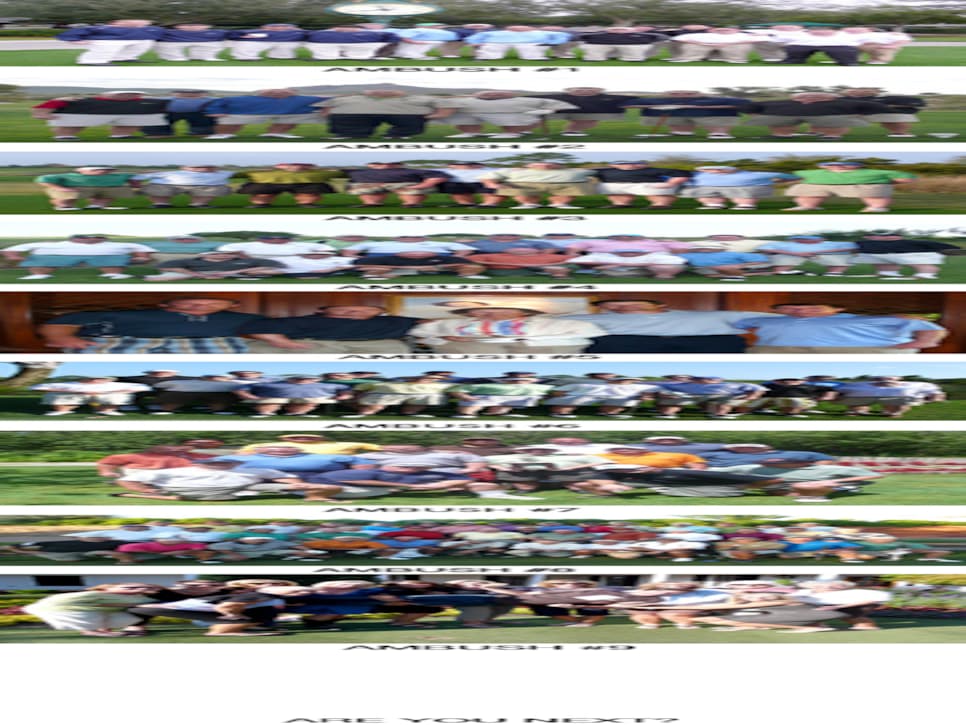 For the December issue you will read about the first group of women I Ambushed. It would be far more accurate to say they Ambushed me. They ranged in ages of 45 to 65, but as many of us do when we get around old friends, their actions fell a few years (or decades) short of what their ID would indicate. I wrote that I went to look for differences between a men's and a women's golf trip. I came back with a notebook of similarities. They are every bit as wild as any group of guys I've run into.
When I rolled up on them on their first tee it was as if I yelled, "FIRE!" You'll have to see the Ambush video to appreciate their reaction. They unveiled signs, "Welcome to Hawk's Ridge" and "We Love Matty G." They had bikini t-shirts and homemade visors that also read, "Where's Matty G?" They said that if I didn't Ambush them, they would've boxed up everything they made and shipped it to my office with a note, "You made a big mistake. You should've Ambushed us."
One story that didn't make it in the text that appears in the magazine (conveniently enough) was about a six-hole match I had against 4-handicapper, Cindy Hollingshead. We played a closeout. We set it at a $5 bet, with a $5 press. She played from the lady's tees and I played from the back tees. Even though the USGA says she is three shots better than I am, we factored in no strokes--just arms and legs, as my friends and I like to say.
I feel bad. The match was lopsided. Looking back, it was over before it started. It could hardly be considered a contest. The first bet was scored 3&2, and the two-hole press was also a rout. I got smoked! Hollingshead made a par on every hole. I signed the $10 bill for her on the porch after the round with plenty of witnesses. She said she was going to frame it with the article. Like I said, I was Ambushed.
I'm picking from the following itineraries this month. Feel free to let me know your thoughts in the comments box below.
The four finalists for the 10th Golf Digest Ambush:
From Guy Rollison of Indianapolis, IN.: Our group is unique because we have 23 guys and one gal, who is considered just "one of the guys." Our group of 24 will be arriving at Bay Watch in Myrtle Beach. We will be traveling from Indiana, Illinois, Kentucky, Florida and Arizona. Our gal is competitive and can hold her own. The biggest complaint is she hits from the lady's tees. Dah!! A couple of years ago, she had the lowest score of the trip—a 76. We have some retired guys, some police officers, some that work for the University of Kentucky and other various professions. We gamble lightly, but have a great time on and off the course. Our itinerary includes: The Wizard, Thistle (North/West), Brunswick Plantation (Magnolia/ Dogwood), Sea Trail (Maples), Sea Trail (Jones) and Man Of War.
From Jay Roberson of Birmingham, AL.:__ Matt, we're looking forward to sharing the Magic City (Golf) Classic with you. This is one of the oldest black college classics in the country, and the longest college football rivalry in the state of Alabama. (Yes, this game has been around longer than the Alabama/Auburn rivalry.) There is no classic like the Magic City Classic! Hundreds of thousands of people converge on Birmingham for an exciting weekend of football, tailgating, a parade, golf, and of course—partying. The economic impact is tremendous for the city of Birmingham at almost $30 million with hotel occupancies, restaurants filled with fans and shopping throughout the city. We would love for Golf Digest to come to Birmingham and document the Magic City Classic experience! Here's our itinerary: Friday: Golf at Oxmoor Valley. Saturday: Magic City Classic Parade in downtown Birmingham followed by tailgating at Legion Field and then the Magic City Classic Football game (Alabama A&M vs. Alabama State). Sunday: Golf at Ross Bridge (home of the Regions Classic/Champions Tour).
From Keith Lerner:__ Our 6th annual Highland Cup Golf Adventure (named after Highland Park Scotch from the Orkney Islands) will take place in Ashville, NC. We'll play: Olde Mill Golf Resort. Then we'll travel to Roanoke, VA. to play Ashley Plantation and Hanging Rock. Then we go to Pinehurst to play course numbers; 4, 2, 8 and 7. The group consists of long-time friends from Scotland, England, Azerbaijan and several who now reside in Houston TX., but hail from all over the US. We are quite a diverse group with handicaps ranging from six to 19, ages from 35 to 60 and physical builds ranging from 5'9" to 6'10". The trip begins with opening ceremonies that includes a recap of last year's event, a speech from the reigning champ and a small gift exchange, followed by verbal sparring and gamesmanship. Each round starts with a swig of 30-year old Highland Park scotch, direct from the distillery. This little tradition starts the adult beverages flowing continuously untilâ¿¿well, they never really stop. Since we were all athletes in our past (high school, college and one Olympian), the seven-day net-score competition is fierce and the winner gets his name engraved on the Highland Cup (yes, there really is a Cup). He also gets international bragging rights for the rest of the year. After a week of "full-contact" golf, the winner drinks from the Cup at every establishment we visit. We are a group that has been friends for over 15 years, and we will continue to embark and expand on this adventure as long as we are able.
From Chris Woods of Spotsylvania, VA.: The East/West Competition has been an annual event since 1979. It started with four players but now it's 24 players. It includes sons of some original members. Courses change each year but they are always great. We have been to TPC Sawgrass, PGA West, Bay Hill and Kiawah. This year we are at Primm Valley Golf Club in Nevada. Bet money collected on day one is about $300 per person. There are daily payouts for gross/net birdies and specific matches. We've stayed up until 3 a.m. figuring out side-bets. Bar tabs are all combined and divided up equally. It's a great deal for double malted scotch drinkers, not so good for beer drinkers. Especially bad for non-drinkers. Here are a few funny East/West stories: Butch tying and dragging his putter behind his golf cart to "Teach it a lesson." Bill gets 58 stitches in his head from a morning golf cart accident and returns to play in the afternoon round. East/West is all about good friends, good competition, integrity, and love for the game of golf.
Click here to send us your itinerary. You and your crew might be next.
Oh, and Cindy--I demand a rematch!