From the Magazine
How golf courses can renovate at a reasonable cost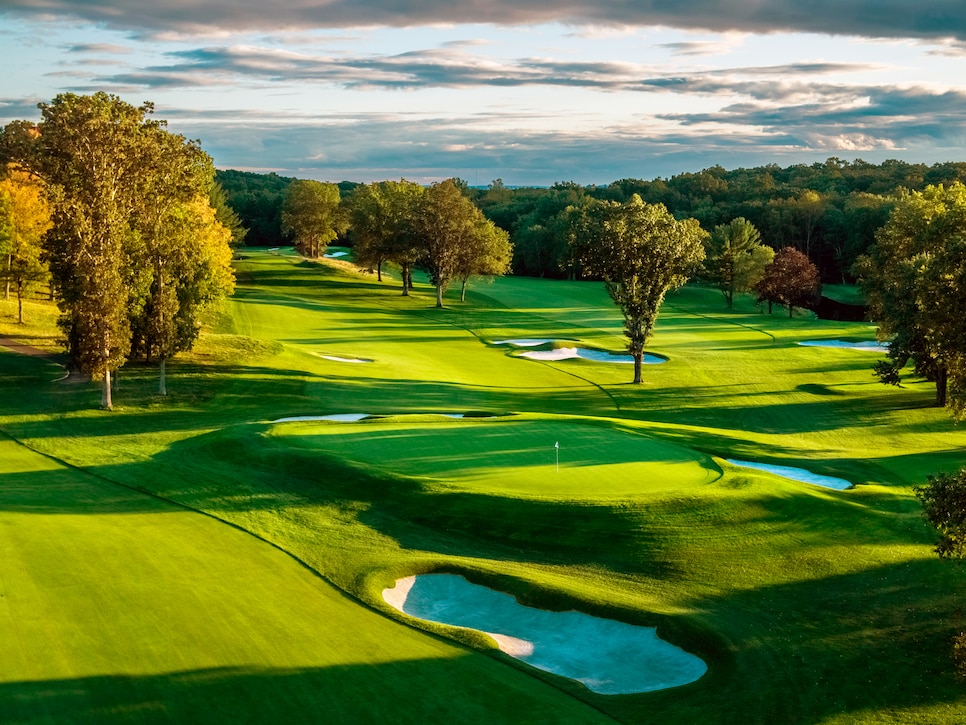 CLEAN CUT A refreshed Woodway Country Club in Connecticut. Photograph by Evan Schiller
One of the biggest architectural stories of 2021 was the substantial renovation of three former U.S. Open and PGA Championship venues: Baltusrol's Lower Course, Congressional's Blue Course and Oakland Hills' South Course. For clubs with a pedigree for hosting major championships, this is something that happens every 10 or 15 years as they examine what's necessary to keep their courses relevant as tournament sites and attractive to the governing bodies that parcel out assignments.
These days, the transformation that courses must go through for the USGA and PGA of America to deem them capable of hosting their events usually includes building new championship tees, shifting and rebuilding bunkers and installing innovative grasses and irrigation systems. The host organizations, working to coordinate pristine yet demanding setups and fearful of losing tournament days to weather events, might also insist that the clubs invest in multimillion-dollar SubAir or PrecisionAire systems as a condition of being awarded an event. The total bill can amount to $10 to $15 million or more, often surpassing the price of building a course from scratch. It's all part of the rising cost of doing major-championship business, and Merion, Winged Foot, Oak Hill, Inverness and Southern Hills have all undertaken similar programs.
As profound—and needed—as some of these changes have been from a historical and architectural standpoint, the extreme makeovers can nevertheless skewer the standard of what is necessary for a successful renovation. It's tempting for peer clubs and other courses down the economic scale to look at these prestige renovations and be compelled to keep pace and deliver similarly divine playing conditions. But in most places dramatic course improvements can be delivered at a fraction of the cost, if undertaken wisely.
"A lot of clubs feel like everyone is doing it, so we might as well do it," says Bruce Hepner, a veteran renovation specialist for the past 30 years who recently completed work at Woodway Country Club in Connecticut, The Country Club of Pittsfield and The Club at New Seabury in Massachusetts, and Broadmoor Country Club in Indiana. Most, however, would fare better by not emulating the upper echelon of tournament courses and instead focusing on addressing smaller projects that deliver more return on investment.
"My advice is usually, let's fix the cheap stuff first," he says. "Let's fix the mowing lines and the trees. Because that's where the golf is—that's the corridor. That's the playing ground." By opening up the course and widening fairways—easy fixes—clubs get back their most precious commodity: space.
Kyle Franz, who last fall completed a comprehensive yet cost-effective restoration of the public Southern Pines course in North Carolina near Pinehurst, an evocative follow-up to his 2020 remodel of Raleigh Country Club, concurs. "One of the best ways golf courses can improve is just through tree removal. It's a simple first step." A second step is avoiding unnecessary expenditures. An expensive tendency is the desire to add length, and new tees can necessitate new cartpaths and extended irrigation and drainage. Another is for clubs or superintendents to want to jump directly into a major greens renovation. Unless the greens are absolutely failing, a solution that's often just as effective is perimeter expansion to reclaim lost surface area because of maintenance. "You don't have to tear every inch of a green apart and turn it into a USGA green," Franz says, referring to the construction of subgrade layers of gravel, drainage and root-zone mix. "If the situation is right, we actually try to talk clubs out of going the USGA route to save them the money."
Beverly Country Club in Chicago, for instance, wrapped up a restoration last year by Tyler Rae, who occasionally partners with Franz on projects. The work, which focused primarily on pushing out green edges, widening fairways and reworking bunkers, yielded dramatic results and cost less than $2.5 million, a significant sum but still four or five times less than the work being done at the highest end of the sport. Beverly finished seventh out of three dozen courses reviewed for the 2021 Golf Digest Best New Renovation award.
Golfers and memberships can feel pressured to add costly features to their courses that aren't necessary or don't change the way the game is played, like new USGA greens, expensive bunker liners and imported crushed quartz for sand. Paying too close attention to what the neighbors are doing, Hepner says, is the biggest trap. Clubs almost always fare better and spend less by sticking to a fundamental question: Does a change make playing more enjoyable?
"It's ultimately about improving the game of golf on their courses," he says. "The $15-million renovations are improving the course for a U.S. Open, but they're not necessarily improving the course for their members. These more modest projects are making the game better and at a reasonable price."