News
The Train Wrecks We Can't Help But Watch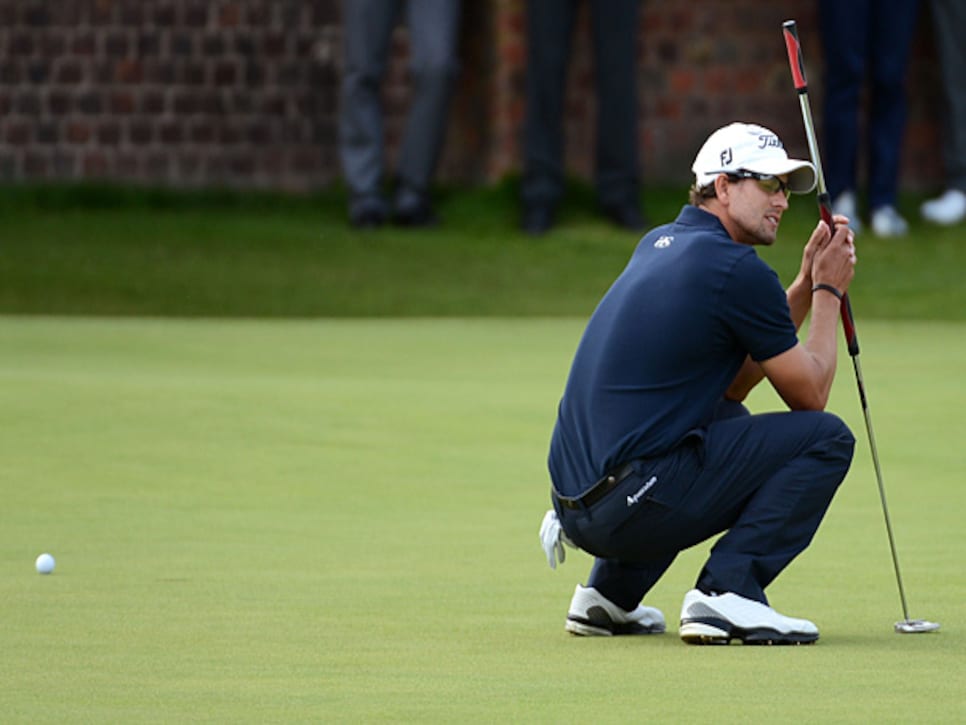 Adam Scott is the latest golfer to give away a major. He won't be the last.
There is no lonelier place in all of sports when the wheels come off than on a golf course. There is simply no place to hide. You can't play defense and the coach can't bring in a replacement. You just have to hit the next shot, as much as you might not want to. And there is no other sport in which a collapse by an accomplished athlete is allowed to be as complete -- and as completely embarrassing -- as it is in golf.
Battered pitchers are taken out of baseball games after giving up a ton of runs. A basketball shooter tossing bricks is replaced after missing a bunch of shots. A cornerback getting burned on coverage in a football game gets to watch the rest of the contest from the bench. Even a tennis player or a boxer has the relief of a mercifully early exit -- a straight sets defeat or an early knockout.
When Carsten Arriens lost to Greg Rusedski 6-0, 6-0 in the 1996 Sydney International tennis tournament the dismantling took only 29 minutes. When Greg Norman blew a six-stroke lead to Nick Faldo and shot 78 in the final round of the Masters that same year, the humiliation lasted more than four hours as much of the world watched on television. Norman had no place to hide and could not leave early.
This has been a year of some fascinating collapses on the PGA Tour, as only 10 of 33 third-round leaders have hoisted the champion's trophy on Sunday. Kyle Stanley kicked away a three-stroke lead on the final hole of the Farmer's Insurance Open, then astonishingly won the next week in Phoenix. Adam Scott closed with four bogeys at the British Open to hand the silver claret jug to Ernie Els at Royal Lytham.
And just this past Sunday at the WGC-Bridgestone Invitational in Akron, Ohio, Jim Furyk made a double bogey on the last hole when a par would have won it and a mere bogey would have gotten him into a playoff with winner Keegan Bradley. It was difficult to watch and it was compelling. It is a large part of why we love golf.
"I led the golf tournament the entire way and lost it on the very last hole," Furyk said at Firestone CC. "To get that close and to know that I played more than good enough to win the golf tournament, and not close the door, is disappointing. It is a cruel game. I've lost some tournaments in some pretty poor fashions, but I don't think I've let one ever slip nearly as bad as this one. This was my worst effort to finish off an event."
For Furyk, it was a cruel replay from just a few weeks earlier, when he was tied for the lead at the U.S. Open at the Olympic Club and hit a horrible hook on No. 16 and made bogey on the par 5 to lose his chance to win. Webb Simpson, who finished about an hour earlier, won the title while Furyk finished two strokes back.
Since golf is a game that examines not only the physical skills of a person but the heart and soul as well, these collapses, which fairly or unfairly are handed the label "choke" are part of what makes the game such a compelling spectator sport. There is no sport that examines the character of a person as completely as golf.
From Sam Snead in the 1939 U.S. Open, when he closed with a triple bogey, to Arnold Palmer in the 1966 U.S Open, when he blew a seven-stroke lead over Billy Casper on the back nine, to Norman and Jean Van de Velde at Carnoustie, who tripled bogeyed the last hole in the British Open, and the recent collapses, golf is a game that completely exposes the essence of a person.
When we get to Sunday at Kiawah Island in the PGA Championship, the chances are good the tournament will be lost and not won. There is no Tiger Woods or Jack Nicklaus out there now, or even a Nick Faldo, the kind of guys who know how to close out a major and win it.
The 17 majors played since Woods won his last major at the 2008 U.S. Open at Torrey Pines have been won by 16 different players, with the last 16 captured by 16 different players. Only Padraig Harrington, who won the British Open and PGA in 2008, has two majors since the demise of Woods.
So we go into this PGA Championship with the field as wide open as possible. Simply put, there is no best player in the world, unless it is Woods, who has won three times but has been a disappointment in the majors. Bubba Watson won the Masters, Webb Simpson the U.S. Open and Ernie Els the British Open, but none of them feel like the favorite this week.
The most satisfying victories are those that are won and not received as gifts -- like when Tiger won by 15 strokes in the 2000 U.S Open at Pebble Beach. But even gifts have a value in golf, like when Jack Nicklaus won the 1986 Masters -- the last of his record 18 major professional titles -- after Tom Kite, Greg Norman, Seve Ballesteros and Nick Price all kicked away the title. The memory is that Jack won, not that the others lost.
One of the most compelling things about competitive golf is that the losses are almost as fascinating as the wins. Snead in the U.S. Open several times, Palmer in the PGA, Norman, Van de Velde, Scott and Furyk. This is why we love this game, and that's what makes guys like Hogan, Nicklaus and Woods so special. Every other sport is reactive, but the golf swing begins from a stationary position -- a graceful motion erupting from a static stance.
And that transition from inaction to action is why choking is such a big part of the game of golf. We all get used to the room we are in. It is the entries and exits that are difficult. Golf is all about making those transitions.
And that is why golf is the best examination of an athlete in all of sport. And that is why we see failure more often than we see triumph. Choking is not failure as much as it is inevitable. Golf, on any level, shows us who we are.