News
Golf Channel analysts agree that Rory McIlroy, with Grand Slam within reach, not 'immune from pressure'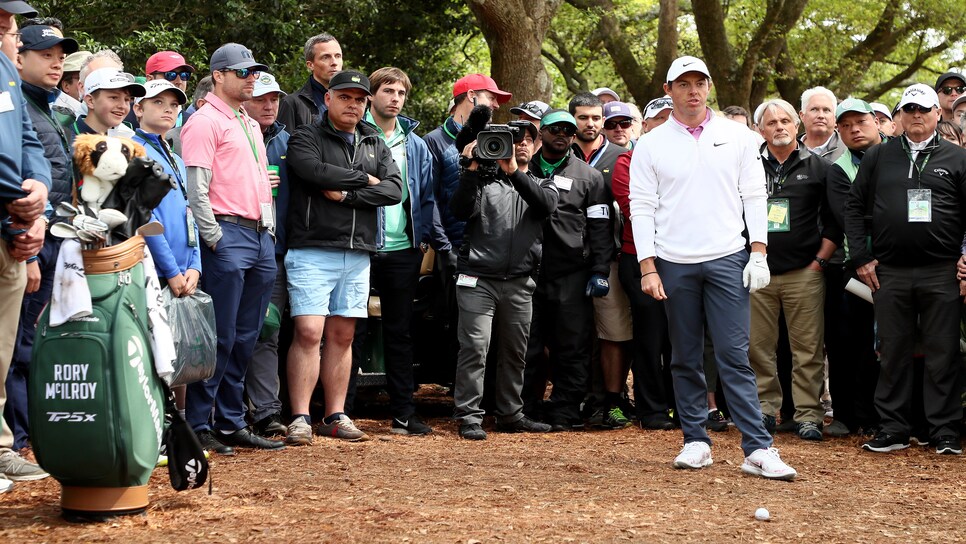 Honesty is the currency of sports analysts, who forfeit credibility when they pull their punches. Johnny Miller has had a long and successful second career as an analyst for NBC for throwing verbal haymakers that often included his use of the otherwise forbidden word, choke.
The C-word, as its euphemistically called by others, was not used by the Golf Channel crew in its assessment of Rory McIlroy's final-round 74 in the Masters on Sunday, depriving him again of completing the career Grand Slam. His was the only over-par score shot by those who finished in the top 16.
But the Golf Channel analysts — Brandel Chamblee, Frank Nobilo and David Duval — candidly noted that McIlroy did not handle the pressure well.
"I was surprised," Duval said. "I expected a lot more from Rory today. Goes to show that nobody's exempt from the pressures and the crunch of trying to win major championships, let alone complete the career Grand Slam. You could definitely see there was a bit of some hold-on in his golf swing, some hold-on in his putting stroke, the free-flowingness that he had had at Bay Hill and through the first three days here. It was a little tighter and you expect it be a little tighter. But I expected a lot more today than he showed us."
And it began with his opening tee shot that was so far right it flirted with out of bounds.
"That was probably the worst tee shot in the final round of a major, in the final group of a major, that I've ever seen or probably ever will see," Chamblee said.
"Every athlete is looking for that perfect balance of caring and not caring. Sometimes you get there by accident, sometimes you get there through effort, but it's always ephemeral. It's like you get invited into heaven, but there's a bouncer there and he's going to kick you out.
"And I listened to him [Saturday] night and it was obvious to me that he was really trying hard to defer the pressure. I thought it said volumes about the pressure he was feeling. And it was evident from the very first swing he made today.
"You do not forget that tee shot off one. You don't. There's a crucial role for amnesia…you really need to be able to forget those things. But that's a really hard shot to forget."
Nobilo called it "the worst swing I've seen him make all week. And he was lucky it didn't go out of bounds. If it had gone out of bounds that might have been better, to be honest. And re-tee and say, 'where did this come from?'
"The occasion was probably far bigger than what even we realize taking everything else into consideration. If you go through his whole round I don't think you find three good swings in a row.
"He's a great player. He shoots 68 and we're talking about — you said [only] 12 men have walked on the moon — it would have been just the sixth [grand slam] in the hundred-plus years that we've had golf at this level. It's rarefied air so I guess he's very human and he showed that today."
McIlroy, who trailed winner Patrick Reed by only one shot through two holes on Sunday, ended up six shots back. He hit only eight of 14 fairways and eight greens in regulation.
"There's no way around it," Duval said. "Hitting eight greens in the final round will never get it done. This is going to be a tough one. It's going to keep stacking on as the years go by as he doesn't win this one. And there's no one to say that he will for sure. We all believe he will. We all believe he can play this golf course and we all believe he will probably win it, but it doesn't mean he will."
"Nobody's immune from pressure," Chamblee said finally. "Ben Hogan had a three-shot lead here in 1954, shot 75. In '52 he was tied for the lead and shot 79. There was no Golf Channel back then to sit around and dissect, 'is Ben Hogan losing his mind or his golf swing? Is he ever going to win again?' Unfortunately now with all the money they make comes the scrutiny."