News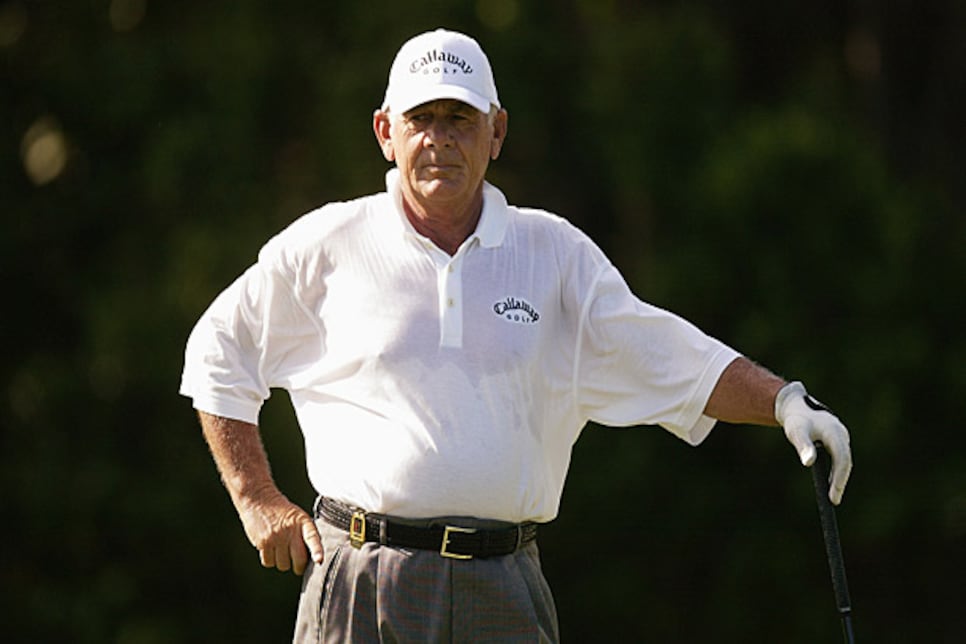 Always a tough competitor, Graham fell victim to a condition that made competing impossible.
While their announced farewells can be emotional and memorable, the retirements of most professional golfers generally are not abrupt or lasting. They quit, but they don't quit -- there almost always is some kind of competition in their after-tour life.
Two-time major champion David Graham, however, didn't have that luxury.
In June of 2004, Graham was playing in the Champions Tour's Bank of America Championship at Nashawtuc CC outside Boston. He was 58. He had a nagging cough, but golfers play through illness and injury all the time. But when Graham got over a putt on the eighth hole of the final round, he collapsed and had to be taken to Emerson Hospital in an ambulance.
It turned out to be an illness Graham, one of the most flinty golfers of his or any other generation -- a golfer with a PGA Championship, U.S. Open, and a 10-hole playoff victory on the senior tour to his credit -- could not play through. He was diagnosed with congestive heart failure. His heart was pumping at about one-eighth of its capacity.
Just like that, Graham's career, born in Australia, forged around the globe, perfected in America, was over. There was no long goodbye, no pose on a bridge, no chance to savor the mundane routines a pro may temporarily lament but truly cherishes.
That's why this weekend, when Graham will team with Lee Trevino and Chi Chi Rodriguez in the Greats of Golf Challenge during the 3M Championship in Blaine, Minn., is such a big deal. Graham hasn't been to a Champions Tour event -- to mingle, much less compete -- since he was rushed off the course six years ago.
"I haven't done anything like this since I was diagnosed," Graham said in a phone interview this week from his Montana home before flying to Minnesota. "It'll be neat to walk into the locker room. It'll be emotional, but I'm sure it'll be nice."
Trevino planted the seed last February, when he and Graham were playing golf in Palm Desert, Calif., "Lee said, 'You know, you're playing pretty good, you need to come up and play with me,' " Graham said. "I thought about it and agreed that I should do it."
Hollis Cavner, the 3M Championship tournament director who puts together the unofficial nine-player gathering, was eager to make Trevino's hope a reality. "We're very excited to have David be a part of it," Cavner said. "It's great to get him back out. There for a while, he could hardly walk. Everybody is looking forward to seeing him."
Graham, now 64, leads a quiet life in Montana, but hasn't been completely estranged from golf. Every April he goes to the Masters as a member of the tournament's Cup and Tee Marker Placement committee, which is in charge of the set-up at Augusta National. He plays and practices a little.
"I don't take a scorecard and I don't take a pencil," Graham said of his rounds. "I'm like everyone else who doesn't play very much -- I have a lot more bad shots than good ones. Every now and then, a good one pops out. I still like to go to the range and hit balls. Callaway still sends me clubs. It's great to go out and try all the new equipment and stay in touch with modern technology."
Modern medicine is helping Graham manage his condition. "When I was first diagnosed my heart function was about 12 percent, and now it's about 30 percent," Graham said. "All I know is that 12 percent is not good and 30 percent is a whole lot better."
He is examined every three months to see if he needs a pacemaker. "I'm right on the verge of needing one or not needing one," he said. "They're obviously holding off as long as possible. I don't have one yet, which is good news."
Even though his condition is stable, Graham has to conserve his energy. "I do light exercise -- just walking is the best thing, nothing too strenuous. I have to stay away from stairs or climbing inclines where it increases the heart rate too quickly. Then you become subject to passing out, which is not a pleasant thing."
Graham has already told Cavner to give his appearance fee to a deserving Minnesota charity. When asked about the expectations he has for his play this weekend, Graham, who played one of the game's most flawless rounds in winning the 1981 U.S. Open at Merion, chuckled loudly.
"I'm only coming for the laughs, trust me," Graham said. "I've been a longtime friend of Lee's. We traveled together for six years on the senior tour. The last six years he's been a very, very good friend. There is a side of him that not many people have ever seen and it's a very, very good side. He's been very loyal to me. He's always called, and he's always made me laugh."
The fact that Graham is going to tee it up this weekend should make everyone smile.