Golf-Cart DUI: What might seem funny—until it isn't
When it comes to drinking and operating machinery, America's golf courses feel about as free as its back yards. Four cup-holders is standard on a cart for two people; the staple of any busy public track is a roaming beverage attendant, as encouraging as she is convivial, with a full bar and tip jar in tow.
You can raise the claret jug to it: Boozing has always been part of the greatest game ever played. But what began as nips of whisky to keep upright against Scottish winds has evolved to coolers of light beer strapped to vehicles with hoods that crumple like eggshells. When unfortunate incidents happen—and they do; a Google search of "golf+cart+alcohol+death" yields 385,000 returns—questions are raised that can make you feel as if you're seeing double.
Is it legal to have an open container in the parking lot of a golf course? What's a public roadway, and what's a private cartpath? Does a guard inside a gated community have the authority to question my sobriety? What's an appropriate number of tequila and Clamato juices before lunch? Speaking of, where the heck is that beverage-cart girl hiding?
"Laws about alcohol vary some across states, but in Florida, if you do something stupid and cause damage to person or property, you could get the same DUI charge that you'd get while driving a car," says Tim Babiarz, a personal-injury attorney based in The Villages. The mega retirement community, which began as a small, golf-less mobile-home park northwest of Orlando, has grown to 51,000 residents, 32 executive courses, and crosses the borders of three counties. In the past six years there have been 13 golf-cart related fatalities. "Golf-Cart DUI" heads a prominent section on the website of another local law firm, Whittel & Melton.
"Normally we don't patrol the golf courses, but we've had calls about erratic driving behavior where we've had to come out to a course," says Lt. Niehemiah Wolfe of the Sumter County Sheriff's Office, which polices a section of The Villages. "Once we make our approach it doesn't matter if you're on a golf course or your own driveway, it's all fair game as far as open-container and DUI charges that may apply."
So read between the lines here. If your foursome can behave to the degree that authorities aren't compelled to come find you, these aren't arrests law enforcement is looking to make.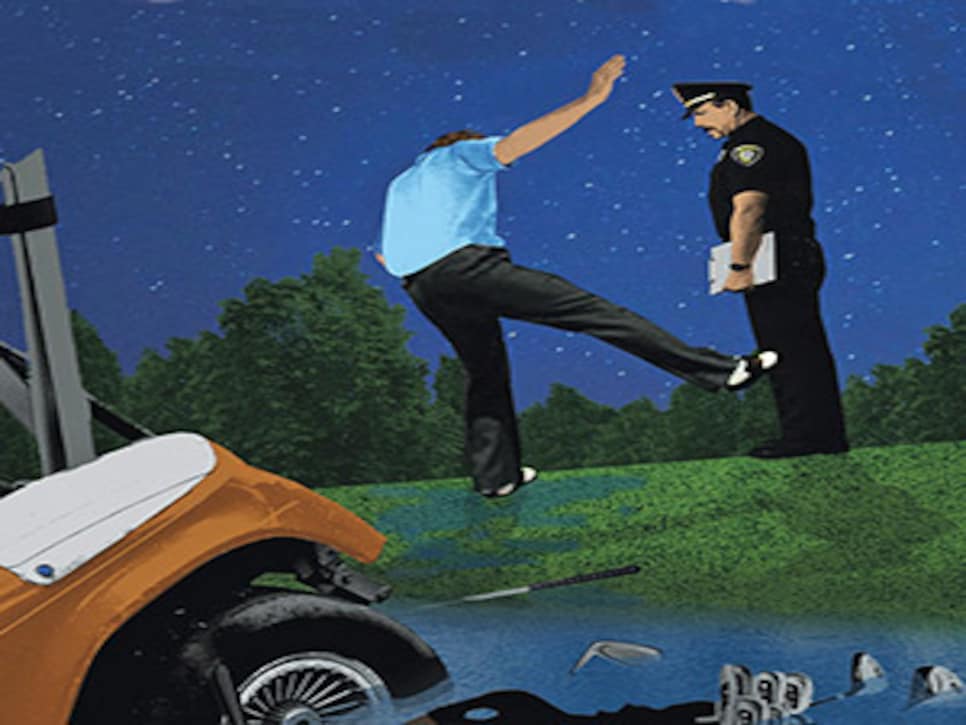 Nevertheless, a golf-cart DUI on The Villages crime blotter is about a weekly occurrence. Judging by mug-shot attire and time of arrest, it's fair to surmise most offenders aren't returning from the 19th hole, but more likely the 23rd or 24th. "With the free entertainment in the town squares, it's a giant party every night, but everyone's usually home by 9," says one Villager who asked to remain nameless because she's technically just shy of the minimum age (55) to reside there. "There are bars that are open late, too, but it's mainly swinger types and people's kids visiting who go there."
With 100 miles of public cartpaths connecting regular roads, Peachtree City, Ga., is another unique example of civic engineering that enables a golf cart to be a primary mode of transportation. The city has 10,587 registered carts, and the positive effects, like curbed road rage and emissions, are obvious. What sometimes isn't so obvious is that next bend in the path if your cart's headlights are dim, or nonexistent. Last year 18 DUI convictions, or 12 percent of the city's total, were to drivers of golf carts.
"We do golf-cart checkpoints," says Sgt. Brad Williams of the Peachtree City Police Department. "People don't realize how dangerous it is. Carts are not designed to withstand collisions, especially at intersections where they're interacting with regular-size vehicles."
As for that half-empty Coors in your golf cart's dash, the Peachtree police cut some slack. "It's up to the officer's discretion," Williams says, "but typically we'll slap someone with violating the city ordinance against an open container rather than give them the full state charge." So violators pay a city fine of $320 and don't get any points on their license.
Though your chances of getting apprehended are much greater off course—late-night runs arouse suspicion even in communities that are accustomed to the presence of carts—that's no reason to let your wariness lapse while you're playing.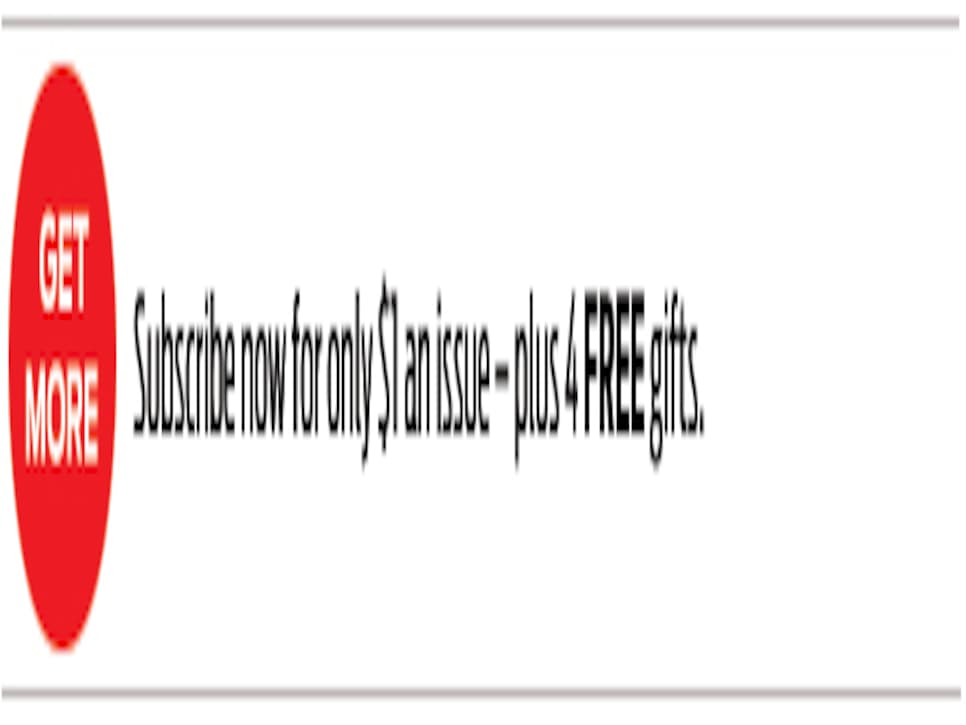 Buck Williams, manager of the band Widespread Panic and an 8-handicap out of Ole Natchez Country Club in Franklin, Tenn., is the reason his club's night-golf tournament with glowing balls and flagsticks was discontinued in 2008.
Fulfilling a phoned request, his cart partner's wife had just delivered another bottle of cabernet to the 16th fairway. Said partner then decided, fortuitously, to accompany said wife in her cart up to the green.
Suddenly alone, "I just floored it wide open," says Williams, who in the dark forgot about the pond in front of the green. "Right at the bank I hit a small rise and just launched. I got up in the air, man, and I just said, Oh, shit."
Williams estimates the cart traveled 10 feet. It made bubbling sounds as it started to sink. Standing to his armpits in mucky water, "looking like the Swamp Man," Williams shouted he was "OK," but members of his foursome had already dived in after him. Both sets of clubs were rescued, as was the bottle of cabernet, corked, which floated amid the fuselage.
"I ran to the locker room and showered with my clothes on. We even brought the clubs in the shower to get the algae off them. Mind you, we are hammered, out of our minds, having just a great time. We dried off, sort of, then went out and played the last two holes."
The most dangerous moment came next, after the round, when Williams' crew drove a pickup truck to the pond. They successfully towed the cart, but not before a friend slipped in the mud and hit his forehead on the trailer hitch. If God protects children and drunkards, here was such a moment. The friend was unhurt, "but that was scary," Williams says.
The next day, Williams walked into the club manager's office to explain the incident, claim full culpability and write a check to cover the damages. Unbeknown to Williams, a staffer had already concocted a story for the manager about why one of the cart fleet needed repairs. The person was fired.
"I told [the staffer], 'Sorry, but you can't be trying to cover up for me. You got to tell the truth,' " Williams says. "I felt bad, but it was probably just the last straw for him anyway."
Accidents also happen in the light of day. Ask Adam Thompson, charged with DWI and criminal vehicular operation after pinning his friend under their golf cart at Mississippi Dunes Golf Links in Cottage Grove, Minn., in 2006. "The friend was very injured, but he came in to request leniency because he felt equally responsible," says Alan Kantrud, the lawyer who represented Thompson. Kantrud argued the golf course was liable for having over-served its customers, and his client ultimately did community service with three years' probation instead of jail time after pleading guilty to one count of DUI. Says Kantrud, "It's golf. You're only going to stay as sober as your friend stays."
What happens when you take that mentality to courses built into rugged and exotic terrain, where eight miles of cartpaths mixed with steep switchbacks aren't uncommon? At Pebble Beach and Bandon Dunes, where holes are routed along exposed cliffs, perhaps it's a good thing walking is prevalent.
Most resorts require beverage-cart attendants to complete the same "dram-shop law" training as bartenders. They need to be able to recognize when customers are intoxicated, and then stop serving them. "Unfortunately, that's sometimes a conflict of interest when these young ladies are out there working for tips," says Whitney Crouse, chairman of Mosaic Clubs & Resorts, which has experience operating more than 200 clubs and takes its server training seriously. "We've been secret-shopped by jurisdictions. They'll plant a 20-year-old on the golf course to try to buy alcohol from our beverage cart." Crouse's staff also keeps tabs through cart GPS systems. "When a golfer leaves the course to drive to his house to load up on beer from his fridge, we can see it."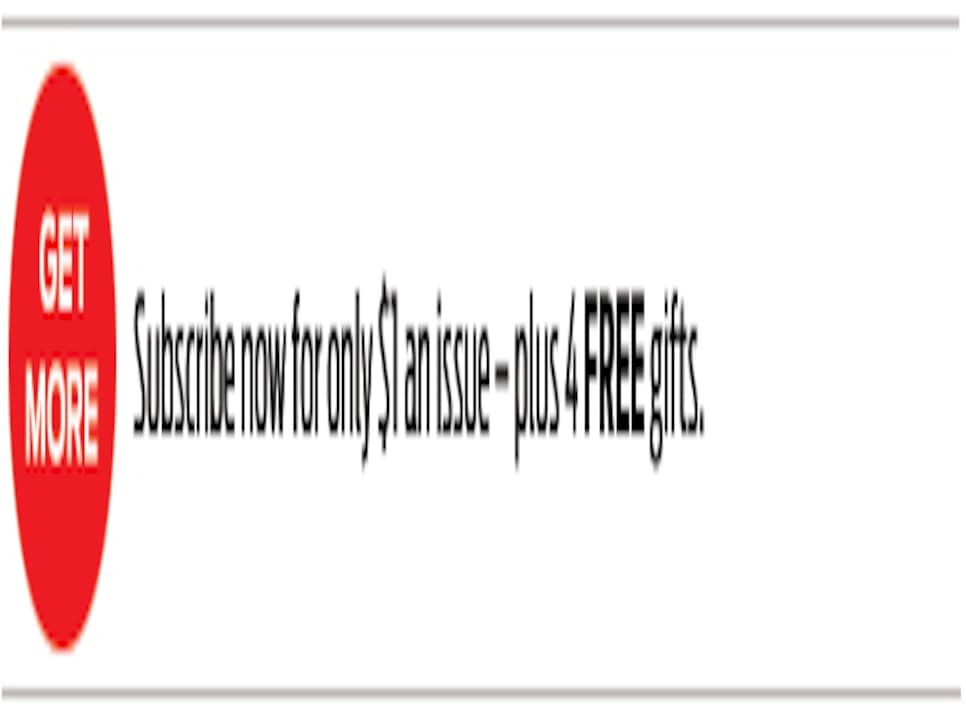 Sometimes, neither terrain nor a beverage-cart attendant has a thing to do with it. Brody Schmidt, a retired police officer in Cathedral City, Calif., recalls a horrific scene outside the Desert Princess Country Club clubhouse in 1999. Schmidt wasn't on duty; he was a member and had just finished his round. "It was a foursome of guests, all obliterated. One guy got mad and apparently went 'Tin Cup' on his clubs. He snapped almost every single iron across his right thigh. He cut himself deep and was unconscious from blood loss when his friends drove him up," Schmidt says. "Everyone was gathered around, just astonished someone could do such a thing to himself. And then the medics came."
Other times it would seem there's more than just alcohol involved, like medication. Glenn Gunther, a former assistant at Hunter's Run Golf & Racquet Club in Boynton Beach, Fla., remembers an elderly member who loved her cocktails, often before noon. "One morning I look down the first hole, and there she is, driving up the fairway in her Chrysler LeBaron convertible. A maintenance worker cutting the grass jumps off his mower and runs over to stop her. She has this glazed look on her face and just says, 'Oh sorry, I thought I was in my cart.' "
A death occurred last August at Rancho Murieta (Calif.) Country Club when six residents, all in their early 20s, were drinking and horsing around on one cart. Judith Embree, a contributor in the community's online forum, says it's up to residents, not security, to make a stand on what behavior will be tolerated. "Our security personnel do the very best they can, but they can't arrest people. If they were bona fide peace officers, we'd have to pay them more and give them a much different retirement setup," Embree says. "We have people who go to the club and drink too much and drive their golf carts home. All our security can do is give a citation, but more often they'll just say, 'Hey, how about you leave your cart here, and I'll drive you home?' "
"I'm a big advocate of putting seat belts in golf carts, which can be installed aftermarket, though it'd be better if the manufacturers did it," says Babiarz, who regularly conducts seminars on golf-cart insurance and safety. "People joke about it until they meet someone whose life was changed in an instant."
"I don't care if you buckle up on your way to the tee box," Babiarz says, "but if you're driving a cart on a paved roadway alongside real cars, it can save your life."
Even if you're not the one who's been drinking.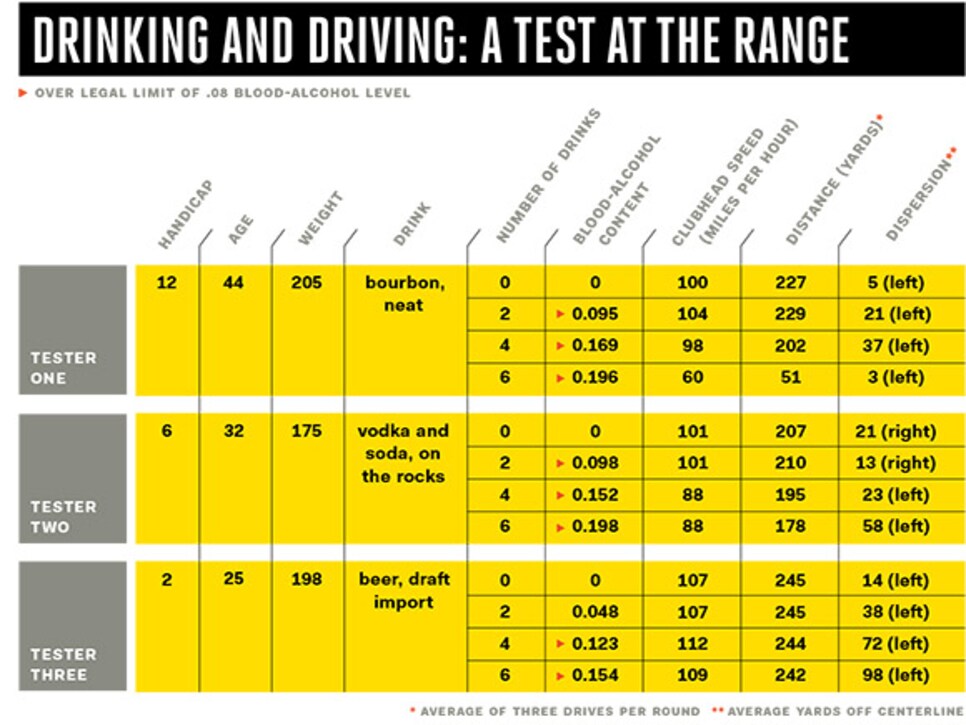 Alcohol affects our ability to drive a golf cart, but what about a golf ball? In the name of science, we spent an afternoon with a launch monitor, a breathalyzer and three eager humans. After one sober round of testing, each subject imbibed two drinks for every round and then hit three tee shots. Thirty minutes elapsed between rounds. "Basically, we had to chug," said our 6-handicap, a fader with a grooved out-to-in downswing who was jubilant to hit "the first draws of my life" after four vodka-and-sodas. He attributed a 13-mile-per-hour decrease in clubhead speed to "feeling wobbly and guarding against the whiff." Contrarily, our 2-handicap tester was seemingly emboldened, swinging faster and spraying the ball progressively farther off line. Drinking beer, he was the only tester under the legal limit of .08 blood-alcohol content after two beverages. Braving a stiff pour of bourbon, the 12-handicap was, by the end, striking the turf two feet behind the ball. Overall, the data supports a truism among gamers: Two drinks can improve performance, but three or more hurts your score. Each tester had a sober ride to the clubhouse, and home.