News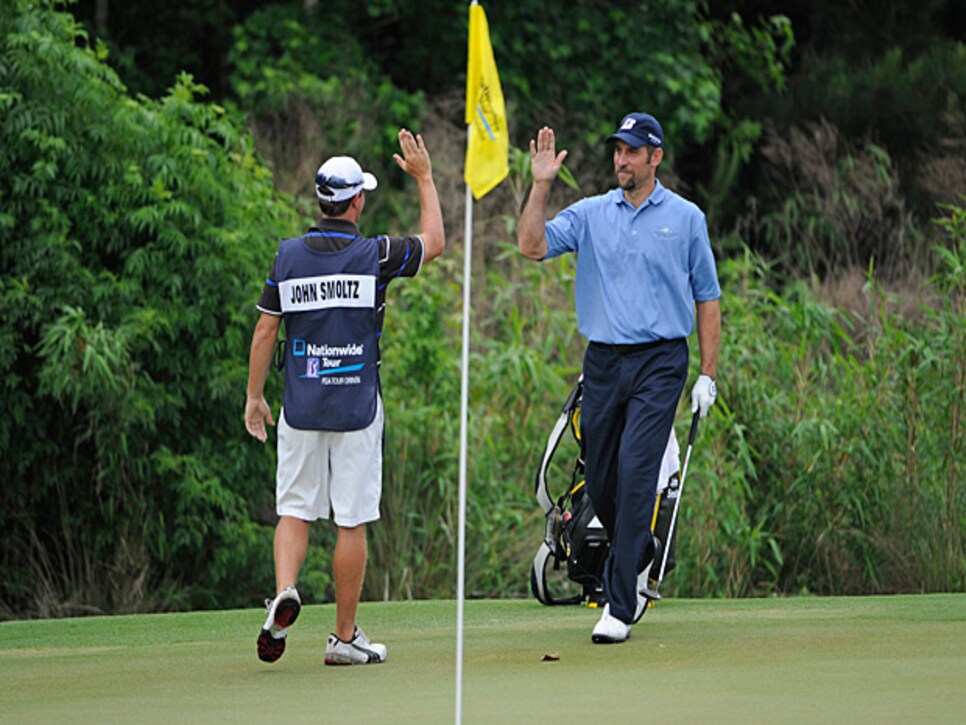 Future Hall of Famer John Smoltz has his moments on the golf course as well.
Spring training is well underway for Major League Baseball, which -- to the displeasure of some managers -- means that golf season has begun for many ballplayers, especially pitchers. When they aren't busy hurling an inning's worth of fastballs, many pitchers who have already locked up roster spots can be found on golf courses throughout Florida and Arizona. Mitch "Wild Thing" Williams, an MLB network analyst and former pitcher who picked up the game during his first big league camp in 1985, says ballplayers spend more time on the golf course during spring training than any other time of the year.
"During spring training, if you weren't pitching [in a game] that day, you could get your work in early and be outta there by noon and on the course by 12:30," said Williams, who played for six teams between 1986 and '97.
Pitchers aren't the only ones teeing it up during spring training, but they can keep playing regularly once their teams head north. A starting pitcher will typically pitch once every four games at most, leaving days off in between that are to be used for either rest or golf, depending on who you ask. A pitcher who is an avid golfer will argue the two are synonymous, but for some managers, golf is an unnecessary distraction.
According to David Barrett's 2011 story in The Met Golfer, certified golf nut Tommy John often played golf secretly due to managerial rules, which required some creativity.
"I would take my golf clubs in one of those boxes that you ship new clubs in," he recalls. "And in big letters on the side of the box, I put, 'Fishing Equipment.' There wasn't any rule against fishing on the road."
Though most managers today have more relaxed rules about mid-season golf, some of the more avid players have taken heat for the amount of time they spend on the course. Former Red Sox starter Josh Beckett missed an early-season start in 2012 because of a lat strain and used the time off to squeeze in a round -- much to the displeasure of the Boston media and fans. When asked about it, Beckett said, "I spend my off days the way I want to spend them," which only fed the flames lit by earlier reports that Beckett and other Red Sox pitchers were enjoying fried chicken and beer in the clubhouse during games.
Eight-time MLB All Star John Smoltz, a +2 handicap who played in a Web.com Tour event and was often the subject of golf-related media attacks, says the potential for injury or distraction on the golf course is "laughable." In fact, golf provided Smoltz the chance to clear his mind in preparation for a start.
"Most of my complete games came the day after I played golf," said Smoltz, a former Cy Young winner and current analyst on the MLB Network. "It was amazing how mentally freed up I felt [after playing]. If I could have gotten away with it, and there wouldn't have been such a media frenzy, I probably would have played nine or 18 holes the day I pitched because I just loved it. I loved getting out, I loved being loose and exercising and rotating and getting everything the way it needed to be."
-- probably knows more about the similarities between golf and baseball than anyone.
"The mental approaches are about as closely related as any two sports. The pre-thought -- the actual stuff that goes on before you mechanically deliver a pitch or hit a shot is crucial. If you think about the water down the left or about bad mechanics, more than likely that's where you'll end up. Mentally, golf and pitching were perfect for allowing me to stay sharp and use the things I had as a pitcher to my advantage as a golfer."
For guys like Smoltz, golf is more than a leisurely activity. It's a diversion -- a way to keep one's mind off their profession -- and a way to stay competitive away from baseball. It's also a good way to build camaraderie particularly among guys who are new to the team or rookies trying to get accustomed to the big-league lifestyle. "It's a shame a lot of organizations don't allow their guys to play golf because we sure had a blast," says Smoltz. Besides, golf certainly isn't the biggest distraction ballplayers have to deal with.
"There are stranger things you're allowed to do that would be more taxing on your body and more interesting to your performance, but they don't get mentioned," said Smoltz, referencing a ballplayer's penchant for late nights out on the town.
Smoltz thinks today's managers should take after his former skipper Bobby Cox, who managed the Atlanta Braves from 1990-2010.
"In baseball there are all these theories why you aren't winning," says Smoltz. "And Bobby realized the essence of golf had no bearing whatsoever on our ability to work and do the things we needed to do. . . . Even late in my career when they were concerned about me playing golf as a closer -- I saved 55 games -- I don't think anybody said another word after that."