A Tee Too Far
Barney Adams is championing the idea of shortening the courses we play. By a lot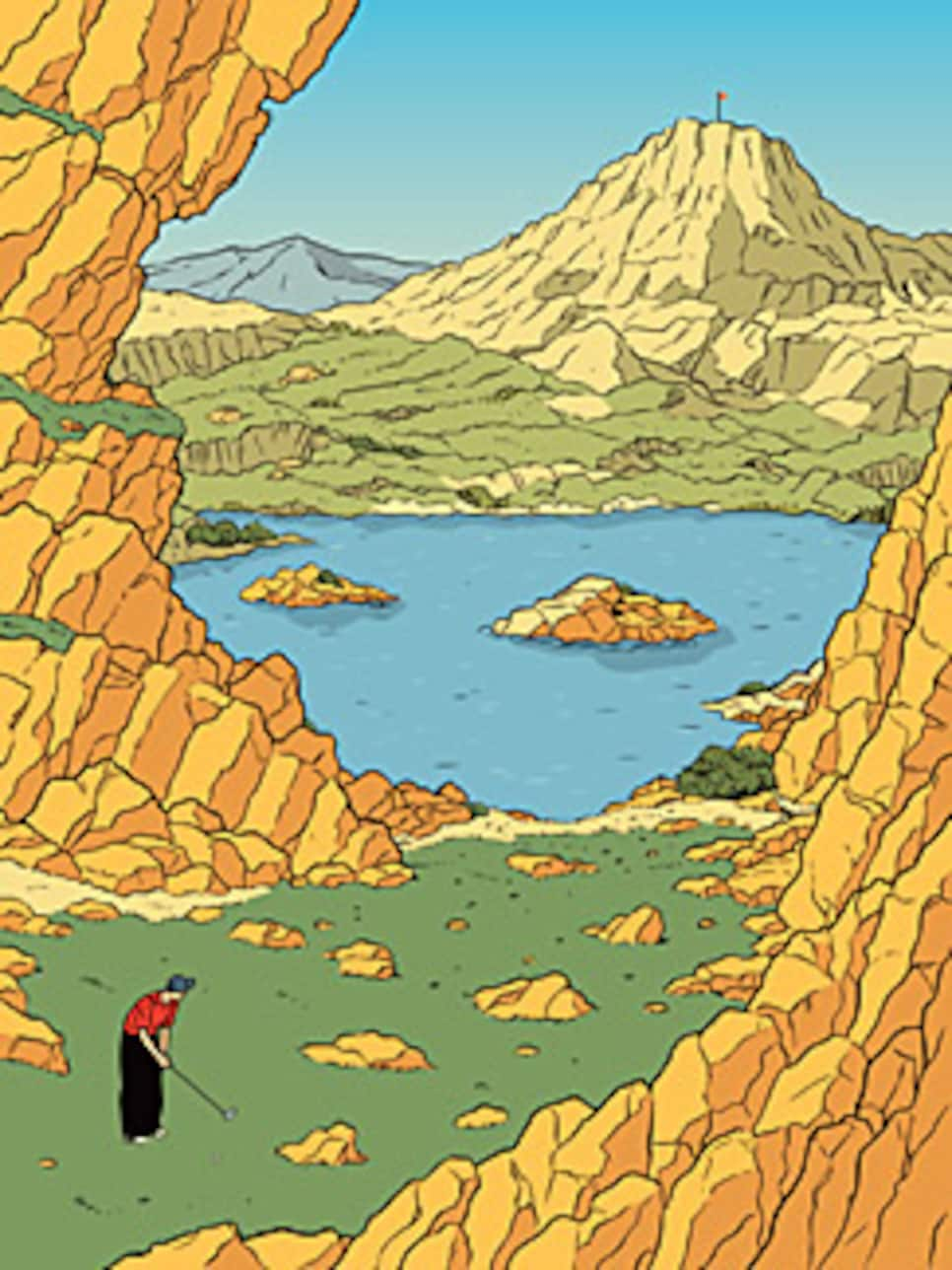 Like most of the best big ideas, it's essentially simple.
According to retired clubmaker Barney Adams—with important support from the USGA, the PGA of America and the Golf Course Superintendents Association of America—the great majority of golfers should move up off the tee and play courses from a shorter distance. And not just a little. At least 500 yards in most cases, which at some courses would put the so-called "men's tees" pretty close to the "ladies' tees." And women should move way up—about 1,000 yards.
It's all in the interest of recapturing some of the fun that everyday golf has been losing, along with speeding up play and making the experience more attractive to core golfers, occasional players and beginners.
The general idea is not new. Average golfers have never hit the ball as far as they think they do, nor do they reach as many greens as they think (let alone hit them in regulation). The statement "I can get it out there 300 when I really catch one," is the game's most common fish story.
But in the past few years, delusions have grown as average players have been pounded with the message that equipment innovations have dramatically increased their distance. At the same time, they've felt the need to hit it farther as many of the courses they play—especially the newer "championship" layouts—have become longer.
The takeaway has been slower play, higher green fees and more frustration. Golf has been losing players—women and youth leaving in the greatest numbers—and getting few replacements.
"Unfortunately, golfers are masochists," says Jack Nicklaus. "They want a challenge but end up playing from the wrong tees. The game needs to become more concise."
The urgency of that mind-set has opened up the game to the previously off-putting idea of playing "up." But this time, it has been accompanied by a well-reasoned "why."
It comes from Adams, an incisive thinker with a populist bent. The inventor of the Tight Lies fairway wood and a former clubfitter who spent years studying how people really hit the ball as opposed to how they think they do, Adams can't stop analyzing golfers. Carrying a 9-handicap at 72, Adams started noticing that his playing partners, all avid regular golfers, would play par 4s from tees that required them to hit woods and hybrids for approaches -- when they could reach the green at all. "I began to think it was like golfers have had a toothache for a long time," Adams says. "They've gotten used to the wrong thing."
In trying to figure out what the right thing should be, Adams first considered tour pros and how they rarely need more than a middle iron for an approach. "We watch them and think, 'Man, wouldn't it be fun to play the game like that?'" Adams says. "Well, we can."
Adams came up with a system he calls Tour Length. He calculated that for a pro to hit the same clubs on approaches as an amateur averaging 230-yard drives on a 6,700-yard course, the pro's course would have to measure at least 8,100 yards. Conversely, for the 230-yard driver to hit the same clubs into greens as the pro would on a 7,300-yard layout, the amateur would have to play at no more than 6,200 yards.
By Adams' calculation, this means the amateur who drives the ball 200 yards (closer to what the average golfer achieves) should be playing courses measuring about 6,000 yards. Many women, routinely forced to play tees in the 5,600-yard range despite hitting drives of about 140 yards, should be playing from approximately 4,600 yards.
Adams posted his findings on the Internet, and he received a positive response. But his persistence at lobbying for his idea was most meaningfully rewarded by American golf's powers that be. Beginning in late May, the USGA, the PGA of America and the GCSAA will begin a campaign—with the tentative handle of Play It Forward—to convince golfers to move up. It will start with television segments during the Senior PGA Championship, the U.S. Open and the U.S. Women's Open. Then the organizations will urge course operators across the nation to set aside two weeks beginning July 5 in which they ask customers to play from a shorter set of tees, following Adams' guidelines.
"We really think this could be a very good thing for the game," says USGA executive director Mike Davis. "We want to get the message out that playing shorter golf courses with less rough will increase enjoyment."
Paul Metzler, senior director of marketing for the PGA of America, says the organization's surveys have determined that despite suggestions to the contrary, golfers don't want the rules of the game altered to make it easier. They want to play the traditional game, but in a way in which a round moves along more easily and with a greater opportunity for memorable shots. "It's going to require some time for the culture to fully adopt it, but we believe that's what Barney's idea will do," Metzler says. "Now it's up to golf's leadership to make Play it Forward part of the culture."
Adams is gratified at the support and hopes the effort will be aggressive. "This has to be a movement, so that in essence it becomes the new golf," he says. "I believe this is legacy stuff for these guys. But it's crucial that the message be a leveling of the playing field between the amateurs and the professionals. If you don't get that message across, you lose."
Adams' biggest worry is the power and stubbornness of the male ego. "That's the highest hurdle," he says. "Amateurs who think they can hit pro-type shots and want to play from back tees don't realize that with equipment advances they're farther behind where pros hit the ball than ever. What was maybe a 40-yard difference 25 years ago is now 75 yards.
"Those are the guys who say, 'Gee, Barney, you have a great idea. I hope they do something about it.' I say to them, 'Who the hell is THEY? YOU'RE they.' "
Adams emphasizes that his proposal is more nuanced than mathematical shortening. He wants to stagger tees so that short par 3s maintain their length but at least one par 5 per course is reachable in two for the average player. "I think it'll encourage people to think more about their shots to the green, rather than just blasting another wood," he says.
"That brings in shotmaking, even for an average player, and that's what really makes the game interesting." For all that, Adams doesn't believe scoring will be dramatically affected.
"Maybe a 13-handicap becomes a 10," he says. "That's where the USGA would have to really get involved, to make sure handicaps don't lose equitableness.
"This is about a change of habits, which is always hard," Adams says, "but I think golfers are more aware than ever that the game lost its way, and a correction is needed."
If they—make that we—are able to check egos at the golf-shop door, Adams has contributed a big idea whose time has come.