News
Golf's Dirty Little Secret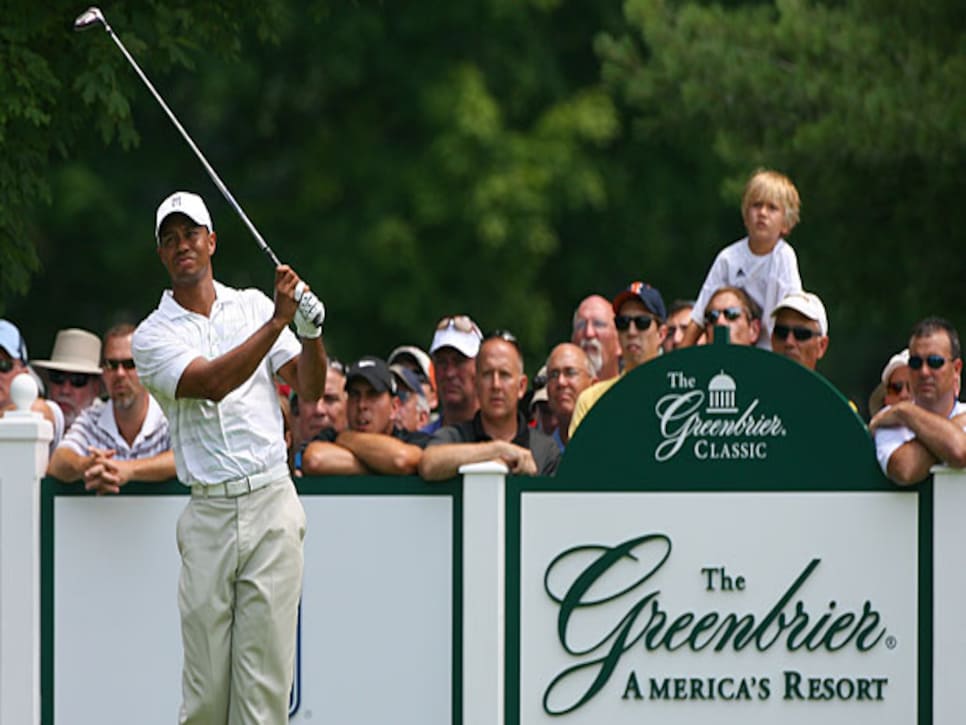 Players like Tiger Woods have long gotten around the PGA Tour's rules regarding appearance fees.
The dispute over whether or not Greenbrier owner Jim Justice paid Tiger Woods and Phil Mickelson seven-figure fees to play in his PGA Tour event in violation of tour rules is almost as silly as determining home-field advantage in the World Series by who wins the All Star Game.
Appearance fees are the dirty little secret of the PGA Tour, and a poorly kept one at that. They have existed pretty much since Spalding paid Harry Vardon a hefty sum to tour the United Sates playing its Vardon Flyer golf ball at the beginning of the last century in what was likely the game's first endorsement deal.
While much is made of the money thrown at top players by sponsors on other tours to get them to play tournaments outside the United States, the moral high ground taken by the PGA Tour is shaky at best. There are more ways to get around the ban on appearance fees than there are agents in the William Morris Agency.
Woods is a perfect example. He was won -- not played in, but won -- 29 tournaments sponsored by companies with which he had business relationships, including Buick, American Express, AT&T and Accenture, as well as Deutsche Bank, the European Tour stop in Dubai and the Arnold Palmer Invitational, which is run by his former management company, IMG.
OK, so Tiger gets -- or in all of these cases, used to get -- $5 million to $8 million a year from those companies as an endorsement partner and then plays in their tournament. Is that not an appearance fee? If it looks like a duck, well, quack.
And these kinds of business relationship have grown during the Tiger Woods Era as non-golf companies -- financial services firms, insurance companies, pharmaceuticals and other high-end multinationals -- have come to realize the enormous value of professional golfers.
Think of what golfers bring to the table as business partners. There is a reason why more golfers have endorsement deals than any other type of athlete. Really, how many major league baseball players do you see walking around wearing corporate logos?
Golf is as close to a risk-free investment as you can find in sports marketing. First off, there are no strikes or lockouts in golf. If you pay, there will be play. And there are no uniforms in golf so players become walking billboards. Slap your logo here.
For the most part -- with the notable exception of the scandal that cost Woods tens of millions and, to a lesser extent, John Daly -- there are no bad headlines in golf. The image of the players is as close to squeaky clean as you can get in sports.
Also, golfers can be used in corporate marketing in a way no other athletes can. You can play golf with Luke Donald at a corporate outing or in a pro-am, but you are not going to put on the pads and toss the old pigskin around with Peyton Manning.
As this message has sunk in, the corporate world has responded. The Royal Bank of Canada, for example, has a bunch of players under contract -- Donald, Jim Furyk, Matt Kuchar and Ernie Els among them -- and sponsors two stops on the PGA Tour. Are those appearance fees?
And in addition to these direct financial relationships with players, there are other ways to get around the appearance fee ban. It is not illegal for a sponsor to offer a player $100,000 to do a 30-minute walk-through at a cocktail party the Tuesday before the tournament. And gee, if he happens to stay and play the event, well that's just a lucky coincidence.
Or what if a corporation makes a hefty donation to a player's foundation? Might not the player then feel some sort of obligation to play in that firm's PGA Tour event? Happens. Is that an appearance fee?
This year Zurich, which ponies up the purse for the New Orleans stop, paid Graeme McDowell, Keegan Bradley and Camilo Villegas to play in a hickory-shaft club exhibition before the tournament. They then played the real event. Appearance fee or not?
In 2005, both the PGA Tour and IMG were put in an embarrassing position when Golf World obtained a copy of a letter from IMG to tournament directors that essentially offered a price list for it to provide players for Monday outings the week of their tournament.
That year, four IMG clients -- Vijay Singh, Sergio Garcia, Retief Goosen and Padraig Harrington -- were paid by Ford to play in a Monday outing the week of the Ford Championship at Doral. All stayed to play the tournament.
"This was not pay-for-play," then IMG managing director Mark Steinberg told Golf World at the time. "Ford was looking for a way to entertain its dealers and we provided it. The week of the tournament was a logical time when they were all together. Ford was a customer of ours and the dealers had a phenomenal time. It was win-win-win for Ford, its dealers and the players."
The letter obtained by Golf World contained a suggested price list for specific players -- Els, Singh, Goosen and Sergio Garcia were in the top tier at a going rate of $100,000 to $200,000 per outing -- and suggested those players would then stay and play in the PGA Tour event.
Steinberg called disclosure of the letter "a vulgar breach of trust" and denied that IMG was pitching the idea to every tournament, saying it was for a specific client. "The purpose is not to circumvent PGA tour regulations," Steinberg said. "It is a matter of what corporate America wants."
Indeed, that is the way of the world -- you get what you pay for. Were Woods and Mickelson paid to play in the Greenbrier Classic? Don't know. Don't care. Doesn't matter.
To suggest this sort of thing does not go on every week in some way shape or form on the PGA Tour is to live in a fantasy world where career amateurs are not getting paid by corporations to play golf with clients.
Of course there are appearance fees on the PGA Tour. And if Jim Justice is going to throw some money at anyone to get them to play his event, Woods and Mickelson make the most sense. It's just that maybe next time he can convince them to make the cut so he gets four days of bang for his considerable bucks.