Golf & Football: What's Next For NFL Quarterback Carson Palmer?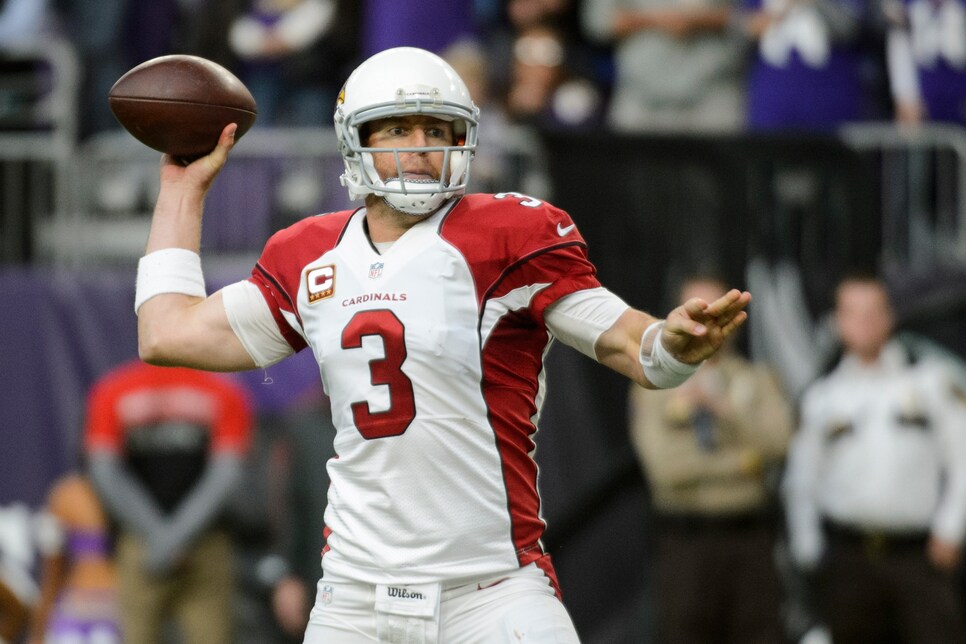 Photo by Hannah Foslien/Getty Images
Carson Palmer is an old football player in the prime of his golf life. The 2002 Heisman Trophy winner, now 37, recently took a month to decide if his body could survive another NFL season at quarterback.
The answer, to the relief of Arizona Cardinals fans, was yes, and so Palmer's dream of playing golf every day will wait a little longer.
"Some guys wonder if they'll get bored with golf in retirement, but I don't envision ever having that problem," says Palmer, who is "always up for 36 in a heartbeat" when being a dad to two young kids allows it.
Palmer's back can sometimes get a little stiff during the second round, but a guy used to getting sacked multiple times a weekend says he never feels 36 holes in his legs or feet the next day.
His home courses include Arizona Country Club in Phoenix and Martis Camp, near Lake Tahoe. But he and his buddies don't limit their play to private courses. They also get around to the best public tracks in the golf-laden Phoenix-Scottsdale area. Even more than the venue, it's the ritual. "I love going to bed the night before thinking about the holes where I'll hit driver or not, seeing all the guys at the course early in the morning, the never-ending challenge of playing, having a beer afterward and hopefully collecting a bit of money, too. It's all just so much fun."
Bored with golf in retirement? "I don't envision ever having that problem."
Palmer's off-season (golf season) culminates at the American Century Championship in Lake Tahoe at the end of July, where athletes and entertainers compete for real money without strokes in a Stableford format. Unlike the AT&T Pebble Beach Pro-Am or the Alfred Dunhill Links Championship—where celebrities play alongside pros —at the ACC the TV cameras are there solely for the celebs. Palmer's career winnings of $33,252 in Tahoe pales compared to the $24.3 million contract he signed for this season, but it's still enough to add to the excitement. A few surgeries notwithstanding, Palmer has played every year since 2004. "It's what I look forward to so much. The competition, the setting and the fans are just awesome," says the 3-handicapper, who partly attributes his facility with golf to understanding how the hips are the engine of the throwing and swinging motion, plus a quarterback's persistently forward-thinking mentality. "No matter what happens, good or bad, I'm always focusing on the next play," Palmer says. "Or shot."
Always after Tahoe, Palmer reports to training camp and puts away his clubs. Because when football gets going, Monday and Tuesday are the only possible windows for golf, and Palmer's at a stage where he's lucky to feel recovered by Thursday. He used to tee it up after game day—his dad introduced him to golf at age 8, but it wasn't until he joined the NFL that he became truly avid—but the body doesn't cooperate like it used to.
Yet the time is near when Palmer's golf won't be punctuated by a seven-month layoff called the NFL season. He's excited to see not only how good he can get, but where he can get. "I've played Augusta, Cypress, Valhalla, Muirfield, but there's still a ton of courses on my bucket list," Palmer says. "That's what I love about golf. There's always another trip or weekend with your buddies on the horizon."