The Loop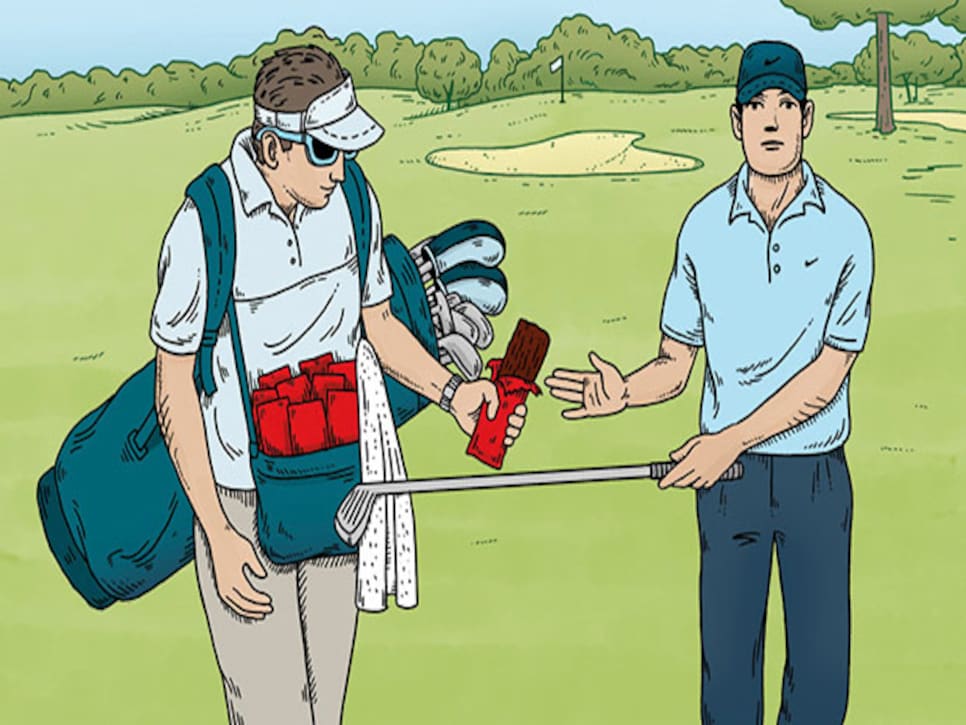 You might not think of caddies as the most entrepreneurial people in golf. Yet a pair of looper-led companies have emerged as rivals in a competitive, $1.3 billion-a-year business. And the weirdest thing? Their product isn't even golf-related. Jeff King and Blair Swiler are selling high-end jerky.
Both caddies say they've always snacked on jerky while playing and looping, but they were dissatisfied with existing products. "Most are just so cardboard-y," says King, who carries for Derek Ernst on the PGA Tour.
On a whim one day in 2011, King, now 40, bought a small meat dehydrator and Googled some recipes. "I literally had no idea how to make it," he says. His first batch was inedible. "I threw it all away." But he kept trying, and it kept getting better. Once he started bringing it out on tour, guys such as Luke List, Matt Kuchar and Davis Love III couldn't get enough of it.
King got help forming a business from Adam Papazian, a friend with experience in food distribution and sales. He's now a partner in the company, Kingmade Jerky, and runs its operations while King is on tour.
Swiler's company, Chef's Cut Real Jerky, followed a similar trajectory. He had some restaurant experience, but he mainly started making jerky for his enjoyment. Swiler, 54, shared it with a fellow caddie, Dennis Riedel, who was blown away. So they started selling their "premium steak jerky" at Bayonne (N.J.) Golf Club, where until 2011 they were caddies. Now they're in the jerky business full-time.
Kingmade Jerky sells for $3.55 an ounce, and Chef's Cut goes for $2.80, or about $1 more than market leader Jack Link's.
The caddies turn a little catty when discussing each other's chances. King notes the celebrities who love his product (Tiger Woods, Michael Jordan, Wayne Gretzky have been snapped eating it), while the Chef's Cut guys talk about the quality of their meat and their nationwide distribution network. In truth, there might be room for both of them. Jerky is a hot category, and not just among golfers. Sales in the United States climbed 47 percent from 2009 through 2013, reports market research firm IRI.
People want "better-for-you snacks," says Chef's Cut investor Rohan Oza, a former Coke executive and the force behind brands such as Vita Coco and PopChips. Jerky appeals because it's high in protein, low in sugar and calories, and for golfers, easy to store and carry during a round. Also, it's delicious.
Many people automatically assume beef jerky is junk food. In reality, jerkies cured naturally with minimal additives are very good snacks because they're high in protein and don't cause your insulin levels to spike. Some, made from grass-fed beef, even contain healthy omega-3 fats. Check the ingredients. The more things listed, the unhealthier jerky gets. Pay special attention to sodium. If there is more than 300 milligrams in a one-ounce portion, you're getting more than you need.
I give Kingmade high marks for being low in sodium (90 milligrams) and calories (60) and packing eight grams of protein in each serving. Chef's Cut has a whopping 12 grams of protein and some healthy ingredients such as horseradish, onions, anchovies and garlic. Downside: It has 390 milligrams of sodium per serving.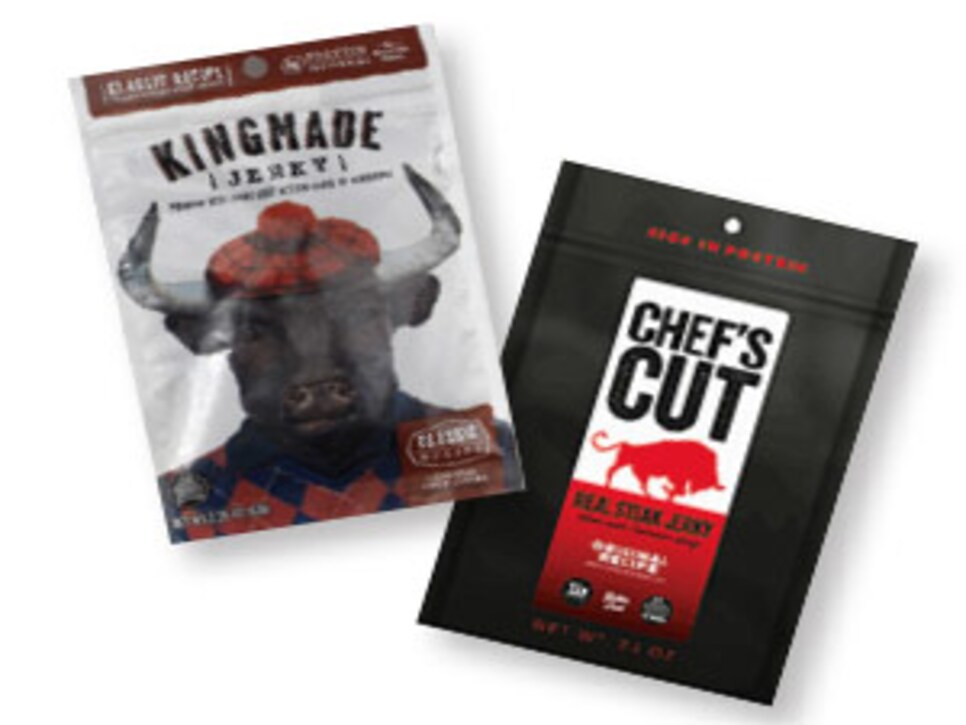 The beef-jerky taste test
Andrew Knowlton, Restaurants editor at Bon Appétit magazine: Chef's Cut has a lot going on: sweetness, spiciness, smokiness and a super-soft texture. The liquid-smoke flavoring is a bit too aggressive for me and unfortunately kills the beefy flavor.
Kingmade, while maybe a tad dry, is my kind of jerky: one that works your jawbone for a few minutes, with that no-frills taste of straight-up beef. Plus, how can you resist its packaging with the bull in argyle and a pom-pom hat?