The Loop
GOD BLESS AMERICA, you can now bet on the Nathan's Hot Dog Eating Contest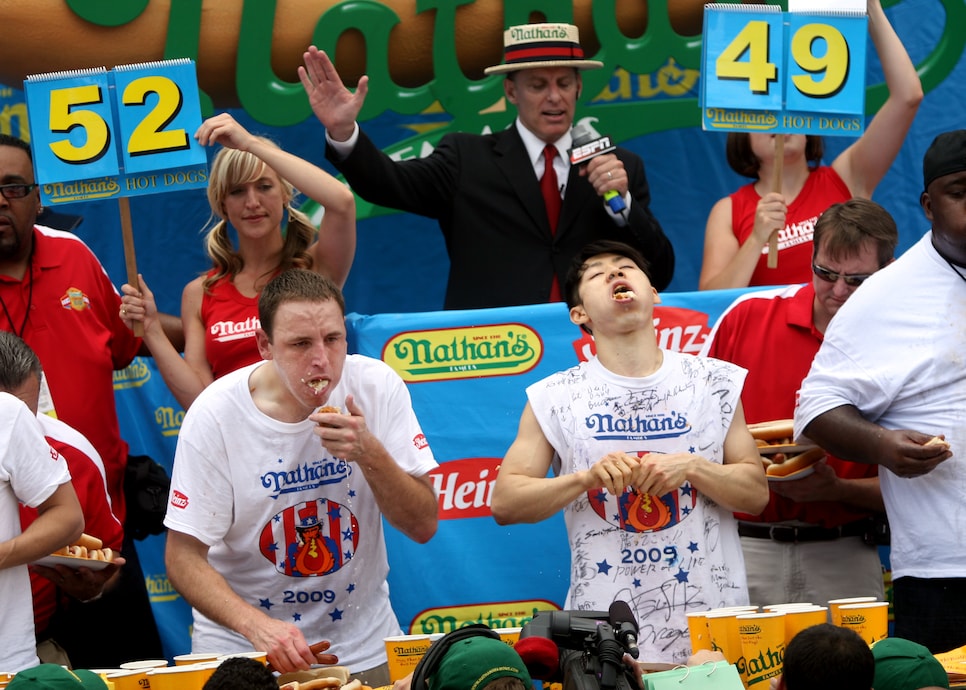 As America hurtles toward an exciting, high-stakes future full of legal sports gambling and friendly neighborhood bookies, the appetite for everything and anything even remotely competitive to throw money at has reached 1pm-on-Thanksgiving levels. Enter the iconic, immortal, and infinitely American Nathan's Hot Dog Eating Contest—hosted every July 4th in Coney Island since time immemorial—which is now accepting bets ahead of its 2018 gorging.
The tubed meat stick version of Apollo Creed, Joey Chestnut, is the favorite to claim the Men's Mustard Belt at 1/5, followed in a distance second by Matt Stonie at 3/1, who snapped Chestnut's 8-year winning streak back in 2015. On the women's side, Miki Sudo is the clear favorite at 2/9 to win. The over/under line for Chestnut, who devoured 72 dawgs last year, is 68.5 at 5/6, but you may want to hold off on that one for a week or two, when some early weather reports for the 4th might be starting to trickling in. Nothing affects the appetite like a tropical depression, after all.
You can place your bets via betonline.ag, which, while not strictly 'Merican, will save you a trip to Delaware, which is worth it on it own.