Turning Pro
How do you decide to turn pro before graduation, when your parents are professors? Gina Kim figured it out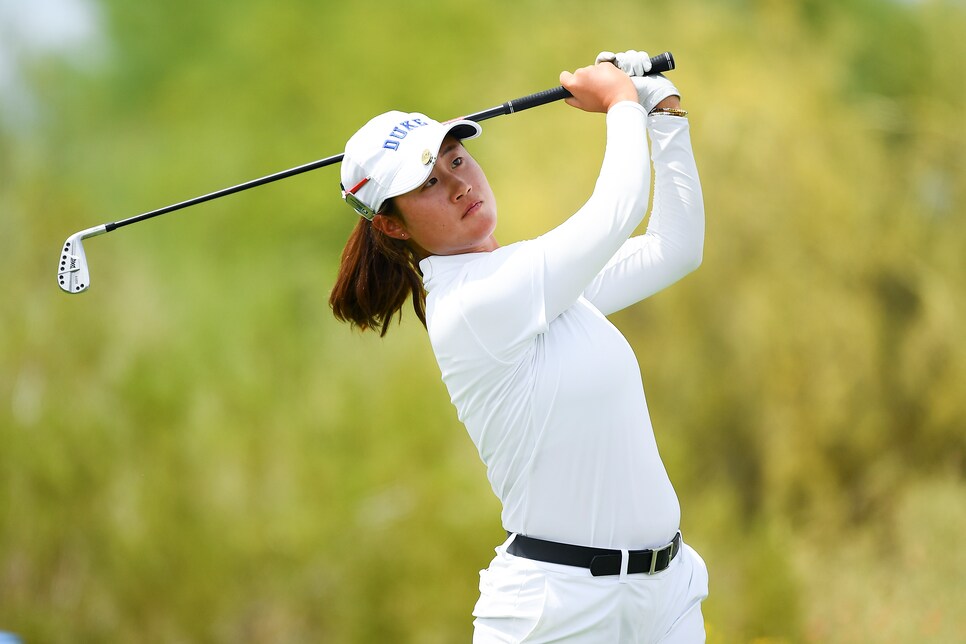 Gina Kim hits a shot in the semifinal of the 2021 NCAA Women's Golf Championship.
Tim Cowie/Tim Cowie Photography
If you're still in college and have the chance to leave early to turn pro, it's never an easy decision. You have to think about the team and coaches you're leaving behind. You have to think about the opportunity ahead of you and what it could mean for your career. But if you're Gina Kim, the Duke University senior who made it through Q Series in December to earn LPGA Tour status, you also have to think about the fact that your parents are university professors. How exactly do you tell them you're going to leave college early to play professional golf?
You figure out a way to turn pro and still graduate on time, that's how.
"With my parents being professors, they instilled a deep respect of education," Kim told Golf Digest. Her parents are Spanish professors at the University of Carolina. "When we didn't have a season in fall of 2020 [due to the COVID-19 pandemic], I was already overloading on classes because we didn't have tournaments. Golf was a little bit on the back burner, I just kept overloading and took a couple summer classes. By the time I got to 2021, I only needed five credits to graduate."
She took a normal course load in the fall, which leaves one credit between her and her diploma. She didn't plan this out with the idea she was going to turn pro and leave Duke early, but it certainly worked out. She was just trying to make her senior year academically easier, so she could spend more time on golf.
"I was thinking, I'm going to make my senior year smooth sailing, I want to be able to focus on golf and get ready for whatever's out there," Kim said. "At that point, I hadn't thought about Q School yet. I wanted to make my senior year as easy as possible. Turns out I've worked so far ahead, I can make this work with my schedule. It turned out really well, but it wasn't planned."
Kim found a class that meets once a week, Sports Ethics, and will be taking that as she flies to LPGA Tour events, attempting to Monday qualify. She's trying her hand at that route because while Kim did make it through Q Series, the lower you finish, the lower your priority ranking is for the upcoming season. The top 45 players get status, but with Kim finishing T-35, she isn't guaranteed many starts. Her plan is to try to Monday qualify for LPGA events, take the starts she gets, and fill in her schedule with Symetra Tour events.
As she pursues her new life as a pro golfer, she's staying in Durham, living at home. Down the road at Duke, the team is preparing for their spring season, the NCAA Championship looming just a few months away. That was one of the hardest things for Kim to let go of, the chance to go for the NCAA trophy again. She was on Duke's national title-winning team in 2019.
"Having to give up the chance for a national title, that was huge for me," Kim said. "I'm fortunate—every year we went to nationals we had a good look at the finals, for the trophy. We made it to the semis every time we went out there in my four years. Having to give up on that chance was pretty big. But mostly it's about the people. Having to say goodbye to my team and coaches earlier than expected, being a Duke student-athlete in general, it's hard leaving that behind, you know?"
It's clear the 21-year-old has been thinking hard about this. The Psychology major said she agonized over it for the month between qualifying and announcing her decision to turn pro. But after making it through Q Series once, she didn't want to have to do it again. If she deferred turning pro until after NCAA's, she'd have missed four months of competing as a professional. The fewer chances you have to play LPGA events, the fewer chances you have to rack up crucial points to ensure you keep your card for the next year.
"Q Series is really tough. It's a really tough two weeks. I heard stories about how tough it is, but you don't understand until you go through it yourself," Kim said. "After that, we looked at each other and were like, 'I don't want to come back here next year.' That played a part in my decision making, I want to stabilize myself in making sure I can retain my status so I don't have to go through that process again. Trying to hit the ground running and try to find a good spot for myself before the reshuffle in May, I thought that was pretty crucial for me."
And of course, turning pro right now is about more than just not wanting to go back to Q Series again. It's about the realization of a dream.
"As much as it was my dream to go to Duke, my No. 1 dream was to go to the LPGA Tour," Kim said. "The fact that I worked really hard through Q Series, and I had that cardboard cutout with my name on it. I kept looking at that, like, Wow it's really in front of me. It's too good of an opportunity to pass up."
And mom and dad don't have to worry, because with one credit left and a plan on how to complete it, the degree is taken care of, too.
"They're just happy that I'm happy," Kim said. "They've been hearing me talk about wanting to be on the LPGA since I was 8 years old."