The Loop
Gills And Thrills In Gulf Shores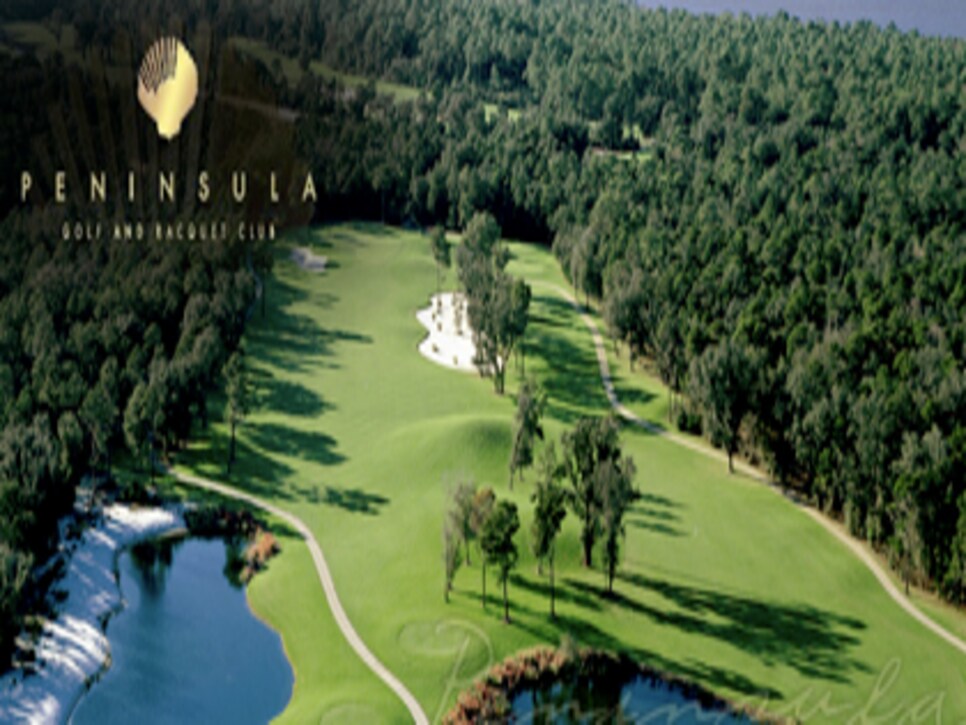 I recently received this e-mail from Craig Watson of Skippack, Penn.:
Our group is traveling down to Gulf Shores, Ala. at the end of March and we have an empty golf day. We would love your input on where to play. Can you give us some of the top courses?
I'm actually just back from Gulf Shores. I Ambushed a group of 89 guys on their 40th annual buddies trip--The Bratton Brothers Invitational. Here's their website. It's one of the better buddies trip sites I've seen. Look for more about their story in the June issue of Golf Digest. The BBI played Kiva Dunes, Peninsula Golf Club and the Golf Club of The Wharf. (The practice round at Marcus Pointe was optional.)
A few of the guys with higher handicaps felt Kiva Dunes, especially when the wind was blowing, was too hard but they agreed it was in great shape. The lower handicappers liked the challenge.
The Peninsula Golf Club (pictured above) got high marks from all skill levels. Peninsula has 27 holes, which were also in good condition, and Todd Edwards and his staff were a key ingredient to yet another successful Ambush (No. 13). Thank you, Todd. (And thank you beverage cart Tammy for showing off your heart and chili pepper tattoo. The specific body quadrant to be kept under wraps, but I'd rate the location PG--as in, pretty good.
I left the Bratton Brothers Invitational as they teed off at The Wharf, which used to be the Gulf Shores Golf Club. Built in the 60's, The Wharf was the first course in Gulf Shores. It was closed and completely renovated in 2005. It's had stints as a private course, but as of January, it's open to the public again. A trend we'll be seeing a lot more of I'm sure.
A few of the guys who came in early voted "No" on Marcus Pointe. And that was after they played it.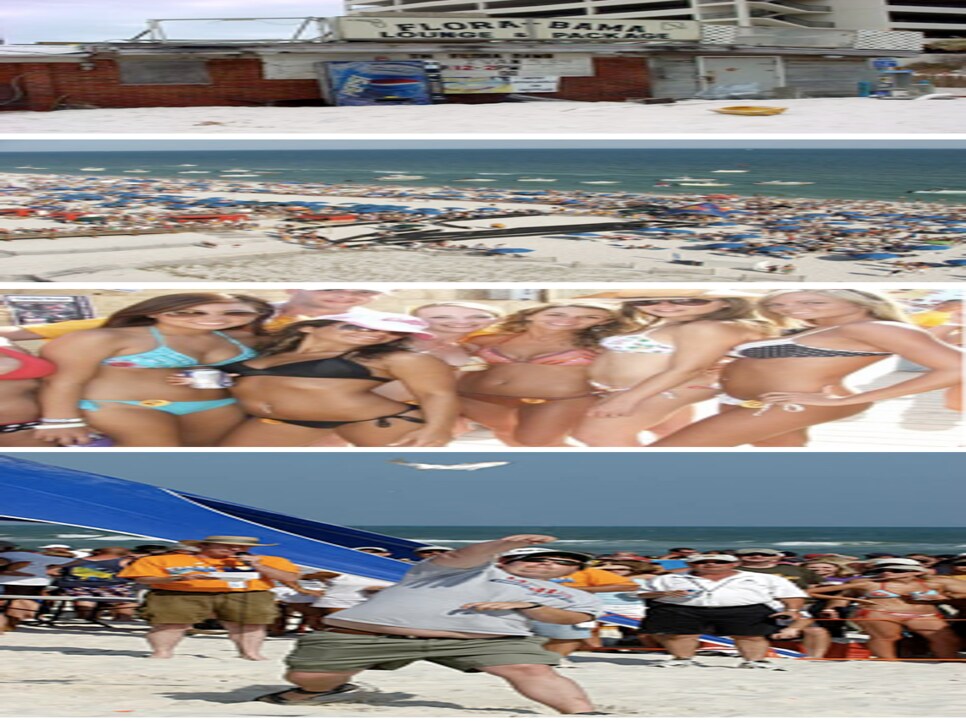 Note to self (and reader): When you go to Gulf Shores in March, be sure to bring bug spray or pack pants and long-sleeve shirts. The Noseeums, the maddening miniature gnats with a bloodthirsty bite, struck again. I'll aggressively be scratching my way through the next two weeks. I hate Noseeums more than I hate canceled flights, doing my expenses, the Yankees and eggplant.
On a social note of service . . .The Bratton Brothers brought me to the Flora-Bama last Saturday night. The Flora-Bama is a delightful little dump of a venue, the tramp-stamp on the lower back of the "Redneck Riviera" if you will, that's been located on the border of Florida and Alabama since 1964. If it looks like it's been knocked down, dragged out and left for dead, it's because it has. Several times. Hurricane Ivan was the Flora-Bama's latest sparring partner. The current owners, Joe Gilchrist and Pat McClellan, have taped the place up and tied it together with big ol' braziers from a clientele with exhibitionist tendencies. It features multiple rooms with as many as four bands playing at the same time. Order a Bushwacker, the local frozen drink, and take a seat with your back to the wall if you know what's good for you. As one guide explained to me, "It's a bar scene out of Star Wars." I'd argue it's more terrestrial than that.
And if this kind of thing floats your boat--or heaves your fish--get to the beach right next to the Flora-Bama in the last full weekend of April to catch the Annual Interstate Mullet Toss. It's exactly what you think it might be: Marinated, sun-drenched rednecks wearing next to nothing tossing fish over 150 feet from one state to another. Thousands of people come from all over for gridlock traffic, an unlimited supply of Bushwackers and countless acts of drunken debauchery.
It's not all bad at the Flora-Bama. They attract some great bands and I should mention that proceeds from the Mullet Toss go to local charities and youth organizations. Which begs the question: What's better than a group of fish-tossin' rednecks with big hearts?