The Loop
Getting the worst end of the draw, Inbee Park may have seen Grand Slam chances blown away
ST. ANDREWS, Scotland -- You have to play great golf to win three consecutive major championships, but you also need a wee bit of luck along the way. Inbee Park came up short on both in Friday's second round of the Ricoh Women's British Open. And while going into the weekend eight strokes off the lead does not necessarily eliminate her chances of becoming the first person to win four pro majors in a year, especially given the quirks and large numbers links golf can produce, it does appear unlikely.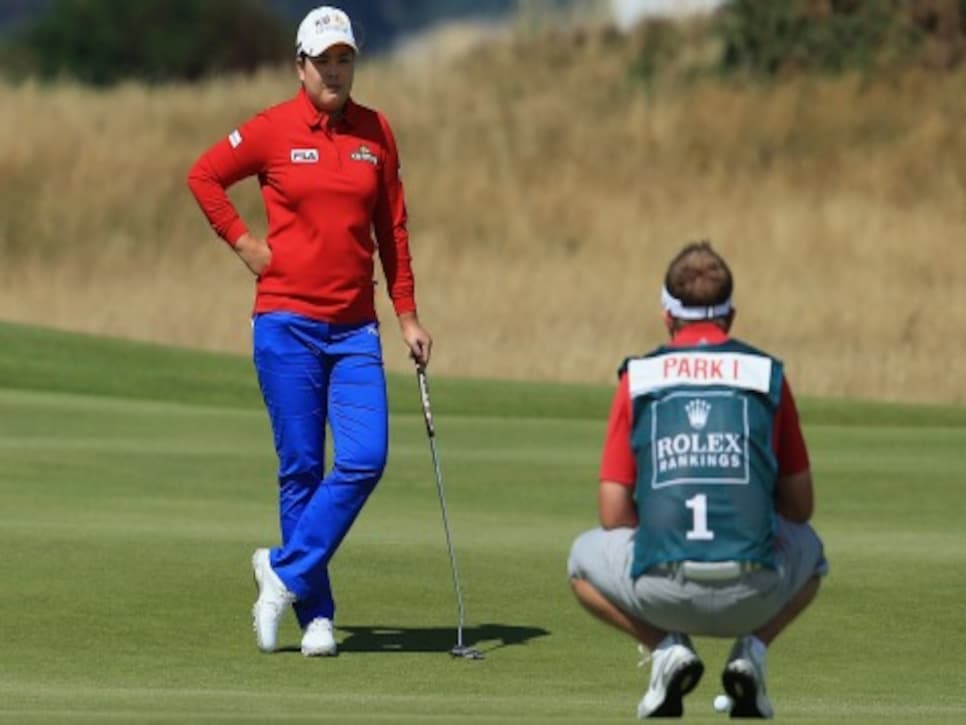 Related: The Greatest Seasons In Golf History That good fortune did a 180 on Park in Friday's second round as she got the bad end of the draw and simply didn't have the power to tear through the wind that ravaged the Old Course after a benign morning. Her one-over-par 73 left her at two-under 142 after 36 holes with Na Yeon Choi sitting atop the leader board at 134. But who knows, maybe on Saturday Park goes off early in calm conditions and the leaders get blown away later in the day? That's what happened Friday. "A little bit of everything wasn't really working well out there today, but it was tough conditions," Park said in a spot-on assessment of her round. "I think I grinded really well out there." Shorty before 10 a.m. a squall raced across the Old Course and was quickly rushed out to sea by a brisk breeze that settled in for the rest of the day. By the time Park teed of at 11:48 there was a sustained wind of 21 mph with gusts much stronger. Suddenly St. Andrews, which played to a below-par stroke average of 71.632 in Thursday's first round, had its swagger back.
"The weather wasn't good, the conditions were very difficult," Choi said. "It was like it was par 74, 75 today. So I didn't care if it was a par-3, par-4, par-5. I just played one shot at a time. I don't think I could have shot lower than 67."  The change in conditions seemed unsettling for Park, and that is a rarity for the Korean who plays with a Zen-like calm. Her ball striking was not nearly as crisp as Thursday, when she opened with a 69, and her putting was not as precise as usual, although she did make several good six-foot par saves. "[I was] a little bit unlucky with the draw, getting afternoon today, not playing in the morning when it's lovely, but that's the way it is," she said. Choi, the 2012 U.S. Women's Open champion, was the only player with a tee time after 10:10 among the leaders, shooting a rather stout 67. Miki Saiki, who went out in 30 -- making eagles on two par-4 holes -- was at 135 with a 66. Morgan Pressel shot 70 and was at 136 and Suzann Pettersen got to 137 with a 67. All three of them teed off before 7:30. Jee Young Lee, who teed off at 10:10 and played mostly in the wind, also shot a 67 and was tied with Pettersen for fourth at seven-under par. Paula Creamer, Stacy Lewis, Cristie Kerr, Brittany Lincicome -- all of whom shot under par in the first round -- joined Park among the unfortunates who played their entire round in the wind. None of them broke par on Friday. And it was the worst wind for the Old Course, left to right and helping on the outward nine -- and all the trouble is on the right -- and into the players on the final eight holes. No one took better advantage of the calm conditions than Saiki, a JLPGA tour member who has won twice in Japan this year. She holed an 8-iron from 127 yards on No. 4 and a wedge from 108 yards on No. 7 for eagles as she went out in 30. Pettersen acknowledged getting the better of the draw, but had no shame over the outcome. "Over the year, I think it evens out," Pettersen said about getting the good side of the draw in regard to the wind. "I think I had the worst part of the draw last year."
Related: Unfazed by spotlight, Inbee Park starts strong Park, who opened her bid for a history with a birdie, bogeyed No. 1 on Friday as the wind rode her ball long and right and she chipped poorly. In the first round, she birdied six of the first ten holes. She played that stretch one-over par on Friday. Then she gutted out a three bogey, two birdie back nine. Nos. 13 and 17 -- which play 407 yards and 443 yards respectively -- were simply more golf course than the relatively short-hitting Park could handle into the wind. And the conditions appeared to wear her down. On No. 14, when she tugged her fairway wood second shot on the par-5 into the left rough, her shoulders sagged a bit in frustration, which for the placid Park is akin to Tiger Woods letting loose a loud expletive. She managed, however, to make a great one-putt par, converting from 12 feet. But while she did manage to save par several times with the great eraser she calls a putter, she missed several of the 20-foot birdies she rolled in on Thursday.
Related: Inbee Park, a putting maestro Now we go into the weekend wondering if Park is too many strokes -- and more importantly, too many people -- behind. But of the many aspects of skill and discipline links golf explore, the roll of luck looms large. "Yeah," she said when asked if she still had a chance to win. "I would say you just never know what's going to happen the next two days. Especially if the conditions get tougher, I think anything could happen out here." A low number early on Saturday could put Park right back into this thing, and on Thursday she proved she can go low on the Old Course. Stranger things have happened at St. Andrews.