Instruction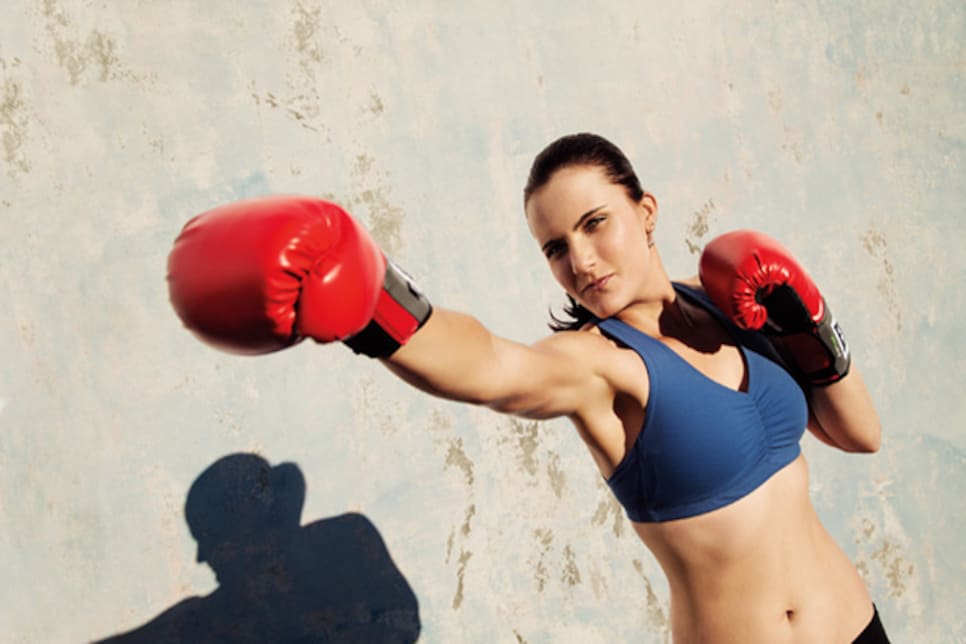 We're not showing you photos of Lexi, Michelle, Cheyenne and Stacy in workout gear just for fun. Fact is, if you want to hit the ball farther, you have more to learn from these women than from some galoot on the PGA Tour. Let's be honest: You're never going to swing the club as fast as the top few hundred men on the planet. And though it seems unbelievable, most of those guys aren't maximizing their distance anyway. Maybe because the female anatomy isn't designed to house as much bulk, LPGA Tour players have become the experts at squeezing every last yard a body can produce. From how they swing to how they train, there's a lot for male mortals to copy.
"It's my constant message when I talk to club pros," says Dave Phillips, co-founder of the Titleist Performance Institute. "For members who want to hit it longer, you need to get them to look more closely at women."
Despite a size advantage that can't be all attributable to his gut, the typical guy doesn't hit it in the same zip code as a female pro. According to Arccos Golf, the maker of a stats-tracking system that pairs sensors in your grips with the GPS in your smartphone, the average drive of 30-year-old dudes (in this case, a self-selecting group that's avid and curious enough to buy such a system) travels 232 yards. Stacy Lewis, who is 5-feet-5 and 42nd in the LPGA Tour's distance ranking, hits it 252. The longest woman, 5-6 Yani Tseng, is popping it out there 278.
But the weekend warrior should be encouraged that he and the typical LPGA Tour player swing the driver at the same speed: 94 miles per hour. Why do the women get so much more buck for their bang? Obviously, striking the ball with the middle of the clubface helps, but there's more to it. First is understanding how at the elite level, the female driver swing is fundamentally different from that of the male. Pardon any sweeping observations, but speaking broadly is a necessary evil for the topic.
"Without a doubt, LPGA Tour players are more efficient than the average PGA Tour player at maximizing every bit of clubhead speed," says Justin Padjen of TrackMan, who spends time on both tours providing fitting advice. "The typical PGA Tour player is swinging the driver at 113 miles per hour and launching the ball at 11 degrees with 2,600 rpms of spin. That's not the way to hit the ball if the end goal is strictly distance."
Padjen says the unrealized potential lies in attack angle, the path the clubhead is moving up or down as it strikes the ball. According to his research, PGA Tour players tend to present the clubhead level or at minus-1 degree, which is hitting down on the ball slightly. This is a choice of control over power. "They're optimal for their speed and attack angle," Padjen says, "but their attack angle is what prevents them from hitting it farther."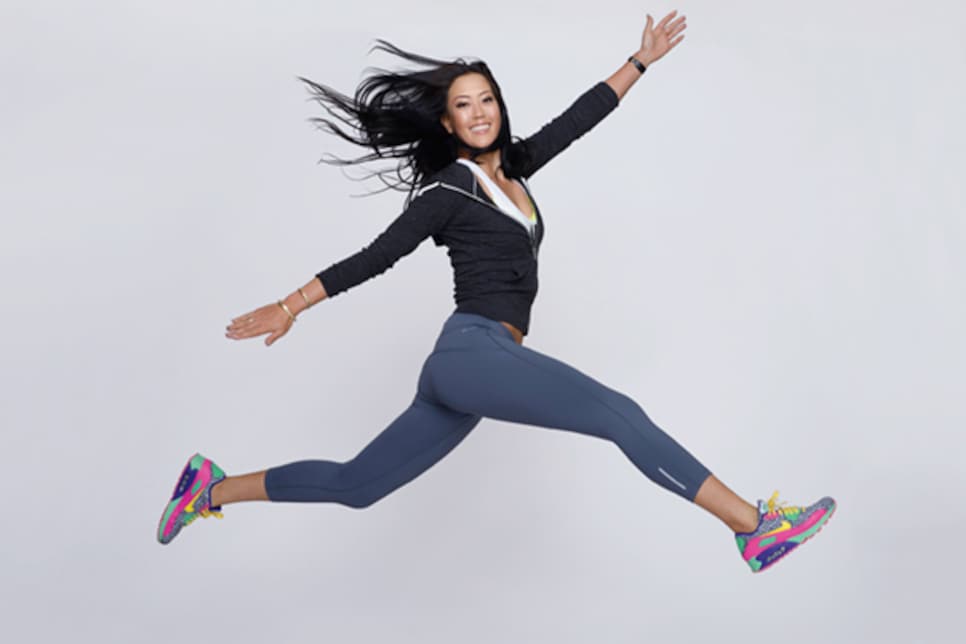 'I thought I had strong legs, but I didn't. now I'm really able to use my lower body to generate power.'—Michelle Wie
Adds Phillips: "With men, you see more stable, centered swings. They already have the speed, so they're mostly trying to cover the ball, squeeze it out there to make sure they find the fairway." Because slower swings are less prone to wild misses, "women can hit way up on the ball more like long-drive guys," he says. Indeed, the average angle of attack for an LPGA player's drive is around plus-2 or plus-3 degrees, says Padjen, who has seen several women hit up on the ball as much as 6 degrees.
"The fellas hang on to lag longer, whereas the girls release the club earlier with more of a sweeping motion," says Golf Digest Teaching Professional David Leadbetter. "As much as some guys might not like to hear it, the girls get the club swinging in a much freer manner. Guys get so connected. Male pros generate power by rotating the torso; females sort of halt the body at impact and let the arms extend forward. If you can free your arms like this, you're more likely to hit a nicely shaped draw."
In this way, women are perhaps a product of circumstance. PGA Tour setups tend to reward meaty carry distances over hazards, perfect for a reliable power fade. LPGA Tour courses—and likely your home course—encourage finding distance with drives that roll out.
A key to that bounding LPGA Tour draw? You won't find it by studying the swings of Tiger Woods or Adam Scott. Instead, check out our cover subject: "As I hit the ball, I get way up on both of my toes, and that's how I got the nickname Tippy Toes," Lexi Thompson says.
"You see a lot of girls with both heels off the ground at impact," says Leadbetter, who coaches U.S. Women's Open champ Michelle Wie and several other LPGA standouts. "They come out of their spine angle at impact and stand up straight like a baseball slugger." If this freewheeling, unorthodox motion reminds you of someone on the PGA Tour, it's probably the distance king. You heard it here first: Bubba Watson swings like a girl.
"Bubba Watson's is actually the only swing I've ever heard television commentators compare mine with," Thompson says.
Adds Padjen: "Bubba's interesting. Depending on the trajectory of the tee shot he's trying to hit, we've seen his attack angle range anywhere from plus-3 to minus-3. It's what makes him a magician." Bubba learned his swing slapping Wiffle balls around his back yard, but others have tried ingraining this "LPGA Tour move" more deliberately. Jumbo Ozaki once trained with a baseball coach to groove the stand-up motion just for his tee ball.
Applying power secrets from other sports has also been Thompson's trade. Three years ago she connected with Craig Slaunwhite, then the strength and conditioning coach for the Florida Panthers hockey team. The lie angle of a hockey stick is similar to that of a golf club, and crossover legends range from long-drive bruiser Jamie Sadlowski to, of course, Happy Gilmore.
"Craig was all about strengthening my core. I basically live standing on a Bosu ball," Thompson says, referring to the inflatable, unstable, hemispherical platform. Her balance is such that she can hold herself upright on a physio ball by just gripping it with her knees, all while performing medicine-ball throws. "Exercises like this help build the strength so you can swing within yourself," she says. "A lot of amateurs over-swing because they're not strong enough to stay in control."
Slaunwhite's other contribution was getting Thompson into boxing. "I love it," Lexi says. "Punching teaches you to get power with your whole body. And it gets the anger out. Like the golf course, you can get in your own little world where nothing matters." Slaunwhite has relocated to Canada, but the seed has been planted. Thompson is house-hunting in the Jupiter area, and she says if she gets one that will accommodate a gym, one of her early acquisitions will be a heavy bag.
Cheyenne Woods says at least a few yards of her 251 average are thanks to fitness training, but she's quicker to speak of the psychological benefits: "I just love being outside, the adrenaline, and knowing that I'm fit." On a given week home in Phoenix, she'll spend two afternoons at a local high school running on the track and jumping up the bleachers. The students don't recognize her, and those who approach will ask if she's training for a specific race. "It's nice to be mistaken as a track athlete," Woods laughs. (She did compete in the long jump and triple jump her sophomore year of high school.) "People are usually like, 'Wow, I didn't know golfers ran.' It's cool to show that golfers are athletes, too."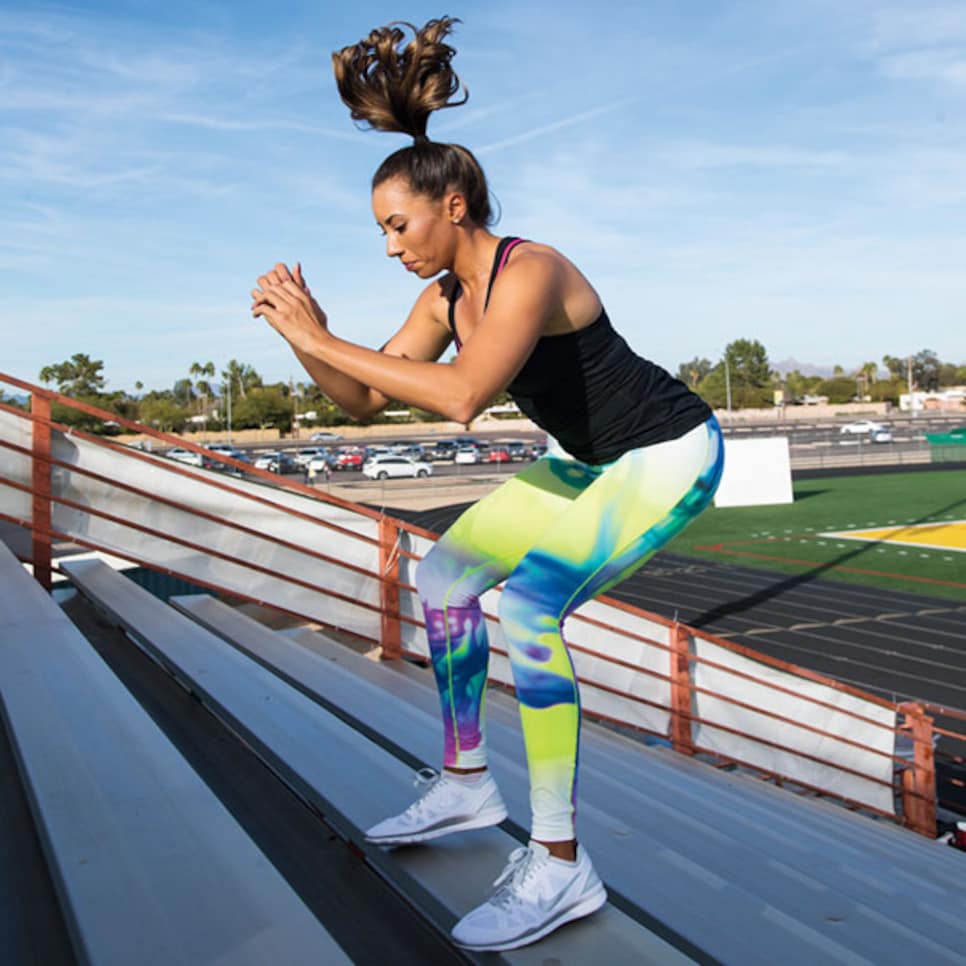 'It's cool to show that golfers are athletes, too.' —Cheyenne Woods
The rest of the week Woods attends group-conditioning classes where the temperature is cranked to 105 degrees. The exercises incorporate only body weight, such as lunges and mountain-climbers. "You never know what you're getting yourself into," Woods says. "You're dripping with sweat, and you just go until he says, 'Stop,' so it's really mental."
"The girl's got drive," says trainer Karen Mullarkey, who lists Woods among her clients with LPGA aspirations. "But she'd never really been pushed hard, because I think her previous coaches were nervous of injuries."
Mullarkey isn't cavalier, especially when her client recently earned her first LPGA Tour card, but she laments that female athletes are often not evaluated and challenged appropriately.
Initially, Woods was "quad-dominant," meaning the muscles on the front side of her lower body overmatched the strength of her hamstrings, calves and glutes on the back side. This imbalance is a common condition among women, Mullarkey says, largely because of the wider angle at which the femur meets the knee, an accommodation for childbirth. For this reason, Mullarkey usually assigns two days of leg work a week for female clients, as opposed to one for males.
"My tendency was for my right knee to kick in too early on the downswing, so I'd either hit a push or a hook," Woods says. "Now that we've strengthened my hips and butt, I'm doing much better with that."
Relative to men, women are strongest in their legs. In one major study, a group of women were found to be only 52 percent as strong as men in their upper body, but 66 percent as strong in the lower body. Yet for female golfers, making their lower body even stronger can be smart. "Women have the great ability to create torque because they can turn better than men, and that's why you see a lot of long swings on the LPGA Tour," Phillips says. "If a woman can get a really strong lower body, she can develop speed just as quick as a man."
Adds Leadbetter: "Michelle [Wie] was 20 yards longer when she was 13 than she is now. She was carrying the ball 260 to 270. She had so much shoulder turn against very little hip turn, high hands, and this incredible whiplike action. I haven't seen anything like it before or since." Freakish distance is nice, but it doesn't make a complete player. Several months before she won the U.S. Women's Open, Wie told trainer David Donatucci of the Florida Institute of Performance that her goal for the 2014 season was to be injury-free.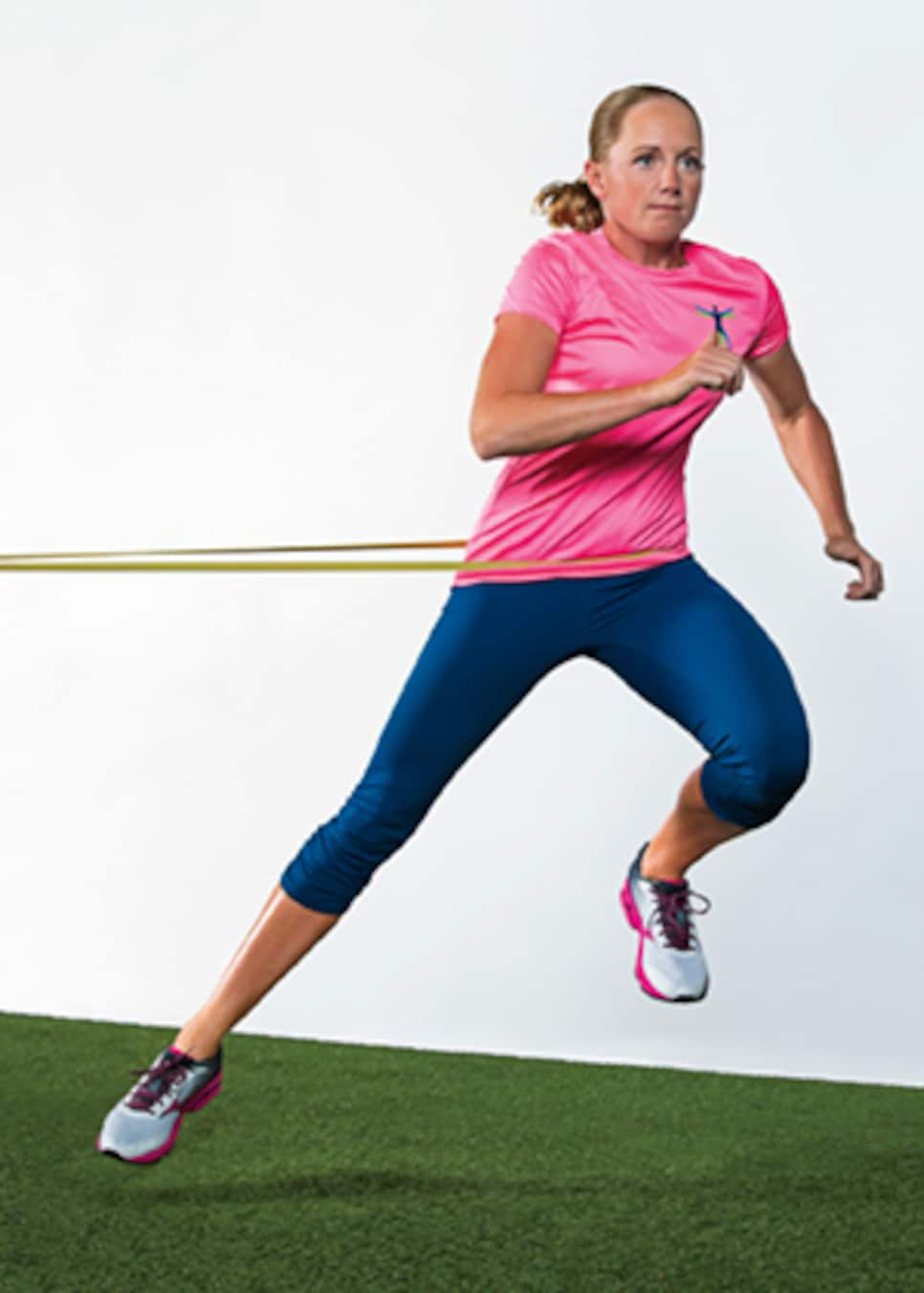 'The bands allow me to do on the road what I'd do in my gym.' —Stacy Lewis
"She was almost too flexible in the wrong parts," Donatucci says. "Her joints were overstressed." Because Wie looked fantastic and ate nutritiously, "she had the belief she was in great shape, but we saw faulty movement patterns when she did squats or stepped onto a box with one leg," Donatucci says. After diligently targeting specific small-muscle groups with corrective exercises, Wie has a swing that's more stable than ever.
"Doesn't matter if you're a man or woman," Leadbetter says. "As you age, your flexibility might lessen, although your strength increases. You end up generating power in a different way." As much as Wie's body has improved, Stacy Lewis is one of Donatucci's best clients. "She sets the bar for everybody else here, guys included," he says. "She's never without her logbook, and she's always trying to lift more weight." That includes 115 pounds on a single-leg squat. Not too shabby for someone who weighs just 125 pounds.
"I don't know how hard the PGA Tour guys work out, but out here we're working pretty hard," says Thompson, who would happily take 15 more pounds of muscle tomorrow for her 6-foot frame. "Even after long days, there are a lot of girls in the fitness trailer."
As Lexi and friends continue to inspire young girls and draw promising athletes who might have played softball or field hockey, the LPGA Tour awaits a player averaging 300-yard drives. She's out there.