News
Germany's Aline Krauter follows countrywoman Sophia Popov's lead, wins Women's British Amateur title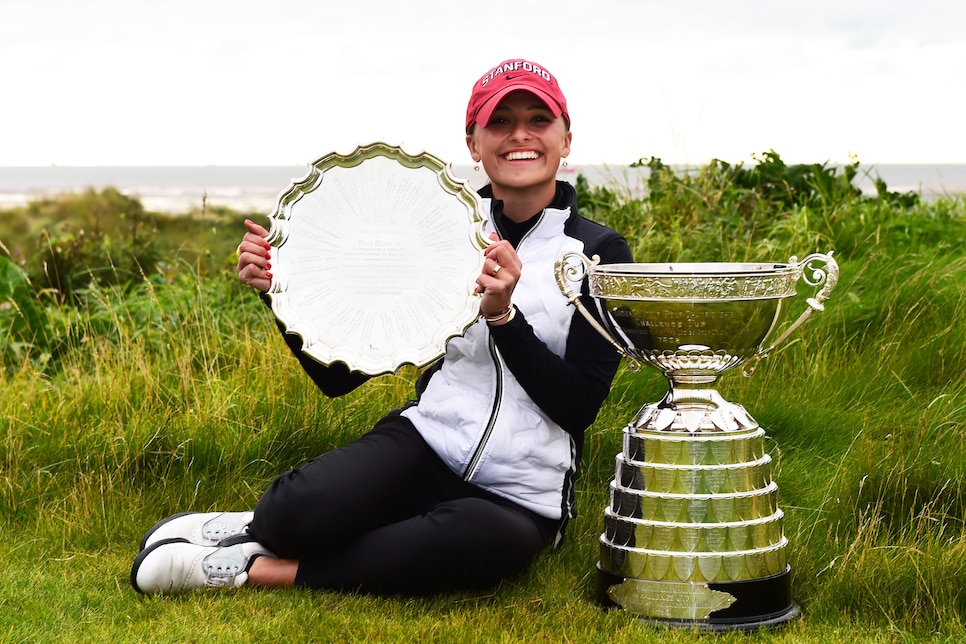 Aline Krauter holds the spoils of victory after winning the 117th Women's British Amateur on Saturday (photo courtesy of the R&A).
Standing 3 down through four holes in the 18-hole final of the 117th Women's British Amateur, Aline Krauter had reason to be nervous on Saturday at West Lancashire near Liverpool. Ranked 71st in the world, the 20-year-old from Germany had played well in her two seasons to date at Stanford but had yet to claim a confidence-boosting individual title. Meanwhile her opponent, England's Annabell Fuller, ranked 41st, a member of the 2018 GB&I Curtis Cup team and winner the previous week of the English Women's Amateur, looked poised to build on her early momentum.
Still, Krauter carried a sense of calm. "I felt under control out there," she said. "I'm not sure what did the trick, but I was quite unphased on the course, which I think helped me in the wind and the conditions. It was so fun to play in the final."
Indeed, whatever it was proved to be enough. Krauter proceeded to win six of the next eight holes—three with birdies—then held off a final charge from Fuller, 18, to take the title with a 1-up victory.
"It was a rough start, but I knew that I had my game and I had played well all week," Krauter said. "I wasn't really worried at that time."
"I watched Sophia win last week, it was amazing," Krauter said.
With the victory, Krauter earns an exemption into next year's Women's British Open at Carnoustie. The Women's British Amateur winner also typically gets a spot in the U.S. Women's Open and the Evian Championship.
This year's event had been previously scheduled for June but was postponed due to the COVID-19 pandemic and played without spectators.