Movies
George Lopez on the trouble with golf movies, his goodwill idea for the sport, and why Kenny Perry lost the 2009 Masters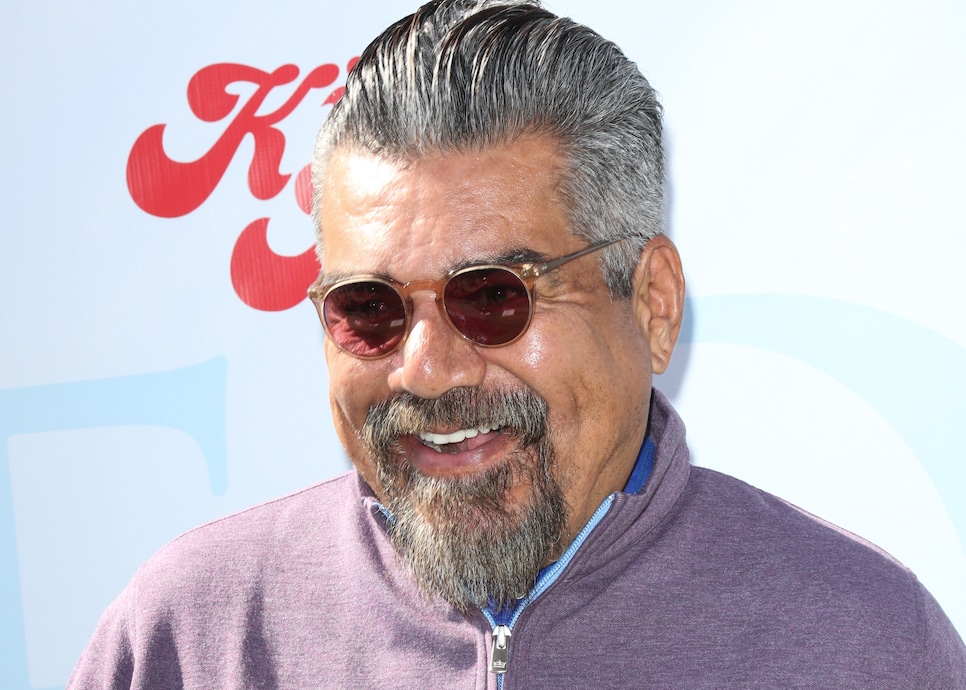 Asking for a mulligan and needing a miracle, well, those are common refrains on the golf course. The new film "Walking with Herb" takes those wishes to a higher concept—literally.
The movie, based on Joe S. Bullock's 2015 novel of the same name, highlights Joe Amable-Amo (Edward James Olmos), a former amateur golfer struggling with his life and faith after a tragedy. In the midst of this pain, Joe receives a message on his computer from God that he needs to spread an inspirational message by returning to his golf roots. And helping Joe is a messenger named Herb, played by comedian George Lopez.
Lopez, 59, is no stranger to the game. An avid player for four decades, Lopez has been a frequent sight at PGA Tour pro-ams, and served as the de-facto host of the tour's Bob Hope Classic (now The American Express) in the mid-2000s. Lopez also runs an annual charity golf event for kidney disease and organ donation.
We had the opportunity to chat with Lopez about the film, what golf stories warrant the Hollywood treatment, and a fantastic goodwill idea for the sport.
The role is a bit of a departure from what audiences have come to expect from your work. What drew you to this opportunity?
Well the screenplay was penned by Mark Medoff, who was nominated for an Academy Award for "Children of a Lesser God" and won a Tony Award, and his adaptation of the book is powerful. And I think that it's more than just a golf movie spoke to me. But I do love golf, it has helped me in so many ways. It's changed my life, it's made me better than the person who I was before I started playing. I didn't have a father, I didn't have that guidance. I started playing on Christmas Day in 1981, and in those sticks I found all those answers. It drew me to what was wrong with me. And isn't that what faith is all about?
But my ties with golf, I know the sport. I know a lot of golfers. I see their struggle. What has stuck with me through the years was when Kenny Perry was leading the 2009 Masters. Up two with two to go. He thought he had it. He once told me he already saw the ceremony, saw himself putting on the green jacket. That's why he lost. In life you can't get ahead of yourself. And the message in this movie, in faith, is to not get ahead of yourself. You can't anticipate the answers. You have to stay in the present.
And sometimes life will toss you the unexpected. That same Masters, Angel Cabrera hits a tree and the ball bounces back in the fairway. I'm sure Kenny thinks it's a lucky break. But it's about taking those breaks and doing something with them.
The film is rooted in different themes and crosses several genres. But it is a golf movie, and the list of golf movies is relatively short. Why is it tough to make a good golf film?
Good question. It can be hard to capture the experience of golf. Our spouses always say, "Where have you been?" We say, "Golf!" They respond, "For eight hours!" "Yep!" "Well, what did you talk about?" And we say nothing, because that's how it can be, right? That's what is tough about golf.
Of course, they made chess interesting with "The Queen's Gambit." So maybe there is a way to do it.
There are a couple golf personalities like David Feherty and Terry Gannon in the film. Who are some other figures in golf that you think would be able to hold their own on the screen?
Bubba Watson has a spirit, he's an emotional guy. He would be able to cry when he needed to. To see his development over the years has been moving. He's refreshing to the world of golf. To see him become more comfortable, it's a beautiful thing.
Speaking of Feherty, we had a beautiful moment. We know David has had his battles. He's made his change. One night as we're walking, he looks up and stops in his place. "I've never seen the stars like this," he said, in total wonder. Golf, he told me, saved him. It has a way of bringing peace to people.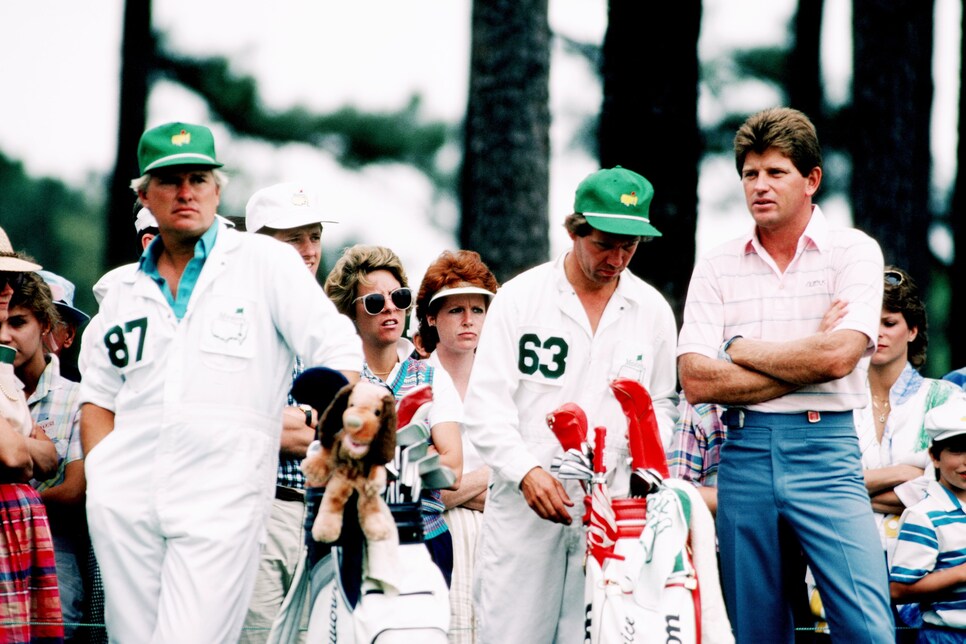 Are there any golf-related stories you'd like to see given attention, be it a series, documentary or movie?
I love the Masters. And in watching all the old Masters tournaments, I think something about the Augusta National caddies would do really well. You could recreate the stories, and trust me, they have a million of them.
I played with Fuzzy Zoeller a few times. He said the key to his Masters victory was having a great caddie. The caddie would tell him where to hit it, and Fuzzy would. As they were walking up to a hole, the caddie would already be giving him a line and telling Fuzzy how to visualize the putt. That is putting a lot of faith and belief into someone, you're putting your livelihood and your dreams into that person.
Carl Jackson, Ben Crenshaw's old caddie. Just a beautiful, soulful sweet guy. Loved his vibe. There are a tons of guy with that spirit, and they all have stories to tell.
I read that, like many golfers, you like to relive some of your favorite rounds. What are the days and shots that are forever in your carousel?
I came in third at the Pebble Beach Pro-Am with Jesper Parnevik one year. That's a guy who would have won an Open, but he looked at a scoreboard and lost. Sometimes you don't want to look, or you're not prepared to, but you have to. He found that out the hard way … Anyway, it's the second day, and we're playing Poppy [Hills]. Didn't play well the first day, and I'm thinking, "I can't believe I'm embarrassing myself." Then Jesper rolls up in his car, pulls up right next to me and says, "You ready to go low?" In my head I'm thinking Nope, but I immediately respond "You bet!" And we did! Think we shot 11 under that day. To go home to the house that night, turn on the TV and see our names at the top of the leader board ... man, what a rush.
Fast-forward to Sunday and we're on the 18th green at Pebble. Thing with Jesper is, his father was a comedian. And they didn't have a great relationship. So as a comedian the entire week I'm thinking how much of a burden, a weight this has to be on him. But Jesper's wife said that my energy awakened something in him, and we get to the 18th, we just gave each the biggest of hugs. This game brought two people together.
Another favorite moment was playing Augusta National with Trevor Immelman, who is a friend. As we're walking to No. 10 (former Augusta National chairman) Billy Payne comes out to say hi. I said, "Great to see you, Mr. Chairman," and he goes, "Call me Billy." A few seconds later I see all the caddies looking at me in shock. "He never tells anyone to call him Billy!" they say. That's a pretty sweet one to have in the pocket.
Golf had a renaissance over the past year as an upshot to the pandemic. It also still has a problem with inclusion. You've been running a charity golf tournament for well over a decade and were the host of a PGA Tour event. In your estimation, what can the sport be doing better to make it more welcoming as more people start trying it out?
That's a great question. There's a lot of facets to it. There's always going to be a country club model, so how do we open that up? To me it's bringing back more caddie systems, both at clubs and public courses. Caddie systems help players be able to hit balls at the range or play on Mondays. You have to have these funnels, and that's a big one for people who otherwise can't afford it.
Also everyone who golfs has tons of equipment they don't use. What we need is a universal Goodwill of golf. To drop off your clubs and know they would go to public courses and where they would be needed. We need to get that one off the ground.
Listen, you put a club in someone's hand, all you need is one good swing, one good hit, it's an incredible feeling. And you're hooked.
Before we let you go, what course or experience remains on your bucket list?
Hmmm. Can I run something back? Played Old Head a year and a half ago. St. Andrews and Carnoustie too. Just having one more time back over in Ireland and Scotland, that would be a pretty good way to go.