Tee Times
2023 Genesis Scottish Open tee times, TV coverage, viewer's guide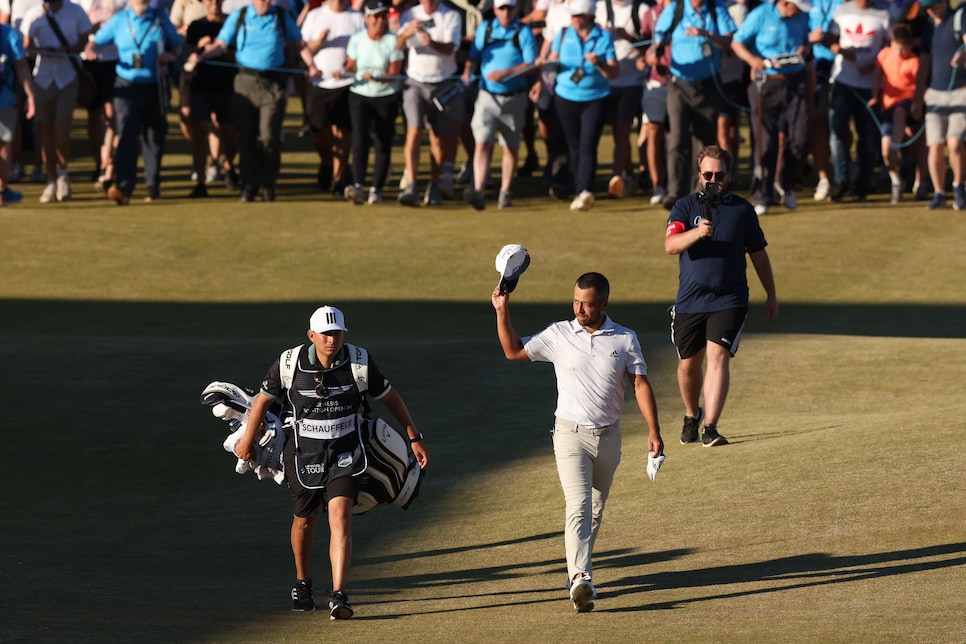 Once again, the PGA Tour will co-sanction the Genesis Scottish Open with the DP World Tour, with an almost even split of golfers from the two tours competing this week at The Renaissance Club in Gullane, Scotland. It'll be a challenging links test for some of the best golfers in the world, as the course features strong winds coming off the sea, unpredictable challenges and a striking landscape.
Last year's winner Xander Schauffele still isn't sure "if it was love at first sight," but an eventual win and a healthy addition to his bank account certainly doesn't hurt. It was his fourth tour title in just 12 months, and it took everything he had, as Schauffele bested Kurt Kitayama by just one stroke.
This year's prize money will jump up from $8 million to $9 million and will give many pros a chance to preparee their games for the next week's Open Championship at Royal Liverpool. Eight of the top 10 pros in the world will be making the trip to The Renaissance Club including Scottie Scheffler, Rory McIlroy, Patrick Cantlay, Viktor Hovland, Schauffele, Max Homa and Matt Fitzpatrick. Three of the last four Scottish Opens have required a playoff, and last year was oh-so-close as well; it's something to keep an eye out for this week.
The winner will receive 500 FedEx Cup points and a $1.62 million share of the $9 million purse.
Golf Channel's World Feed will carry live coverage on Thursday and Friday from 8:30-10:30 a.m. EDT with Golf Channel taking over from 10:30 a.m.-1:30 p.m. On Saturday and Sunday, Golf Channel will start the coverage from 10 a.m.-12 noon with CBS taking over with afternoon coverage from 12 noon-3 p.m.
PGA Tour Live streaming coverage takes place on ESPN+ from 2:30 a.m.-3 p.m. from Thursday to Sunday.
Find all live PGA Tour scoring data here.
U.S. EDT TIME/SCOTLAND LOCAL TIME
2:15 a.m./7:15 a.m. -- David Law, Aaron Baddeley, Matthew Baldwin
2:26 a.m./7:26 a.m. -- Will Gordon, Joakim Lagergren, Zander Lombard
2:37 a.m./7:37 a.m. -- Jorge Campillo, Harrison Endycott, Matthew Jordan
2:48 a.m./7:48 a.m. -- J.T. Poston, Dale Whitnell, Callum Shinkwin
2:59 a.m./7:59 a.m. -- Oliver Wilson, Kevin Yu, Kalle Samooja
3:10 a.m./8:10 a.m. -- Garrick Higgo, Rafa Cabrera Bello, Simon Forsström
3:21 a.m./8:21 a.m. -- K.H. Lee, Ockie Strydom, Daniel Gavins
3:32 a.m./8:32 a.m. -- Cam Davis, Thorbjørn Olesen, Adrian Otaegui
3:43 a.m./8:43 a.m. -- C.T. Pan, Scott Jamieson, Sean Crocker
3:54 a.m./8:54 a.m. -- Dylan Frittelli, Wil Besseling, Joost Luiten
4:05 a.m./9:05 a.m. -- Taylor Montgomery, Paul Waring, Nick Bachem
4:16 a.m./9:16 a.m. -- Eric Cole, Shubhankar Sharma, Hurly Long
4:27 a.m./9:27 a.m. -- David Lingmerth, Marcel Schneider, Yoseop Seo
7:30 a.m./12:30 p.m. -- Charley Hoffman, Padraig Harrington, Daniel Hillier
7:41 a.m./12:41 p.m. -- Callum Tarren, Thomas Bjørn, Tom McKibbin
7:52 a.m./12:52 p.m. -- Keith Mitchell, Danny Willett, Rasmus Hojgaard
8:03 a.m./1:03 p.m. -- Max Homa, Adam Scott, Yannik Paul
8:14 a.m./1:14 p.m. -- Scottie Scheffler, Viktor Hovland, Shane Lowry
8:25 a.m./1:25 p.m. -- Rickie Fowler, Wyndham Clark, Tyrrell Hatton
8:36 a.m./1:36 p.m. -- Justin Rose, Billy Horschel, Victor Perez
8:47 a.m./1:47 p.m. -- Kurt Kitayama, Tom Kim, Grant Forrest
8:58 a.m./1:58 p.m. -- Davis Riley, Gary Woodland, Guido Migliozzi
9:09 a.m./2:09 p.m. -- Corey Conners, Tom Hoge, Ryan Fox
9:20 a.m./2:20 p.m. -- Matt Wallace, Mackenzie Hughes, Nicolai Hojgaard
9:31 a.m./2:31 p.m. -- Ben Griffin, Matthew Southgate, Marcus Armitage
9:42 a.m./2:42 p.m. -- S.H. Kim, Maximilian Kieffer, Ashun Wu
2:15 a.m./7:15 a.m. -- Andrew Putnam, Ludvig Aberg, Nicolas Colsaerts
2:26 a.m./7:26 a.m. -- Lucas Herbert, Thomas Detry, Richie Ramsay
2:37 a.m./7:37 a.m. -- Francesco Molinari, Luke Donald, Aaron Rai
2:48 a.m./7:48 a.m. -- Matt Fitzpatrick, Patrick Cantlay, Adrian Meronk
2:59 a.m./7:59 a.m. -- Rory McIlroy, Xander Schauffele, Justin Thomas
3:10 a.m./8:10 a.m. -- Jordan Spieth, Tommy Fleetwood, Robert MacIntyre
3:21 a.m./8:21 a.m. -- Sam Burns, Seamus Power, Min Woo Lee
3:32 a.m./8:32 a.m. -- Nick Taylor, Edoardo Molinari, Pablo Larrazabal
3:43 a.m./8:43 a.m. -- Sungjae Im, Thriston Lawrence, Ewen Ferguson
3:54 a.m./8:54 a.m. -- Brian Harman, Sahith Theegala, Marcel Siem
4:05 a.m./9:05 a.m. -- Michael Kim, Dylan Wu, Oliver Bekker
4:16 a.m./9:16 a.m. -- Ben Martin, Alex Smalley, Bio Kim
4:27 a.m./9:27 a.m. -- Byeong Hun An, Robby Shelton, Tapio Pulkkanen
7:30 a.m./12:30 p.m. -- Ben Taylor, Gavin Green, Matthieu Pavon
7:41 a.m./12:41 p.m. -- Brandon Wu, Romain Langasque, Nicolai Von Dellingshausen
7:52 a.m./12:52 p.m. -- Lee Hodges, Jordan Smith, Antoine Rozner
8:03 a.m./1:03 p.m. -- Luke List, Harry Hall, Adri Arnaus
8:14 a.m./1:14 p.m. -- Austin Eckroat, Jamie Donaldson, Haotong Li
8:25 a.m./1:25 p.m. -- Erik van Rooyen, Ross Fisher, Calum Hill
8:36 a.m./1:36 p.m. -- Scott Stallings, Alex Noren, Alexander Björk
8:47 a.m./1:47 p.m. -- Jimmy Walker, Patrick Rodgers, Connor Syme
8:58 a.m./1:58 p.m. -- Troy Merritt, Richard Mansell, Dan Bradbury
9:09 a.m./2:09 p.m. -- Joseph Bramlett, Justin Walters, Yeongsu Kim
9:20 a.m./2:20 p.m. -- Christiaan Bezuidenhout, Doug Ghim, Sami Valimaki
9:31 a.m./2:31 p.m. -- Sam Ryder, Eddie Pepperell, Sebastian Soderberg
9:42 a.m./2:42 p.m. -- Zac Blair, Fabrizio Zanotti, Chase Hanna
2:15 a.m./7:15 a.m. -- Ben Taylor, Gavin Green, Matthieu Pavon
2:26 a.m./7:26 a.m. -- Brandon Wu, Romain Langasque, Nicolai Von Dellingshausen
2:37 a.m./7:37 a.m. -- Lee Hodges, Jordan Smith, Antoine Rozner
2:48 a.m./7:48 a.m. -- Luke List, Harry Hall, Adri Arnaus
2:59 a.m./7:59 a.m. -- Austin Eckroat, Jamie Donaldson, Haotong Li
3:10 a.m./8:10 a.m. -- Erik van Rooyen, Ross Fisher, Calum Hill
3:21 a.m./8:21 a.m. -- Scott Stallings, Alex Noren, Alexander Björk
3:32 a.m./8:32 a.m. -- Jimmy Walker, Patrick Rodgers, Connor Syme
3:43 a.m./8:43 a.m. -- Troy Merritt, Richard Mansell, Dan Bradbury
3:54 a.m./8:54 a.m. -- Joseph Bramlett, Justin Walters, Yeongsu Kim
4:05 a.m./9:05 a.m. -- Christiaan Bezuidenhout, Doug Ghim, Sami Valimaki
4:16 a.m./9:16 a.m. -- Sam Ryder, Eddie Pepperell, Sebastian Soderberg
4:27 a.m./9:27 a.m. -- Zac Blair, Fabrizio Zanotti, Chase Hanna
7:30 a.m./12:30 p.m. -- Andrew Putnam, Ludvig Aberg, Nicolas Colsaerts
7:41 a.m./12:41 p.m. -- Lucas Herbert, Thomas Detry, Richie Ramsay
7:52 a.m./12:52 p.m. -- Francesco Molinari, Luke Donald, Aaron Rai
8:03 a.m./1:03 p.m. -- Matt Fitzpatrick, Patrick Cantlay, Adrian Meronk
8:14 a.m./1:14 p.m. -- Rory McIlroy, Xander Schauffele, Justin Thomas
8:25 a.m./1:25 p.m. -- Jordan Spieth, Tommy Fleetwood, Robert MacIntyre
8:36 a.m./1:36 p.m. -- Sam Burns, Seamus Power, Min Woo Lee
8:47 a.m./1:47 p.m. -- Nick Taylor, Edoardo Molinari, Pablo Larrazabal
8:58 a.m./1:58 p.m. -- Sungjae Im, Thriston Lawrence, Ewen Ferguson
9:09 a.m./2:09 p.m. -- Brian Harman, Sahith Theegala, Marcel Siem
9:20 a.m./2:20 p.m. -- Michael Kim, Dylan Wu, Oliver Bekker
9:31 a.m./2:31 p.m. -- Ben Martin, Alex Smalley, Bio Kim
9:42 a.m./2:42 p.m. -- Byeong Hun An, Robby Shelton, Tapio Pulkkanen
2:15 a.m./7:15 a.m. -- Charley Hoffman, Padraig Harrington, Daniel Hillier
2:26 a.m./7:26 a.m. -- Callum Tarren, Thomas Bjørn, Tom McKibbin
2:37 a.m./7:37 a.m. -- Keith Mitchell, Danny Willett, Rasmus Hojgaard
2:48 a.m./7:48 a.m. -- Max Homa, Adam Scott, Yannik Paul
2:59 a.m./7:59 a.m. -- Scottie Scheffler, Viktor Hovland, Shane Lowry
3:10 a.m./8:10 a.m. -- Rickie Fowler, Wyndham Clark, Tyrrell Hatton
3:21 a.m./8:21 a.m. -- Justin Rose, Billy Horschel, Victor Perez
3:32 a.m./8:32 a.m. -- Kurt Kitayama, Tom Kim, Grant Forrest
3:43 a.m./8:43 a.m. -- Davis Riley, Gary Woodland, Guido Migliozzi
3:54 a.m./8:54 a.m. -- Corey Conners, Tom Hoge, Ryan Fox
4:05 a.m./9:05 a.m. -- Matt Wallace, Mackenzie Hughes, Nicolai Hojgaard
4:16 a.m./9:16 a.m. -- Ben Griffin, Matthew Southgate, Marcus Armitage
4:27 a.m./9:27 a.m. -- S.H. Kim, Maximilian Kieffer, Ashun Wu
7:30 a.m./12:30 p.m. -- David Law, Aaron Baddeley, Matthew Baldwin
7:41 a.m./12:41 p.m. -- Will Gordon, Joakim Lagergren, Zander Lombard
7:52 a.m./12:52 p.m. -- Jorge Campillo, Harrison Endycott, Matthew Jordan
8:03 a.m./1:03 p.m. -- J.T. Poston, Dale Whitnell, Callum Shinkwin
8:14 a.m./1:14 p.m. -- Oliver Wilson, Kevin Yu, Kalle Samooja
8:25 a.m./1:25 p.m. -- Garrick Higgo, Rafa Cabrera Bello, Simon Forsström
8:36 a.m./1:36 p.m. -- K.H. Lee, Ockie Strydom, Daniel Gavins
8:47 a.m./1:47 p.m. -- Cam Davis, Thorbjørn Olesen, Adrian Otaegui
8:58 a.m./1:58 p.m. -- C.T. Pan, Scott Jamieson, Sean Crocker
9:09 a.m./2:09 p.m. -- Dylan Frittelli, Wil Besseling, Joost Luiten
9:20 a.m./2:20 p.m. -- Taylor Montgomery, Paul Waring, Nick Bachem
9:31 a.m./2:31 p.m. -- Eric Cole, Shubhankar Sharma, Hurly Long
9:42 a.m./2:42 p.m. -- David Lingmerth, Marcel Schneider, Yoseop Seo