Genesis Invitational
Wind at Riviera doesn't blow away Matthew Fitzpatrick, and he gains ground on leader Sam Burns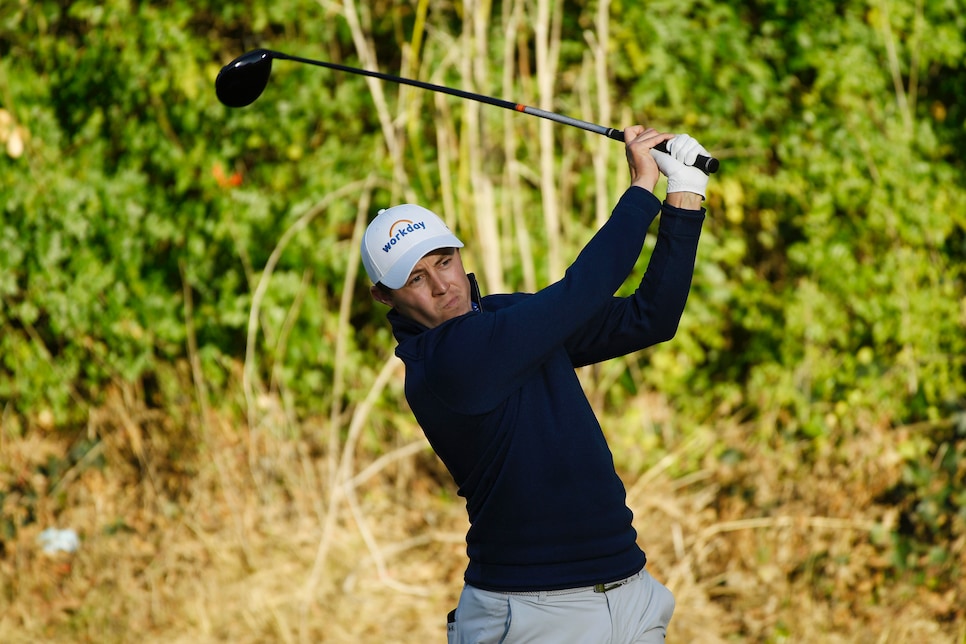 Matthew Fitzpatrick plays his shot from the 13th tee during the third round of the Genesis Invitational.
Harry how
PACIFIC PALISADES, Calif. — It was one of those days—when you play away from flags with wedge in your hand, when you back off putts just to be sure the ball isn't oscillating, when an even-par round sends you soaring up the leader board.
In other words, just how Matthew Fitzpatrick likes it.
On a brutally difficult, stop-and-start day at Riviera—there were 23 players who still needed to complete their third-round after 30-plus mph winds stopped play for nearly four hours—Fitzpatrick somehow found seven birdies in 17 holes, playing those in three under and in the process emerging as the largest object in Sam Burns' increasingly crowded rearview mirror.
The five-shot lead Burns slept on Friday night held steady for much of the afternoon, but a late birdie from Fitzpatrick and back-to-back bogeys from Burns on his last two holes of the day saw that advantage shrink to two. Burns will return when play resumes at 6:50 a.m. Sunday local time to hit his tee shot on the tricky par-3 14th. Fitzpatrick had the option to finish his round because one player in his group teed off the 18th tee, but he chose the early wake-up.
"Pretty long day," said Burns, who arrived at the course at 8:15 a.m. only to have the horn sound as he stood over his opening tee shot. He parred his first seven holes before making three bogeys in his last six.
Game on. There were three players one-shot further back at seven under—including World No. 1 Dustin Johnson, who continues to hang around the top of the leader board despite seemingly not having his A-game.
Posting scores that make other pros say I didn't see that out there has become a bit of a habit for the 26-year-old Fitzpatrick. His 69 was the low round on another barely playable day at last year's Arnold Palmer Invitational, then he did it again with a preposterously good 68 on Sunday of the Memorial when the field's scoring average neared 76. His lower ball flight certainly helps, and any distance he gives up to fellow pros is neutralized when it's this difficult. The key, though, dates back to his days as a youngster at Hallamshire Golf Club in Sheffield, England.
"It's the way I've been brought up, especially when it's tough," Fitzpatrick said. "I grew up on a golf course that's very much like this all the time. You've just got to get it round, and today was another day like that, where you've got to stick in. Fortunately had a nice stretch on the front nine of birdies and kicked on from there."
Riviera was already playing difficult this week—sure, Burns tied the 36-hole tournament record by shooting 12 under, but the cut was even par and Rory McIlroy and Justin Thomas combined to shoot 14 over. The main reason for that has been the greens, which many players have said are firmer and running faster than they've ever seen them. Those greens help make this course what it is, perhaps the finest on the PGA Tour, but they're also the reason play was stopped for 3 hours and 51 minutes. Because they're so slick, balls weren't staying on putting surfaces.
The wind did subside as the afternoon wore on, but only barely. By the time play was suspended for darkness at around 6 p.m., the gusts were just as strong as they were when play was stopped at 10 a.m.
"It was still so firm, and you've got some of these holes downwind, and even if you hit the fairway it's hard to control the ball," said Max Homa, who is part of the group at seven under. "So it's very difficult. You've just got to be patient, leave it as many times as you can putting or chipping into the wind and see what you can do. It's a tricky golf course without wind."
The wind was the story of the day. Holes into it played forever, and on the downwind ones it was nearly impossible to have a ball land on the green and stay there. Making matters even more difficult is the difference in grass between the greens and their surrounds. The greens themselves are Poa annua, which has been cut extremely short and is thus quite hard, while the surrounds are covered by the ultra-sticky and spongy kikuyu. Land a ball one yard on, and it's likely going over. Land it short, and it's likely not getting on the green.
"Jordan [Spieth] and I were talking about it, and Alex [Noren], and we said over/under, five guys that held that green," said Wyndham Clark, referring to the par-3 14th. "We all landed 9-irons and 8-irons as high as you could, middle of the green, and it bounced over. So, I don't think it was possible."
Fitzpatrick wasn't able to hold it. He played safely left of the flag, saw his ball bound through to the back rough, played a sensible chip to seven feet, holed the putt, and walked briskly to the next as if he'd made birdie. It was one of those days.