News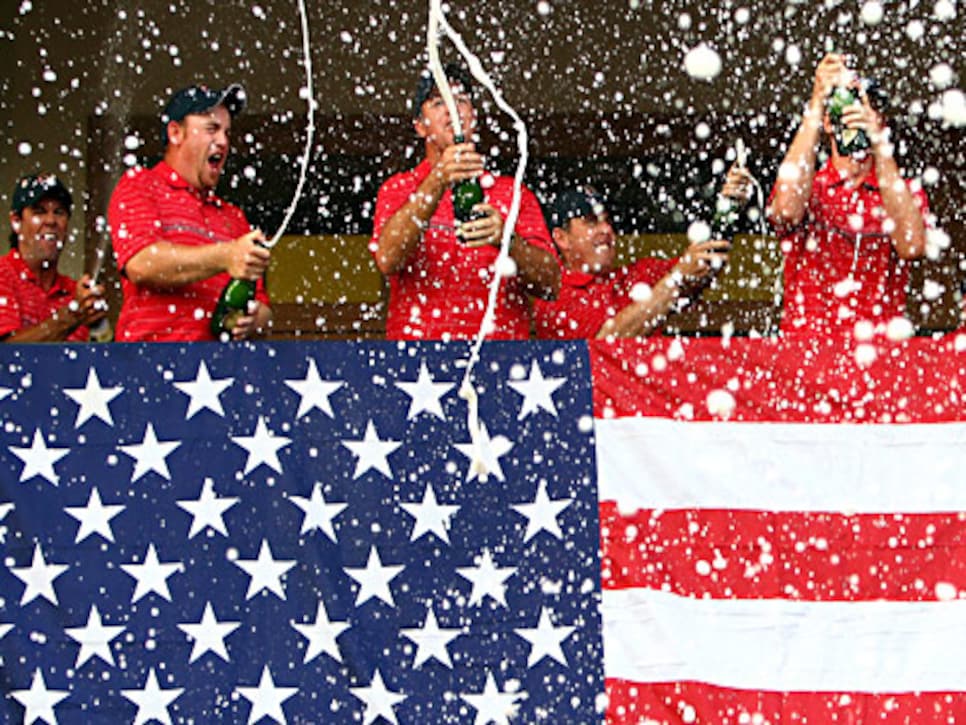 Azinger, Holmes, Weekley, Leonard, Mahan and Kim celebrate the first U.S. Ryder Cup victory since 1999.
Excerpts from various diaries written about the 37th Ryder Cup Putting Matches at Valhalla in Kentucky, which, in case you missed the result because of distractions of the economy, the election, post-Olympics withdrawal, no Tiger Woods, football season, baseball season and Sarah Palin, was won by the United States for the first time in the 21st century:
So they call me dumb—so what? I can live with it. I'm richer than anybody in the media. They said I was dumb for not putting Colin Montgomerie and Darren Clarke on my team? Old warhorses? Players with experience? Well, I had three experienced warhorses on my team—Sergio Garcia, Paddy Harrington and Lee Westwood—and what did those whining ninnies do for me?
I'll tell you what they did for me: They didn't win a single point. They got me four halves, is all. Big deal. Halve this, Sergio. And wake up, Lee. It's over.
And Paddy, I guess you're only good at winning majors, huh? Fine. Let's see you win one when Sergio doesn't dump it in your lap, and you only have to beat a 53-year-old man to win another one.
All I know is, there was a lot of to-ing and fro-ing out there, and in the middle of it, Harrington lost three points for my team.
I wasn't dumb taking Ian Poulter, was I? OK, maybe I looked dumb when he shanked the wedge into the water on 13 in the first match and blew a 3-up lead for himself and Justin Rose, and they wound up losing to some pair, I forget who; I was riding with my son in a cart.
But Poulter fought back. He won four points for me the rest of the way. Without him, it's all over by noon Saturday—and what would that have done for reality TV on Sunday?
Speaking of dumb, how dumb was Paul Azinger, my counterpart? First he told people everywhere, all over town, to cheer when we missed putts. Very sportsmanlike. Then after he caught a hot pair in Justin Leonard and Hunter Mahan—they won two matches and halved another—he split them up Saturday afternoon. Undefeated, on a roll, and he split them up! Benched Leonard and put Mahan with Phil Mickelson, who was so off his game he couldn't find the golf course on his hands and knees.
' crowd was definitely part of the combat. We were combatibating with the gallery.'
But Azinger lucked out. After blowing a lead, Mahan and Lefty grabbed a halve with my Swedes, whatever their names are.
How did Bernie Gallacher and Sam Torrance ever captain a winning Ryder Cup team for Europe? They never won a major. I don't get it.
I shouldn't have taken this job. It was embarrassing for my career.
I knew the media said we were dumb and dumber. Nick and I talked about it. I said I was sorry he was so dumb not to have Colin and Darren on his team. He said he was sorry I was dumb enough to pick J.B. Holmes. I said I guess that made Johnny Miller dumb, too. Miller said Holmes was a mistake. I said I was sorry Nick was so dumb, but not Miller. Nick said he was as sorry as I was. I said I was sorrier than he was. He said OK, we're both sorry. Our conversation made me want to watch "Dr. Strangelove" again.
Nick said I was dumb for playing all 12 on Friday, trying to be fair. I said he would have played all 12 of his if somebody named Oliver Wilson hadn't been on his team.
He said I was dumb for benching Anthony Kim Saturday afternoon. I said I had to rest him for the singles—he was hunchback from carrying Mickelson around through three matches. I think this made me smart because Anthony came out Sunday and whiplashed Sergio.
Nick said my secret was setting up the course like a charity event: Slow greens, soft greens, easy pins. He said he never saw so many American 25-footers go in for birdie or so many American 12-footers go in for par. He said it was impossible to three-putt. Unless you were Sergio.
I'll tell you this: My real secret weapons were my rookies—mainly Kim, Mahan, Holmes and Boo Weekley. No question I had the Euros out-rookied. I also want to thank the crowd for getting behind us. They were definitely part of the combat. We were combatibating with the gallery.
I would never have guessed that I would play all five matches, much less win four of them. It's all a bit of a blur, actually.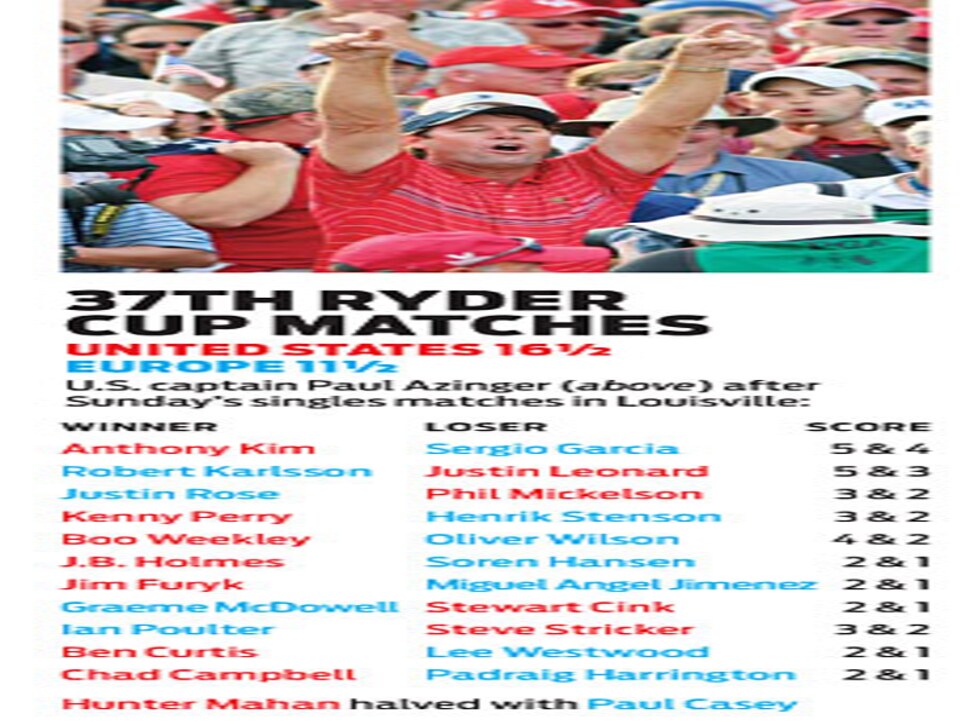 I've been a star of four previous Ryder Cup teams. I don't apologize for my poor performance. It was time for somebody else to step up, like Paddy Harrington. But he was tired. That's what he said: "I am so tired." I wish he'd been tired in the British Open and PGA I gave him.
Yes, it's true I played pitifully. The Swede and I halving with Phil and Kim was tragic. Teaming with Graeme McDowell and losing to Phil and Kim was equally tragic. And then teaming with the same Swede and losing to Jim Furyk and Kenny Perry was the most tragic of all.
But if there's to be a life in the hereafter—and somehow I'm sure there's going to be—I will ask my God to let me make my heaven, in that dear land across the Irish sea.
That Ryder Cup deal got me excited—I felt like a dog somebody done stuck a needle to. I was juiced up, ready to go runnin' around the greyhound track chasin' after them bunnies.
I made lots of good shots, but I couldn't put none of 'em ahead of my past back there with the eight hole-in-ones I done made.
I enjoyed gettin' the crowd worked up. That's why I went ridin' my driver down the fairway like a horse, whuppin' myself on the be-hind.
I forget who it was me and J.B. beat and tied in our two matches, or who I beat in singles. Some kind of foreigners, I reckon.
I ain't never rustled a animal, so I got to say this was the most fun I done ever had.
To golf, or not to golf, that was my question. Whether t'was nobler in the mind to suffer the slings and arrows of J.B. Holmes or to take a deodorant against the sea of troubles.
To die, to sleep, and by sleep to say we end the heartache and the thousand putts that fell against me. 'Tis a consummation devoutly to be wished. To drive, to putt, perchance to dream; ay, there's the rub instead of the putts I needed. Thus J.B. does make cowards of us all. I am sicklied o'er with the pale cast of losing to him three times. Just call me a bare bodkin, whatever that is.