The Loop
GD Ambush IX--Are You Next?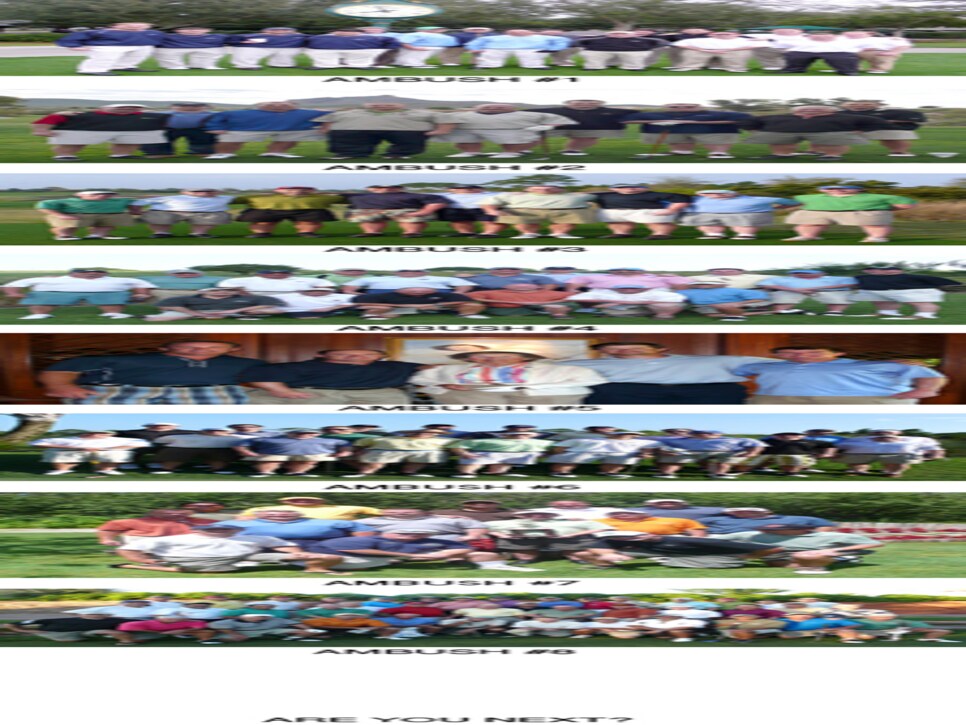 Another month--another Ambush. I'm back from St. George, Utah where I met up with Sam Jones and his band of Roadrunners. You can read about their organization skills and their 27-page program in the November issue.
We've had over 1,350 itineraries entered so far. Thanks again for supporting this concept. To join up with a buddies trip is almost as fun as being on one of my own. I say "almost" because nothing beats Baywood, GinellaFFL draft weekend, an every-so-often trip to Ireland or the "Riva" with G-Russ.
One of these itineraries will be Ambush No. 9, featured in the December issue of Golf Digest:
From Frank Morris of Guelph, Ontario:__ We're going to Scotland. We're playing Lundin Links, Carnoustie, Castle Course at St. Andrews, Turnberry, Muirfield and North Berwick. We have 16 guys ranging in age from early 30's to early 70's. Handicaps from scratch to 20 with two ex-NHL players and many friendships from growing up in Guelph. Boasting rights to be earned. All golf arrangements, travel and travel accommodations have been done ourselves through research, reading and email exchange. All we need is a little weather and a pub or two to try a fine scotch. We think it will be a cool story. Cheers.
From Larry Goff of Hockessin, Delaware: We're simply living the dream. For the last 19 years my foursome's first order of business every year is to schedule THE VACATION. No Einstein, not the family vacation at the beach, not the week of quality time with the wives, but THE GOLF TRIP with the boys. Lets be clear, we are not brain-dead masochists, of course we would never tell our wives that THE GOLF TRIP is the highlight of the year, our only escape from the burdens of life, and it's non-negotiable (but it truly is). Print that if you dare. Our 2008 trip will be our fourth year in the best kept secret in golf--Lake Tahoe. Playing in the air of the Sierra Mountains has been so exhilarating. We now know how Al Bundy felt when he escaped to the sanctity of the "Nudey", how Ralph Cramden and Ed Norton felt at the Raccoon Lodge, the sense of peace experienced by Fred Flintstone and Barney Rubble at the Loyal Order of the Water Buffalo Lodge No. 26. Heaven on earth it is my friend, and this year will be the best ever as we will celebrate our 20th year of week-long bliss. We will start our journey by arriving at the Sacramento airport at high noon. Anyone looking for us is instructed to look for the four very non-athletic guys (nerdy actually, as we are all chemists) toting extremely heavy and large oblong duffle-type bags with surprising ease. Be sure to join us at the Darkhorse Golf Club in Auburn in the afternoon as we start with our annual Big Bedroom match, where it will be determined which team gets the palatial digs of the bedrooms with the Jacuzzi, deck and lake view and which team is destined to get real comfy in a broom-closet sized laundry room, complete with bunk beds. We're playing: Darkhorse ($54), Dayton Valley/Sunridge ($95), Grizzly Ranch ($120), Timlick ($90), Whitehawk ($105), Redhawk ($75), and Incline Village ($199).
From Judith Hoffman of Richmond, Virginia: Twelve women, all meeting in Atlanta for our fourth annual golf trip. Imagine trying to get 12 schedules together with kids, jobs and husbands, etc. We all know how much we need our "girly time" and make a point of getting this special break once a year. We will be staying at Hawk's Ridge Golf Club in Ball Ground, Georgia for three days of golf. This group is way too much fun and I dare you to show up. Be warned! Love to have you come. Can't think of a better surprise to give this wonderful group of women.
If I don't meet up with you this year, maybe next yearâ¿¿