Masters Media
Gary McCord reveals the full story of why he was banned from Masters broadcasts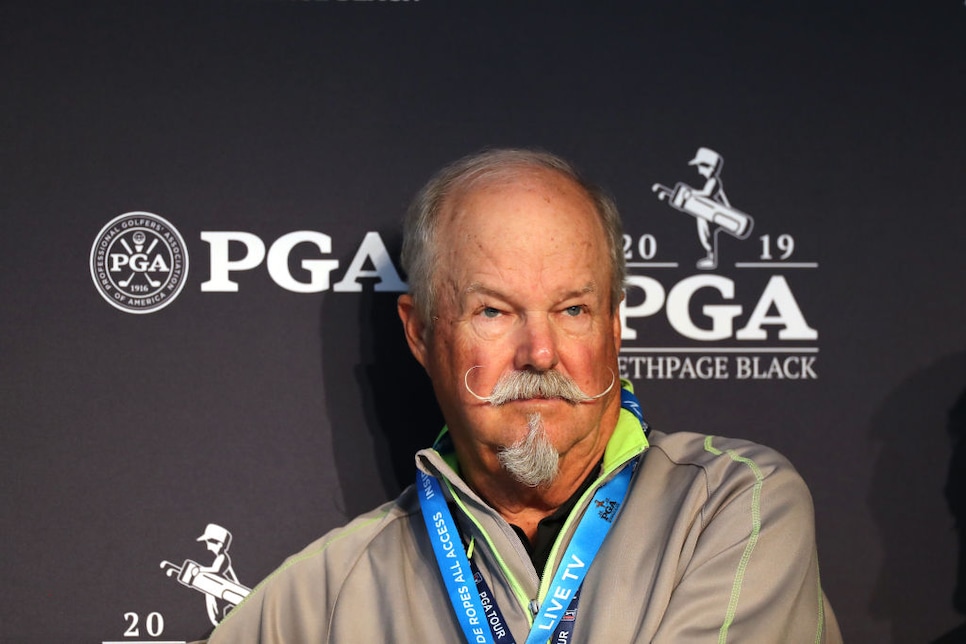 Being expelled from Masters coverage for CBS Sports in 1994 arguably was one of the best things that ever happened to Gary McCord in his broadcast career. Perhaps that's why he enjoys retelling the tale of his banishment from Augusta National Golf Club—though perhaps never to this degree of detail.
In the second episode of his new video podcast with longtime CBS colleague Peter Kostis (called "Kostis & McCord: Off Their Rockers"), McCord provides a rundown of the sequence of events that led to his ouster from CBS' Masters team after invoking the use of the terms "body bags" and "bikini wax" during the '94 tournament.
McCord, who joined CBS in 1986 as his PGA Tour career was sputtering, admits that he tried early on to find out what he could get away with saying on the Masters beat. In one of his early years, when he was stationed at the 14th hole, the irreverent envelope pusher got chewed out by legendary CBS golf producer Frank Chirkinian just seconds after referring to a wayward shot as being "in the cheap seats."
In 1994, McCord was at the 17th hole, and eventual winner Jose Maria Olazabal was facing an impossibly fast putt from the left side of the green. In describing how slick the putt was, McCord eschewing, as he often did, the use of clichés, said, "I don't think they mow these greens, I think they bikini wax them."
As McCord tells it, his inspiration for invoking the colorful choice of words was an ad in a magazine he happened to be flipping through during commercial breaks. Neal Pilson, the president of CBS Sports, was sitting next to McCord in the tower at 17, "and he was laughing his ass off." Chirkinian never said a word and neither did Augusta National chairman Hord Hardin after the broadcast had ended.
Three days later, at Hilton Head, McCord was called into Chirkinian's office. He showed McCord a copy of a handwritten letter from two-time Masters champion Tom Watson that was sent to Augusta National. In it, Watson demanded that McCord be taken off the tournament broadcasts, and he referred to McCord as "the Howard Stern of golf."
Two days after that, Chirkinian summoned McCord again. Said McCord: "Frank goes, 'Augusta is getting ready.' For what? 'For your death.'" And, sure enough, a few months later McCord was cut from the CBS team at the Masters. (Personal note: Chirkinian leaked the news to this reporter that August at the World Series of Golf in Akron, Ohio.) McCord remained a member of the network's golf coverage of other events until CBS fired him and Kostis in 2019.
There's more to the story, including his engagement with Watson in an animated fingers-in-respective-chests "conversation" at Pebble Beach in '95. The two have long since mended fences, and McCord, 74, admits that the affair only enhanced his career.
"I got more publicity for this than anything I ever did in golf," he said. "I probably should have paid him [Watson] a fee."
The former CBS pair launched their video podcast March 2. You can watch the full second episode here: