Equipment
Game Golf Pro will use upgraded driverless car technology sensors on new GPS stat tracking system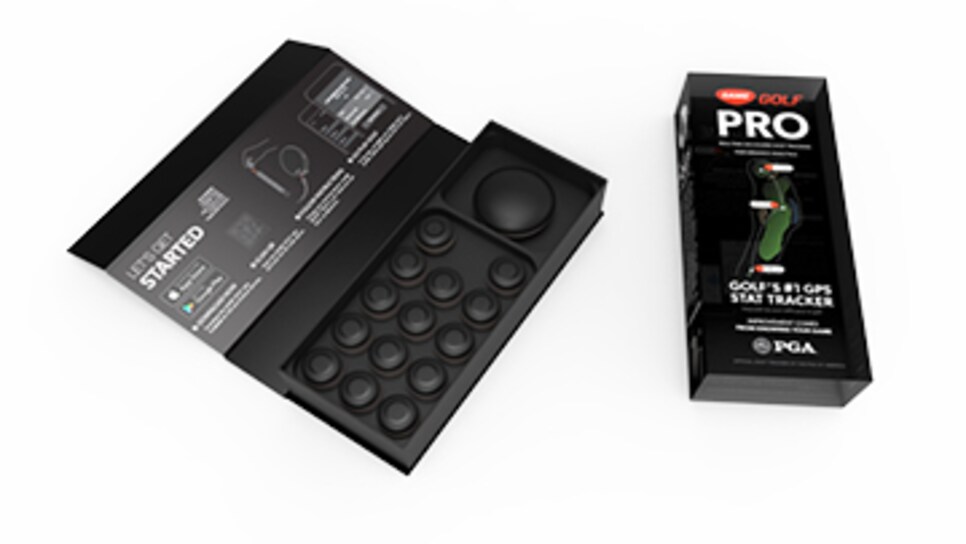 Game Golf Pro, the next generation of Game Golf's round-tracking club sensor based game analysis tool, is better according to CEO John McGuire, because it's smarter, more technologically robust, and sleeker than ever.
That's what two million rounds, users in 137 countries and 60 billion GPS data points can do for you, especially when you throw in the kind of computer chip technology typically reserved only for driverless car technology.
McGuire says the new version, part of five new products in Game Golf's current lineup, is emblematic of where golf could grow in terms of lasting golfer improvement. He sees the game on cusp of fundamental change in how players and teachers understand how to improve.
"I think we're starting to see stuff that we haven't seen in other years," he said. "Even with TaylorMade partnering with BlastMotion in one of their putters, you're starting to see a large company putting a sensor in one of their clubs. We're all paddling in a small pool at the moment, but I think over time that pool becomes the industry. It's a cultural change taking place just like when players switched from metal spikes to plastic cleats.
"Change does happen in this industry. And when you see the OEMs getting interested in something like this like TaylorMade and Cobra with Arccos and Cobra Connect, you all of a sudden are going to see a lot of larger companies start to watch this very carefully. I think that's the start of us breaking out of the small pond that we're all paddling in out into the larger market."
The big change in Game Golf's line up is Game Golf Pro, which has a sleeker, more sophisticated grip sensor to track club use and yardage stats. McGuire says the more sensitive sensors, typically found in autonomous car technologies developed for Tesla, are sophisticated enough to determine the difference between a practice swing and a real swing for cleaner data collection.
But the biggest change is the system no longer requires players to tag the belt sensor with the club before hitting a shot. The Game Golf Pro system has the option to be used without a phone.
Game Golf Pro also will feature an artificial intelligence component called Smart Caddie, an idea first seen by Game Golf rival Arccos last year with its Arccos Caddie. Smart Caddie uses a players' current data to make club and strategy recommendations on how to play a hole during the round. McGuire said the Smart Caddie feature presents high, medium and low risk options for the player, and he says developing the machine learning necessary for the caddie function was in large part a result of Game Golf's supply of more than two million rounds of data.
"These things can only be accurate if the data set is large enough for your machine learning algorithms to be pointed at the data set and basically be learning from the data set," McGuire said. "But you need a large data set. I believe you need over two million rounds, which we have now, for this to be truly useful."
Game Golf's other launches include a golf course analysis service called Game Golf Intelligence, that provides golf course superintendents and general managers knowledge of how their courses are being played by Game Golf users. That knowledge can lead to more effective course design and maintenance practices.
On the player improvement front, Game Golf continues its partnership with the PGA of America with a redesign of its Coaching Dashboard feature. The Dashboard allows coaches to check the progress of their students to better specify a training program.
Finally, Game Golf's GPS data will be part of the features in the new Fitbit Ionic Smartwatch.
These elements may be focused on individual golf improvement, but McGuire sees the potential for the industry to improve through this technology.
"Over time the data that's coming out of these different systems will create new engagement models, which the industry needs for its continued growth," he said. "This has been our thesis from the very beginning: Once you have the golfer's round of golf, there are many things you can do with that data, not selling it but creating new engagement models.
"Times change. Disruption happens over time no matter what, and the data side of this can create new models around disruption that are really engaging, advance the sport and attract a younger clientele."
The Game Golf Pro system, which includes 14 club sensors and the belt clip pack, will be available in April ($300).