The Loop
How one gambler already made BANK betting on Mackenzie Hughes at this week's PGA Tour event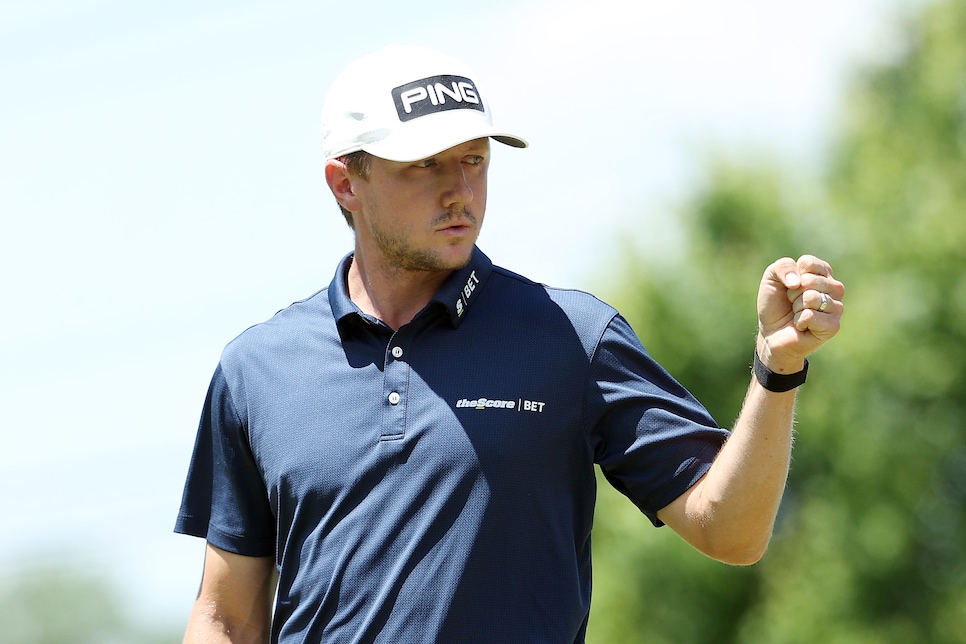 Mackenzie Hughes had a chance to shoot the 12th sub-60 score in PGA Tour history on Thursday, but happily settled for an opening 60 to take the early lead at the Travelers Championship. Turns out, there was someone even more pleased with the result than Hughes himself.
According to DraftKings, one gambler placed a pretty significant bet on Hughes being the leader after round one. The payout? Be prepared to be jealous.
By plunking $135 down on Hughes at 150-to-1 odds, this mystery person genius made more than $20,000. Yep, 20 Gs! Not bad for a day's work. Or, rather, watching someone else do a day's work.
At this point, you're probably thinking, "Why didn't I think of that?" But the answer is simple: NO ONE saw this coming, except for this guy or girl, that is. Sure, 150-to-1 odds seems enticing, but when you consider there are 156 players teeing it up at TPC River Highlands, the majority of whom have much better career resumes than Hughes, those odds don't seem as great.
To be fair, Hughes has played well of late, including a runner-up at the Honda Classic just three starts ago. But that also depends on your definition of "of late" considering that tournament wrapped up more than three months ago.
Hughes' lone PGA Tour win came at the 2016 RSM Classic. And after missing the cut in the PGA Tour's restart at Colonial earlier this month, he shot a final-round 78 at Hilton Head last week to tumble down the leader board. So, naturally, he's on the top of the leader board following his next round.
Golf! Gambling! What a combo. And what a wager. To the lucky SOB, congrats.