Mini-tours
A silly mistake kept this tour pro from playing for an LPGA card last fall. Here's how she's making up for it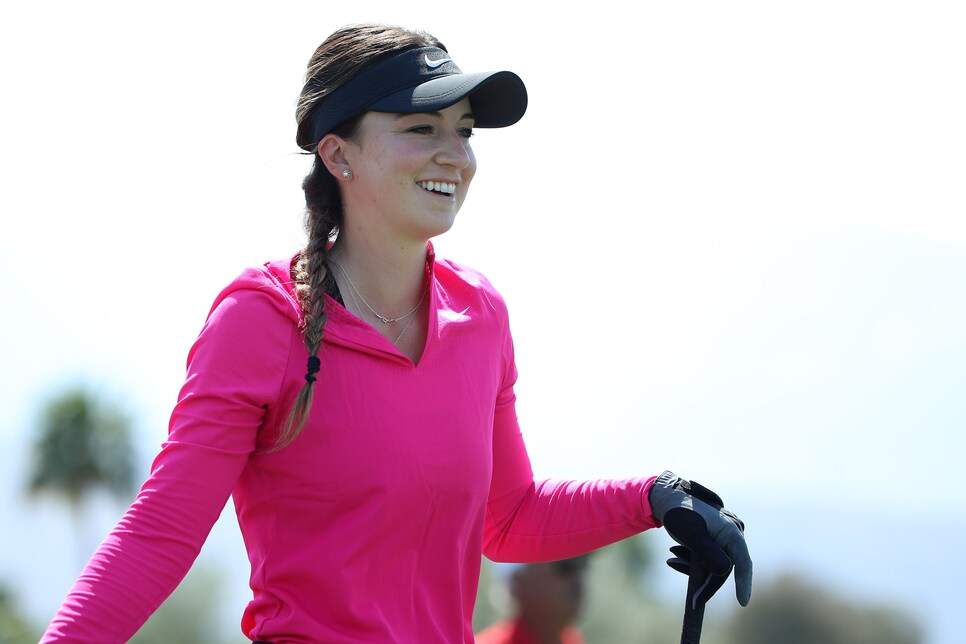 Gabriela Ruffels, winner of two of the first five Epson Tour events in 2023, has a clear motivation to play her way on to the LPGA Tour this year.
Katelyn Mulcahy
You could make the argument that the hottest player in women's golf right now is competing on the Epson Tour. Gabi Ruffels won the Garden City Classic on Sunday, her second victory on the LPGA Tour's developmental circuit in five starts thus far in 2023.
Most players find their way on the tour after failing to get a LPGA Tour card through its end-of-the year qualifying school known as Q-Series. Yet Ruffels, a 23-year-old Australian, is back because of a clerical effort. The former U.S. Women's Amateur champion missed the entry deadline to sign up for Q-Series, preventing her from having the chance to gain LPGA status last November.
One might think given her success to date this year on the Epson Tour that Ruffels would harbor frustration at what she could be doing right now if playing on the LPGA Tour. Instead, she partially credits missing Q-Series for her successful start to the 2023 season.
"It's probably the best thing that could have happened," Ruffels said. "In the moment, I'd be lying if I said that I wasn't extremely disappointed. But looking back at it now, it could have been a blessing in disguise."
A former highly-ranked amateur tennis player whose brother is also an aspiring tour pro, Ruffels continued working on her game with her team in the offseason to build off a 15th-place finish on last year's Epson money list. It was five spots shy of the top 10, which would have earned her an automatic LPGA card and given her better tour status than anyone who advances through Q-Series. Ruffels feels all aspects of her game are coming together, but she sees the tangible results primarily on the greens.
"Putting is the No. 1 thing for scoring, and I feel like that's where I've really improved this year," Ruffels said. "That's what's allowed me to have these good results."
Good results are a humble way to describe her year. Ruffels won the Carlisle Arizona Women's Golf Classic in March by two strokes. She walked away from Garden City, Kan., with her second win and multiple scoring records. Her 18 under aggregate start (62-64) shattered the Epson Tour's previous 36-hole scoring record (15 under). Closing with a 71 let her tie the tour's 54-hole mark at 19 under par for a four-shot win.
"I really wish I had the answer because I wish I could do that every week," Ruffels said.
With no battlefield promotions to the LPGA, which the tour removed following 2018, so Ruffels has the rest of the season to continue brewing the alchemy of last week. Following her second win, Ruffels sits in first place on the money list with $59,262, nearly 40 grand ahead of 10th. (Last year's 10th place spot earned $78,611
Epson dominance correlates to LPGA success. Patty Tavatanakit won three times in 2019 before becoming a major champion in 2021. Nanna Koerstz Madsen, the last player to earn a battlefield promotion in 2017 with three wins that season, became the first player from Denmark to win on the LPGA at last year's Honda LPGA Thailand.
But for now, instead of eyeing what could've been, Ruffels remains patient as Epson serves as the building ground of the foundation of Ruffels' future LPGA career.
"I feel like it's so important to be able to take steps at each level," Ruffels said. "And to be able to go out and learn how to win on a professional level is something that I really wanted to try and do this year."