The Loop
Furyk looks Ryder Cup ready with Friday 64 at East Lake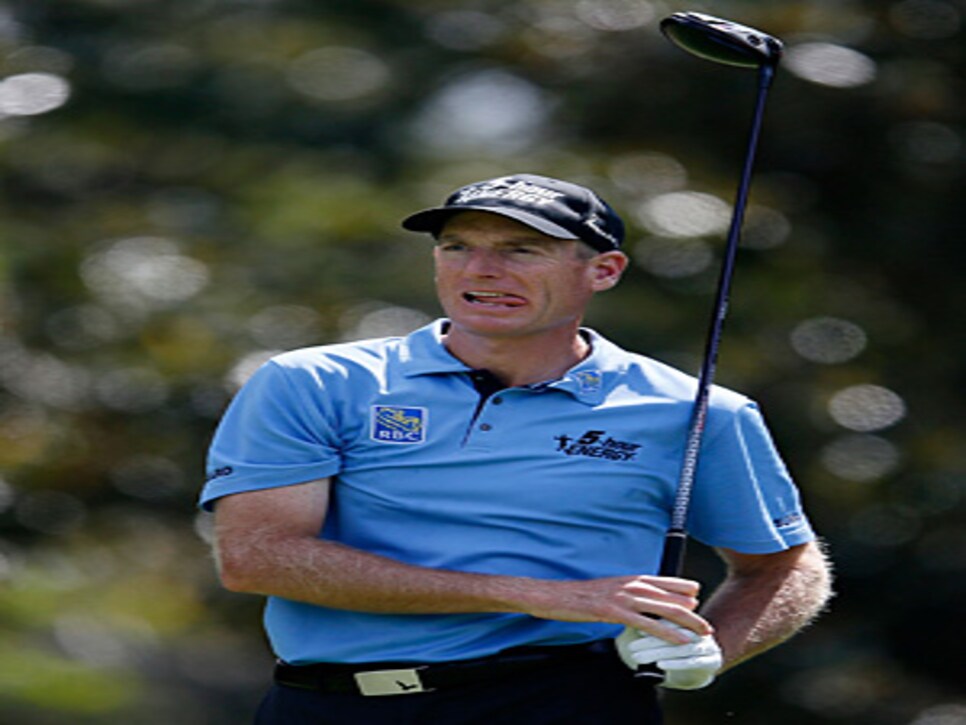 ATLANTA, Ga. -- For those who were concerned that, after a couple of balky finishes, most famously at the U.S. Open at Olympic Club, Jim Furyk might not have been the best of all possible captain's picks for Davis Love III's U.S. Ryder Cup side, fret not. Furyk, the 42-year-old veteran of seven previous cups (and seven more of the Presidents variety), has sent an all clear from Atlanta and the Tour Championship and it read as follows: 3-3-3-3-3-3-3. That was just on his first seven holes. He added a couple more for good measure at the ninth and the 10th, finished the round with a six-under-par 64 and a one-shot lead over Justin Rose at the halfway point at East Lake, where Furyk won the FedEx Cup two years ago.
"To be able to write 3 on your card nine times in the first 11 holes was a lot of fun," said Furyk. "I've never seen a card that pretty, just all those 3s."
Supremely confident in his own way of doing things, Furyk nevertheless heard the second-guessing of the chattering class. "Really, the opinions that matter to me are those of my captain and those of my teammates. There are eight guys that had a voice in saying who they got to pick. There were six, seven, eight really good choices. I'm humbled and honored that those eight individuals and the assistants and Davis chose me," he said. "As far as having to prove myself . . . look at the way I play golf, the way I swing the golf club and grip the putter, look at the way I go about my business. If I really cared what the critics thought the last 19 years, I really wouldn't be here, if that makes sense."
One thing Furyk will bring to Medinah next week is a lot of experience, a lot of toughness and a lot of versatility. He was, after all, the first player to successfully pair with Tiger Woods when Woods was at the height of his powers and capable of intimidating his opponents and his teammates equally. Bubba Watson, who played in his first Ryder Cup two years ago in Wales, asked Furyk how many teams he'd been on during their round Friday.
"I said eight. And I know to the young guys that seems interesting. I don't want to overplay it," he says. "My job is to go out there and play as well as I can and help my team in any way I can. I think I've always been good with tough pairings. I'm a guy that the captains can move around a little bit. I can fit in with a lot of personalities. So, I'm flattered by that and, again, I think that's probably one of the reasons I was chosen, for more than just golf. But I don't' want to overplay it. We've got a bunch of really good players. Right now I'm focused on trying to play well at this event and anything I do here is going to help me get ready for the Ryder Cup. It'll be easy to get up over there. "
Don't count Woods among those surprised by Love's choice either. "If you think about it, he's basically two swings away from being probably in the top five in points," said Woods after his second round 73 dropped him from a share of the Tour Championship lead to T-12. "Him being picked, it's not that controversial to us as players. Since '97 he's been on every team with Phil and myself. We've been on every team together. He's been so solid and so rock steady. He's a great team player and he's playing well. He went 5-0 last year (at the Presidents Cup). This is what he can do. As I said, he's two swings away from being in the top five in points."