News
Friends make Loren Roberts' return to golf special
Playing for the first time since being treated for prostate cancer, the 62-year-old gains strength from those on PGA Tour Champions who know his fight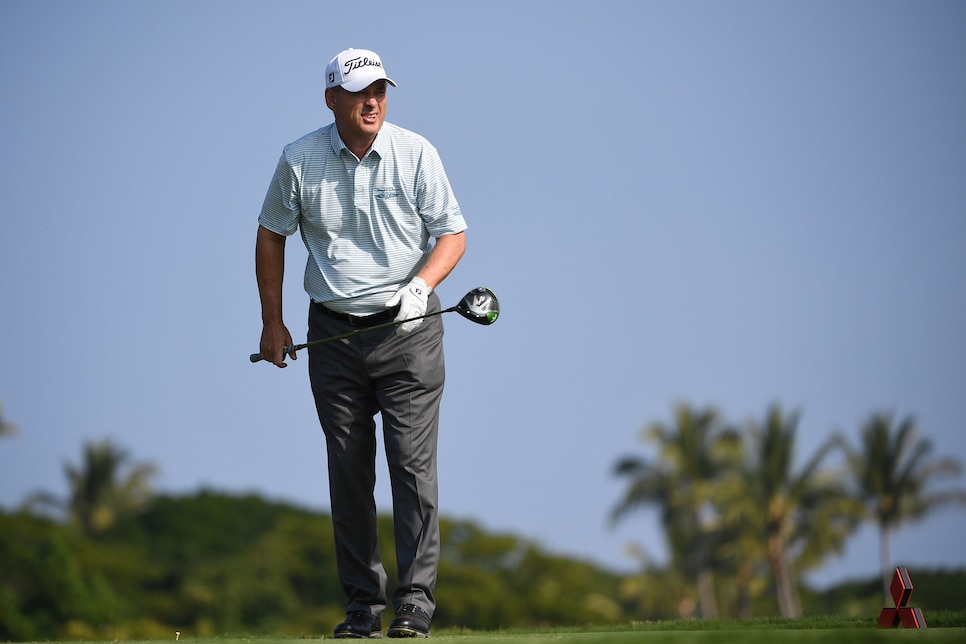 Photo By: Chris Condon/PGA Tour
His score was a nine. ¶ High scores are death to a golfer. That's a figurative expression, of course, one that longtime tour professional Loren Roberts accepts as oft-recycled gallows humor among his fellow competitors. A few months ago, however, Roberts was forced to confront the kind of ugly math that has literal life-and-death consequences. Fortunately, he was able to maintain his usual wry disposition.
"My first thought was, 'Well, nine is better than a 10,' " he said.
This nine in question was Roberts' Gleason score. In the 1960s, American physician and pathologist Donald Gleason developed a 1-10 scale that helps predict the aggressiveness of prostate cancer. A higher score signifies a higher risk of advancing cancer, which correlates to a lower chance of survival.
Roberts learned in December after a poor result in his annual Prostate-Specific Antigen (PSA) Test—used to detect prostate cancer and other prostate abnormalities—and a follow-up biopsy that he had prostate cancer. And it was the aggressive kind. His doctors at home in Memphis suggested he first undergo radiation treatment, but Roberts, after doing plenty of research, nixed that idea because, he said, "it could have effectively ended my career."
Instead, after playing in the PGA Tour Champions' season-opening Mitsubishi Electric Championship at Hualalai, in Hawaii, where he finished 32nd, Roberts underwent surgery on Feb. 14 to have his prostate removed. "How about that for a Valentine's Day gift?" he mused with a slight laugh.
On Thursday, he'll give himself an early birthday present. Roberts, who turns 63 next month, is competing in this week's Regions Tradition, the year's first major on the PGA Tour Champions. The California native won the event in 2005, the first of his 13 wins in senior golf, so it seems like an appropriate place for his comeback.
Originally, Roberts had targeted the Insperity Championship two weeks earlier in Houston, but his game wasn't quite ready for competition and public consumption. That doesn't mean he expects to play well this week at Greystone Golf & Country Club in Birmingham, Ala. Winless since 2012, Roberts is too much of a realist. But he loves the game and still hopes to enjoy the competition for a few more years.
"I want to leave it on my terms," he said.
The ever-modest Roberts, it should be noted, also had his own terms for this story, repeatedly pleading that it not be solely about him, but also about awareness of the affliction. He cited the support he received from many of his peers who quietly have endured the same fight, the same fears, the same doubts about their respective futures—and not just merely as professional golfers.
No, Roberts isn't unique in his adversity. He's just the latest to overcome it.
The American Cancer Society estimates that roughly 165,000 new cases of prostate cancer will be diagnosed in 2018 resulting in nearly 30,000 deaths. The ACS reports that one in nine men will be diagnosed with prostate cancer. Other than skin cancer, prostate cancer is the most common cancer in American men, and it is the second to lung cancer in leading causes of cancer deaths in American men.
"You live long enough and you are probably going to develop prostate cancer," said two-time U.S. Open champion Andy North, who is a survivor of the aforementioned two most common varieties of cancer in men—skin and prostate. "The good news for men today is that it is treatable if you catch it early, and you're stupid if you don't get it checked out. It's a simple blood test."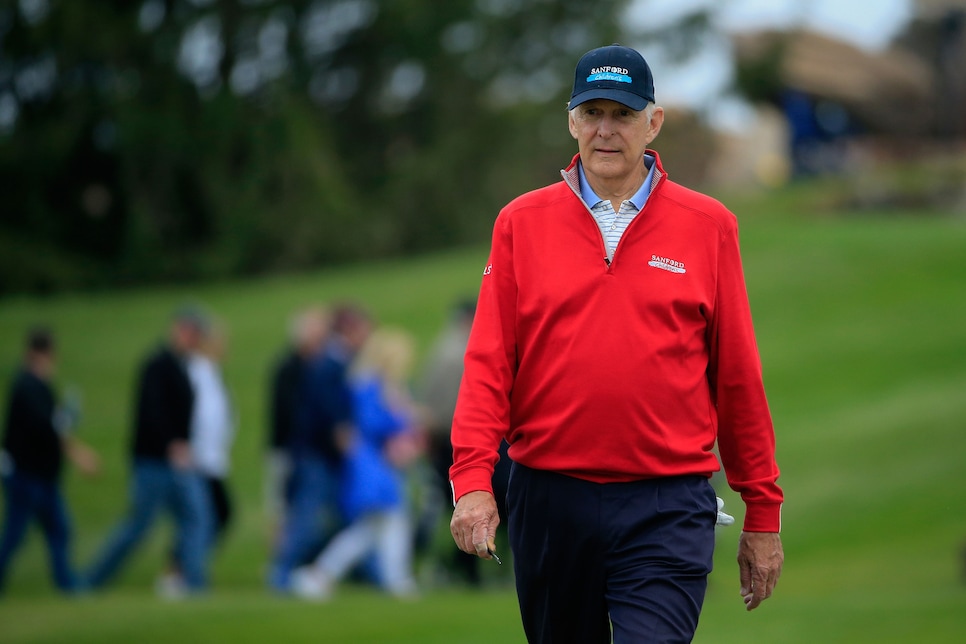 Michael Cohen/Getty Images
North is referring to the PSA test. Arnold Palmer brought widespread attention to the disease—and the importance of PSA testing—when he was diagnosed with prostate cancer in 1997. Palmer had his prostate removed and underwent radiation treatment after a biopsy revealed the malignancy that PSA tests had indicated.
In his final book, A Life Well Played, published just weeks after his death in 2016, Palmer recalled how he stood in front of a crowded room at his Bay Hill Club just a month after surgery and began a speech with the quip that elicited roars of laughter: "I'm here to tell you about prostates. You know … I don't have one."
"Arnold did a lot of great things, and he was great about this, talking about it and getting information out there that probably saved some lives," North said.
North underwent prostate surgery in late 2014. He was at the Ryder Cup at Gleneagles, in Scotland, serving as an assistant captain to Tom Watson, with the upcoming procedure hanging over his head. "I knew for six months that this is what I was going to have to have done," he said. "That was tough. It was a tough time. But it also wasn't the first surgery I ever had. You go get it done and move on. I was lucky. But you get lucky for catching it early, and Loren is right. There needs to be more done about awareness of the problem."
Don Pooley didn't need to be made aware; he knew he was a candidate for prostate cancer. His father, Sheldon, died of the disease when he was 62. So, Pooley remained vigilant with his screening. "It's a treatable cancer if you catch it early and horrible if you don't, and I saw what happened with my dad," Pooley said. "You do not want to mess around with this."
Six years ago, Pooley's doctor, knowing the family history, recommended a biopsy after his PSA test indicated rising levels of the PSA protein. Sure enough, Pooley had cancer, and just a few months later he underwent surgery in Philadelphia.
"It's a difficult procedure. It's a lot harder than I thought it would be," said Pooley, 66, who retired from competitive golf in 2016. "I had been through several operations—back surgery, shoulder surgery … but this was a tough one. It was months before I could play golf again. I'm glad Loren is going back already. That's pretty good as far as a turnaround to try to play competitive golf. A great story and a great example of the kind of happy ending you want to see when someone goes through this kind of thing."
"There are a lot of those stories, thankfully," Roberts said. "I was amazed by the number of guys that I know just around my home in Memphis here. You get to talking, and they ask you why you're not playing and you explain you've had minor surgery. Then you find out they've had it, too and you're like, 'What? I didn't know that.' "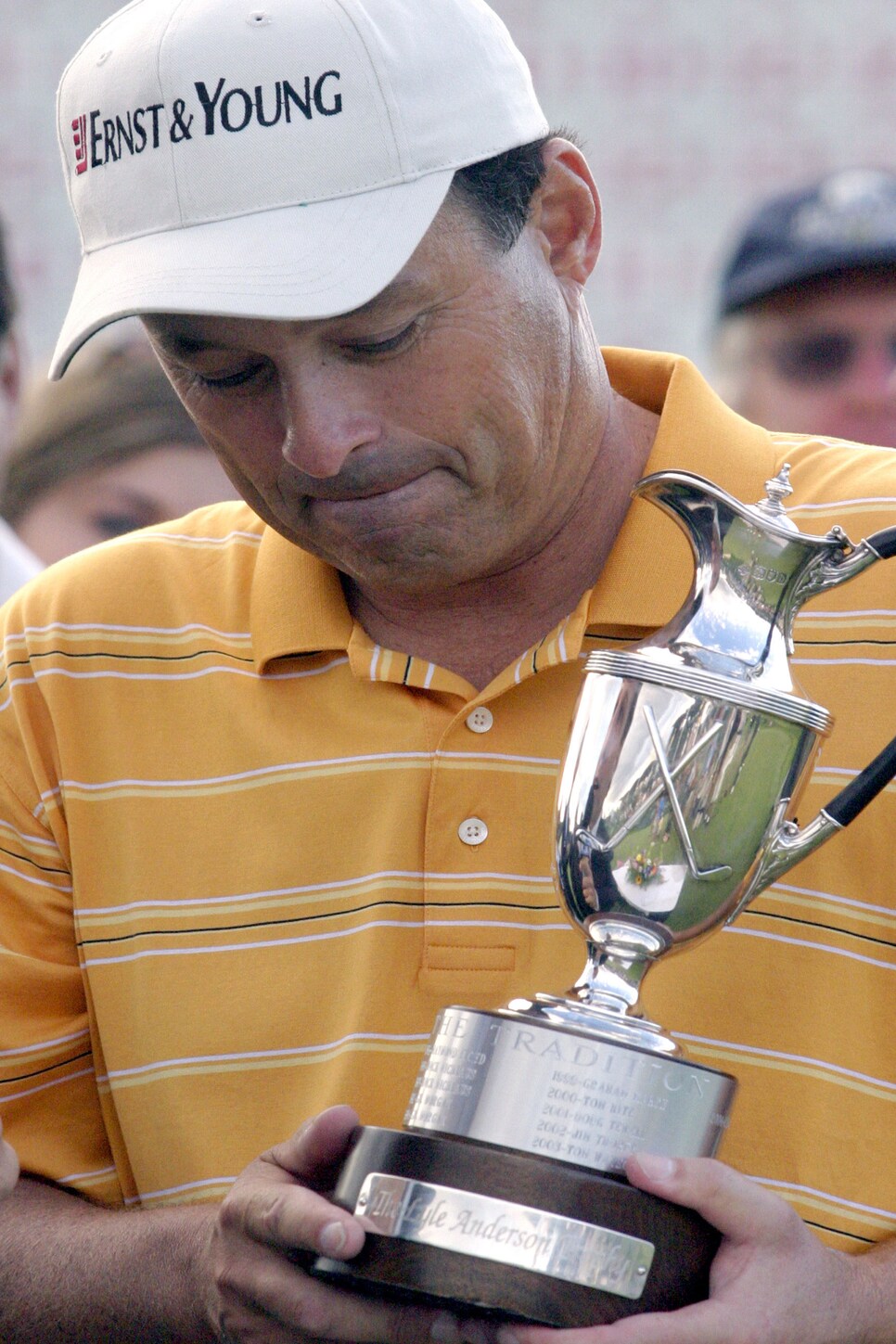 Roberts was supposed to lay low for six weeks after surgery, but he admits he "kind of cheated" after sitting around for three weeks and began working out a bit and practicing his short game. Which leads to his biggest challenge this week and down the road. Nicknamed "Boss of the Moss" because of his deft putting touch, Roberts isn't worried about pain or fatigue, but his ability to score because he feels lost on and around the greens.
"I've talked to other guys about this. They put you out, and I was under for almost five hours, and I think when they put you under it almost kind of erases the tape," he said. "I went out and I was yipping with the putter and chili-dipping wedges and everything else. It's like I forgot how to do it. So I'm having to relearn all of it. That's actually the biggest hurdle for me."
Roberts' hope going forward is to play at least 12 events this year. And he wants to compete until age 65 and then take stock of his career, which includes eight wins on the PGA Tour.
"I just want to get out there and play," he said. "I'm ready to move forward. I don't want this to defeat me. I want to go do play golf as well as I can for as long as I can and get back to living my life my way.
"I think," he added with an air of wistfulness, "that that's what anyone who has been in this situation would want. You just want things to get back to normal."