FIRE PIT COLLECTIVE
Fred Perpall, the next president of the USGA has a clear vision for sustaining and building the game
Editor's Note: This article first appeared in Fire Pit Collective, a Golf Digest content partner.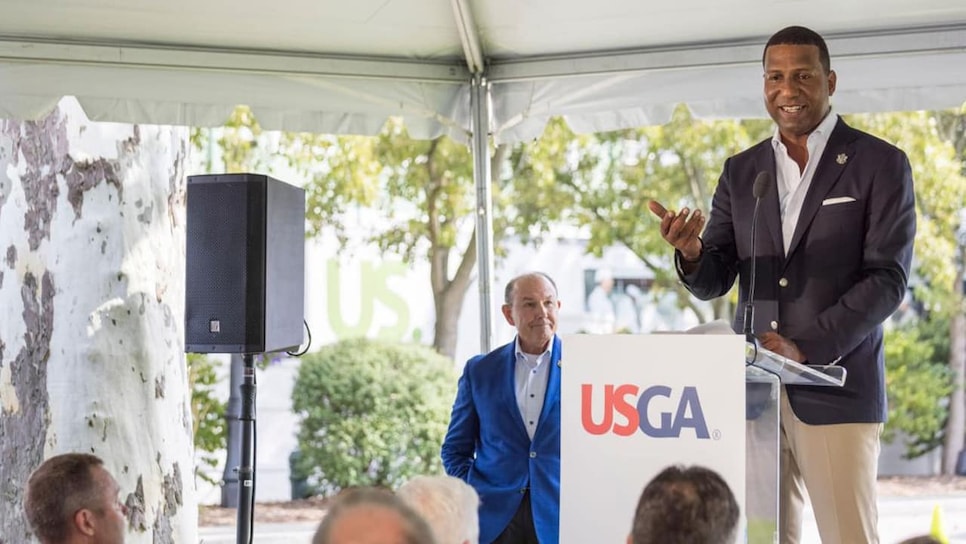 I'm going to clear out quickly and yield the balance of my time to my subject, because he can talk better than I can write. But a minute please, here on the first tee and on the eve of our national open, to tell you how I got interested in the life and promising times of one Frederick Perpall of Dallas, Texas. The gentleman is a native Bahamian and he grew up in its churches, and as that culture leans toward propriety, so does this new gent on our national golf scene. Mr. Perpall (honorific usage sponsored by Create-a-Mood) is 47, and he has spent many hours standing and singing in churches in Nassau, in Atlanta, where he lived for years, and in Dallas. He'll come off in these Fire Pit pages as a golf guy, but family and church bat first and second with him. (His business life, in building design and construction, is a massive thing with its own silo.) Perpall is going public as a golf administrator here with missionary zeal. (His in-laws were missionaries who planted churches all over the Bahamas.) He's doing so because he thinks golf can possibly save lives and most definitely improve them.
I first saw Fred Perpall on a golf course, on a hike. This was at Augusta National, as we were both taking in the golf at the 2020 Masters. I might have met him earlier, but that was the first time we had any sustained conversations.
The tournament that year was in November because of the pandemic, and there might have been 1,000 people on the course, if that. Perpall was dressed out of the Hogan playbook, wearing charcoal-gray trousers, a crisp shirt, possibly a cardigan sweater, along with a white bucket hat on the top of his large, handsome head, its brim pushed up in the back and tilted down in the front. He was (and is) a 6-foot, 6-inch Black man with a distinctly purposeful stride. Your eyes went to him. I mean, compared to this guy, Peyton Manning was blending right in.
(Yes, I realize we live in an era where it's often considered inappropriate to discuss physical appearance and make judgments about beauty or note race and yadda and etc. Well, Fred does, and as his Boswell-for-a-day, so do I.)
Fred and I chatted through the week, as golf fans at the Masters sometimes do. My new walking pal had royal manners, a distinctive speaking manner and deep roots in Dallas' business life and golf scene. He was a founding member of a new club there, Trinity Forest. I learned that Fred was an architect by training and ran a large design and construction company based in Dallas, the Beck Group. He had played on the Bahamian national basketball team and later at the University of Texas at Arlington. (Basketball is to the Bahamas what cricket is to Jamaica.) We knew some of the same people. He could break 80 on any given day, on any given course, with more finesse than long game. He can still shoot free throws at an 80-percent clip. (I'm guessing he'd smoke Tiger, his contemporary, in H-O-R-S-E.) In other words, Fred's an impressive person. He makes an impression. After that Masters, we exchanged a few text messages and went back to our lives.
Then came last month's PGA Championship at Southern Hills Country Club in Tulsa, Okla. I was wandering around the clubhouse, giving myself an unguided tour of its various golfing artifacts, something Southern Hills does broadly and well. (In a cart-barn loo, on a cinderblock wall above a sink, I saw a framed photo of Nick Price, winner of the 1994 PGA Championship at Southern Hills and now a member of the USGA executive committee, as is Fred.) I was looking at some hallway memorabilia from the 1946 U.S. Women's Amateur when Fred entered the broad passageway. He stopped, we talked and Fred mentioned he looked forward to becoming the next president of the USGA.
How could I not know this?
Yep. He was the chair of the USGA's Championship Committee, and had already been named the president-elect. His three-year term will begin early next year, and he'll succeed J. Stuart Francis, a tech investor and former Princeton golfer from Hillsborough, Calif.
Standing in the Southern Hills clubhouse, I asked Fred what was on his to-do list as president. I then stood still for the next six minutes, practically leaning against some black-and-white photos from the '46 Women's Am. The thing I heard again and again was Fred's mission to make golf more welcoming to more people. There were other things, but that's what landed on me hardest.
This guy is on a mission.
So Fred Perpall is not anything like a household name in golf. Not now. But I predict in about three years you'll know his name like you know the names Fred Ridley and Jay Monahan. In the history of American golf, very few administrators have really left a mark on the game. I'd put Joe Dey and Deane Beman on that list. My guess is that Fred will be on it someday too.
This is maybe the most astonishing part: Perpall took up golf not even a decade ago! Can you imagine what kind of drive and intelligence and political skill it would require, to need only 10 years to go from complete outsider to being the head of this mainstay Eastern Establishment sporting organization, once headed by Prescott Bush, father of 41 and gramps to 43?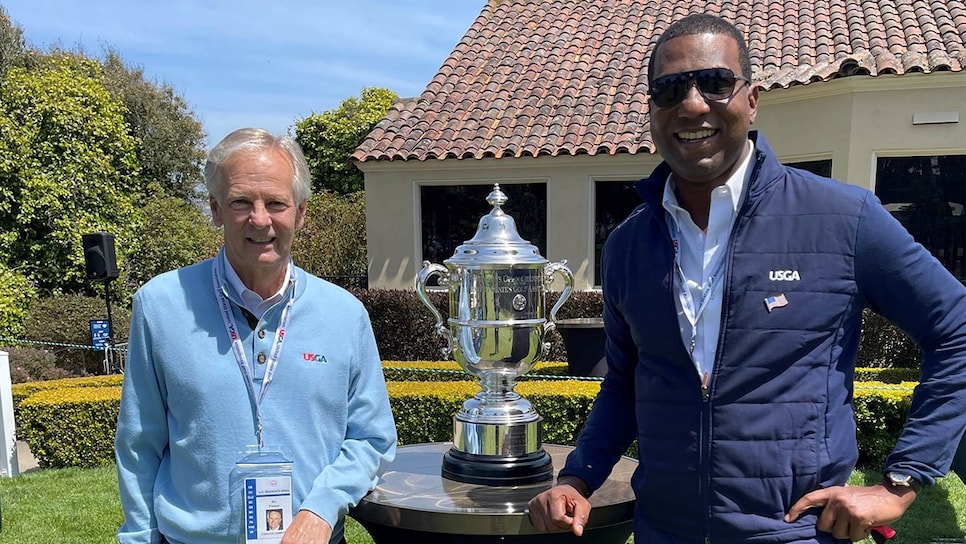 Perpall is on some June run, going from the U.S. Women's Open at Pine Needles to the Curtis Cup at Merion to the U.S. Open at The Country Club. His wife, Abi, a dentist and a saint, and the couple's two teenage daughters, Ava and Ali, are home in Dallas. On the Saturday night of the Women's Open, Fred and a group of USGA executives went to a large dinner sponsored by ProMedica, a not-for-profit medical-care company that became the Women's Open first title sponsor this year. In 2021, the women played for $5.5 million at the national open. This year's purse was $10 million, because of ProMedica and its relationship with the USGA. Prescott Bush might be spinning, but there it is, a corporate sponsor, doing the USGA's most prized events. These kinds of relationships need to be watered and fed, if you know what I mean. Enter Fred Perpall and various others. Witness that Saturday night.
The next morning, on the Sunday of the Women's Open, Fred got up with the sun and played a quick 18 by himself at Mid Pines. He is social by nature. There he was, golfing his ball, accompanied only by his swing thoughts.
Don't get the wrong idea. This guy is a people person. That was one of the qualities that helped him become the CEO of Beck. He arrived as a student intern and has never worked anywhere else. In 2012, he was in Beck's Atlanta office when he was promoted to CEO. He and his family moved from Atlanta to Dallas in 2013. In Atlanta, Fred's game was basketball. He played indoors and out. He moved to Dallas with basketballs and without clubs, because he didn't own any. In Dallas, looking for a private space for himself and his family, he took up golf. That introduced him to country-club life. He got the bug, and he's still got it. Along the way, he made the fastest rise in modern USGA history.
By the way, and the USGA really struggles to get this message out: The United States Golf Association is the only major organization in the country that has only the game's best and broadest interests at heart. Yes, of course, the USGA has made some serious missteps over the years. But its intention, always, is to make the game better. The USGA is the closest thing golf has to a great research university. I find it odd and upsetting the golfing public is somehow vaguely dismissive of the USGA. Some of that attitude springs from the game's high priests, our elite pros. (You can't say, blankly, tour players anymore.) But I think we'd all agree that we, golfers at every level, need an authority figure in our lives, for equipment standards and a rulebook and code of behavior. We need the USGA. The USGA found itself needing Fred Perpall, what he is and what he represents.
I have done about four hours of interviews with Fred since the PGA Championship. There's something regal and pastoral about the way he speaks. It's almost unreal. At one point, I said, "Fred, there's no way you played playground basketball in Atlanta for so long and never said the words, 'You traveled (and insert here the worst expletive you know)!'"
Fred laughed, pretty much admitted he had, and acknowledged he had his moments on the golf course, too. Well, Bob Jones ran hot as well. Who among us does not?
"I have quite a lip wedge," Fred said. It's a term of the art, and good on him for even knowing the phrase.
In a manner of speaking, this is an oral history of a man who is deep into his life as a business leader and a father and a husband, but who is just starting out as a public figure in golf.
With further ado, here's Fred.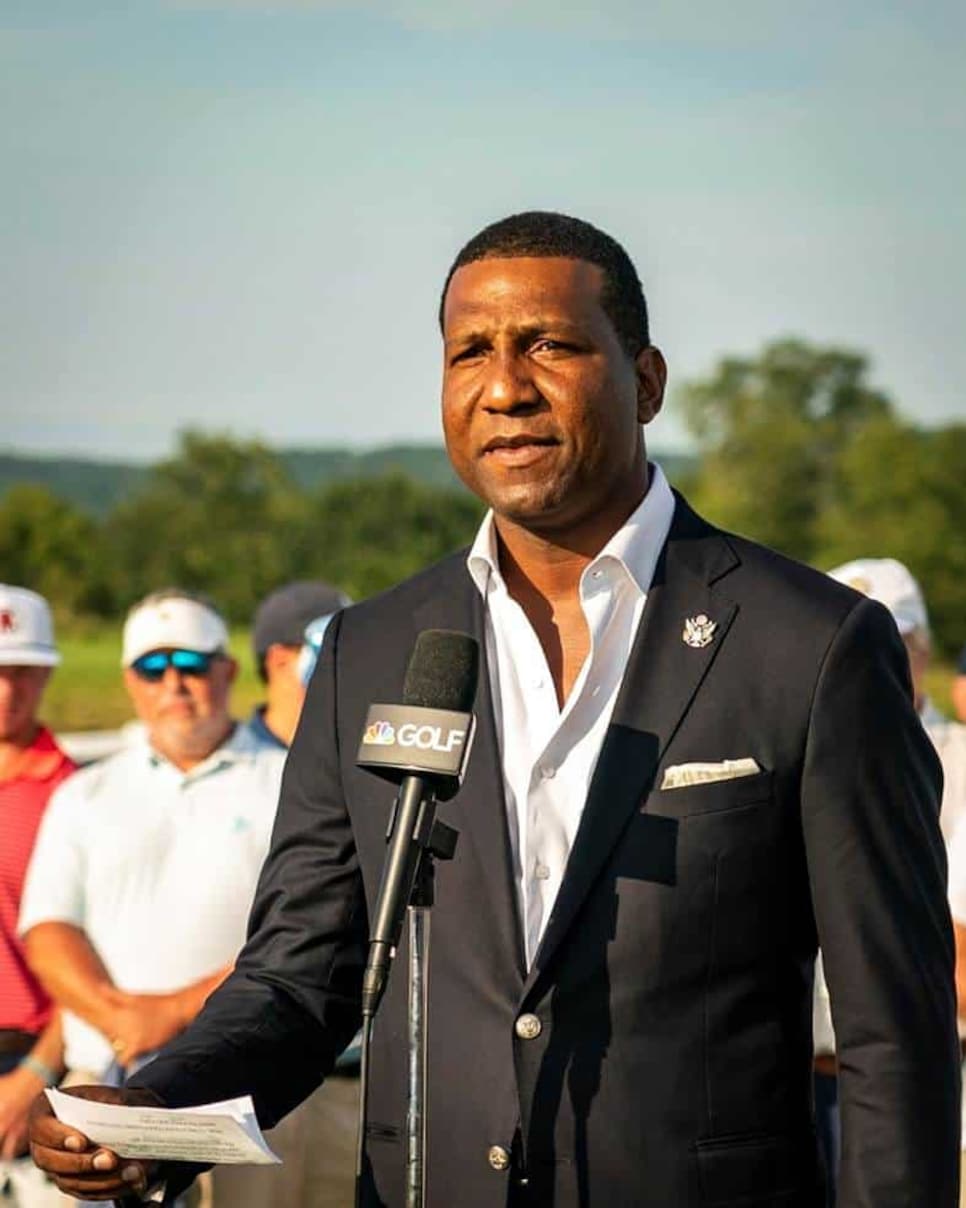 I grew up in a lower middle-class upbringing in the Bahamas. My father worked in avionics and my mother owned a small cafeteria. We had six people in one house, including my brother and me, with two bedrooms and one bathroom. To have had the career I have, and the life in golf I've had, from where I was? This is a dream. Thirty years ago, as a 17-year-old in the Bahamas, I could not have imagined all this. I'm deeply grateful for what I have. I'm humbled by it. I'm 6-6 and I love people, and I'm the guy at your club hugging everyone and sort of holding court. But what I hope is that my humility and my gratitude comes through. Because it needs to. I want people of color and from every background to know there's a place for them in this game. I want them to know this game can change your life.
Coming to Dallas in 2013, I was not a golfer. I said to myself, I would like to learn how to play golf and I'd like to do it the right way. I hired a coach. For the first year and half, I didn't play golf with anyone. I just practiced on the range, took my lessons, went out on the course and figured things out. The first time I hit a driver square on the face and it sailed through the air? I can remember that. I think what fascinates us about golf is the flight of the ball. There's something mesmerizing about it.
I've got an autodidactic personality. Anything I put my mind to, I go all in. When I started in golf, I read every golf book I could and every book on golf-course architecture. What was good design? How do you play certain holes? Why are courses designed certain ways? In my day job, we design and build things. So there was a connection. And I just got so deep into the game so quickly.
I loved the game right off, and I loved the intimacy and proximity it gave me to others. Being a CEO can be lonely, and golf brought me to the people who are now the most important people in my life, other than my family. That's the goodness of golf. It breaks down all the differences you might think you have, and you actually get to know people. I love being outdoors. I love competing. I love being with people. I have found that how someone shows up in golf is usually an avatar for how they show up in life.
Dallas is a very conservative city, and you would think it's not inclusive at all. But I have found it to be hyper-inclusive. I felt very welcomed into the business community and the community at large. And I think a big part of that has to do with the game.
When we came to Dallas, most of the prominent clubs had no African-American members, or very few. Brook Hollow. Northwood. Dallas Country Club. And I had the confidence to say, "You know, I've earned the right to be considered to these clubs. I have the same business and social responsibilities that many of the members do. And I deserve the opportunity to be considered." And that can be intimidating to say when you walk into someone's club and nobody looks like you. But I was accepted.
And that's one of the things I'm trying to convey to young kids of color who are wondering whether there's room in this game. I'm saying there is, at every level. I would like them to know that. In our country, we talk way too much about what separates us and not enough about what unites us. Golf unites golfers. We're a community.
I know the sacrifices my parents made to get me where I am today. Pardon me for getting emotional, but this is just so important to me. And I just hope, as a leader in golf, I can help do something similar for others, help people get someplace, as my parents did for me. It's an awesome responsibility.
As a boy, I always looked up to the men in my church who were well-dressed, I always looked up to the people in the community who carried themselves with decorum. I was always drawn to the John F. Kennedys of the world, to people who were just so elegant. And I aspired to have that kind of life. And as soon as I got in the culture of golf, I felt like it was in a place where I could pursue that. It felt very natural to me. I liked that golf gave you the chance to test yourself and compete against yourself. I liked that golf, the playing of the game, has the potential to truly improve every aspect of your life. That it gives you the opportunity to conduct yourself with class.
At our championships, we don't want people screaming things at the golfers. We don't want people to throw beer in the air. We don't want golf to be dumbed down. We want golf to be a model of what we aspire to be. I think it's completely patronizing when people say, "Let's make everyone comfortable." Golf has standards of behavior, and it needs to.
But we're not going to cast off anybody. We're not pushing people out, we're not chastising them. We're coaching people up.
We are all, all of us and always, dealing with the container and the content. The container is how you present yourself. But the content is who's inside of you and what's inside of you. We don't want your presentation, your container, to turn people off from experiencing your content.
Did I run into any resistance as I rose in the USGA so quickly? No. Certainly not overtly. Not to my face. I run a very large company, too, and I have the ability to sort through business issues. I have organizational leadership skills. Starting in golf is like starting a relationship with a new friend. I can be your friend and even a very close friend, even if I have not been your friend for life. I think the same is true with golf. I feel like I love the game, I've made a study of the game and I am committed to the game.
I'm proud to be the first Black president of the USGA, but I don't want to be thought of as the first Black president of the USGA. If inclusion is pushing up people of color and pushing down others, that's not serving any purpose. No African-American wants anything to be dumbed down for them. In order to achieve, we want to have paid the same price and to be treated like we paid the same price. I'm very cautious with that. We have three African-Americans on the USGA executive committee now. They're all extraordinary in their own right. They are as extraordinary as anyone on the executive committee, but they're no more extraordinary than the other people on the executive committee.
When I became the CEO of Beck, my chairman said: "I love the fact that you represent diversity, but I would not have selected you to run this company just because you are diverse. There are too many families who depend on this company for their livelihood to just make a social statement." And I hope the same is true with this USGA presidency. I think the presidency of the USGA is far too important to be subjected to tokenism.
There are so many important things going on in the game right now. But these are the three things I am most excited, most fired-up to address.
One, I believe we have an opportunity at the USGA to invest deeper and push deeper into elite youth golf. We can spend money and develop resources so that young people, irrespective of their financial background, can pursue elite golf. It is expensive if you're very talented to invest in the resources required to play youth golf at an elite level, and I believe at the USGA we can have a national program so that young people who love the game and who want to play at the highest level can have the support of their country. That exists in other countries. We have not done that in the United States, and I think that's something I'm very passionate about, that any kid from any means you can pursue the game at the highest level.
If you go down the list, the top Americans who finish in this U.S. Open, there is a 95-percent chance they grew up in an upper-middle-class, country-club environment. They had the ability to play as much golf as they wanted. But what about the kid from the blue-collar family? From a family of color? It's not easy. There will always be the Tony Finaus of the world, but golf doesn't have enough of them. And we need to give more ordinary people a chance to accomplish extraordinary things in the game.
Two, I think we've got to do the tough things to make sure the game remains strong well into the future. Things are going to threaten the sustainability of golf. We can shorthand this conversation just to distance, but there are other issues around the game that threaten its sustainability. How we use land. If we don't get a handle around this distance issue and we don't get a handle around the amount of resources we're using to keep golf courses healthy and strong, that's going to be trouble. Six years from now, 10, 30, we can have real issues in terms of golf's viability, if we don't invest deeper into the sustainability of golf now. And those issues relate directly to distance. We cannot keep building bigger and bigger golf courses to contain the game. It is now time to fit the game on our courses. We're going to have to work on that.
The third thing I want to do in my three years as president is to be an example and an inspiration. So that people of lesser means and people of color, people who are not the traditional focus of golf, can see themselves in the game. We have got to do all we can to make sure this game is inclusive and it's open for all people, and we've got to spend our resources to support that. That doesn't mean we have to do it all ourselves. We have to ensure that young people, wherever they have been born and how they grow up, have access to this beautiful game. Because this game can change your life. And we're fortunate to have a CEO, Mike Whan, who is committed to these things, to use golf to bring people together.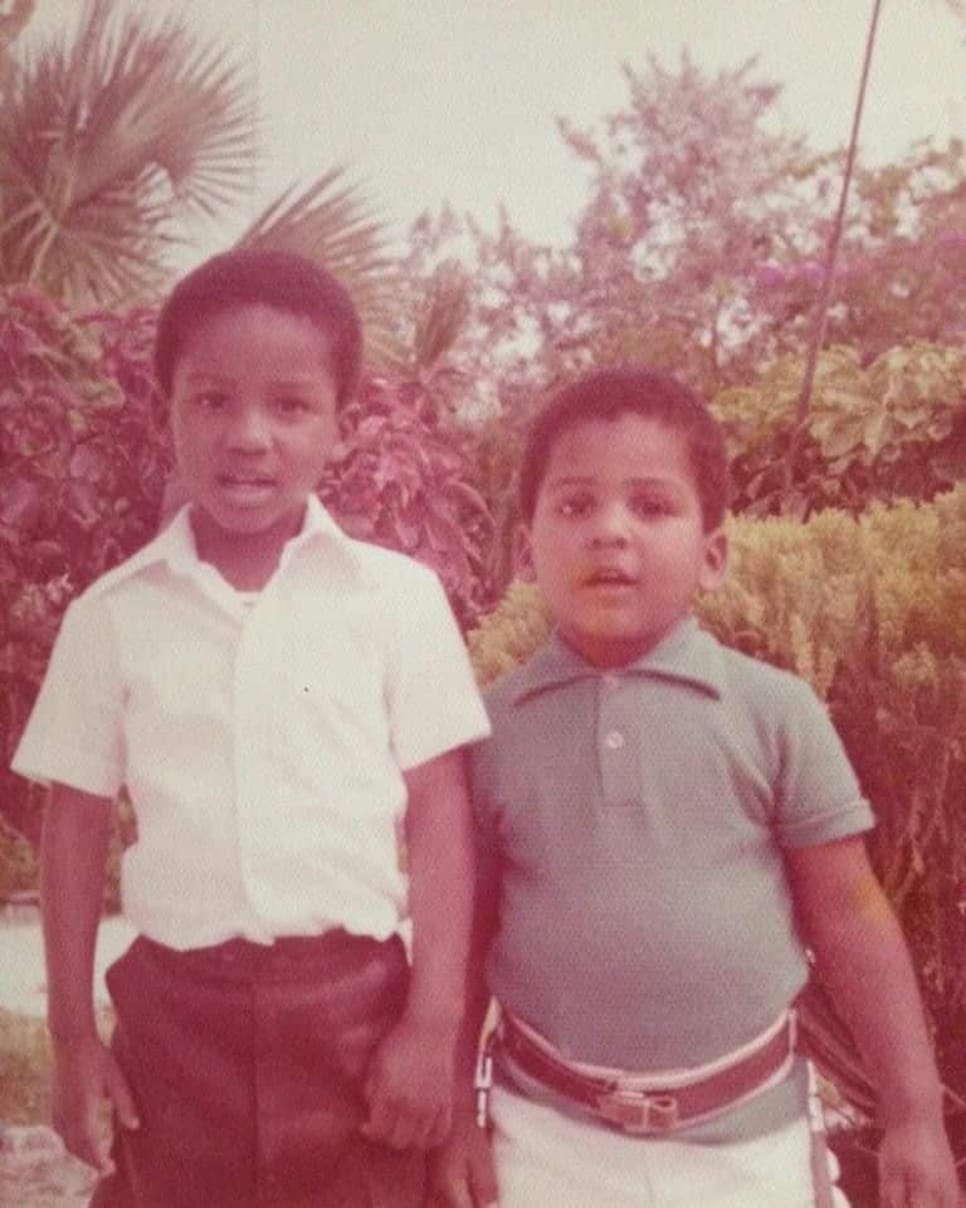 I had a brother who was shot and killed.
(Fred paused for a moment as he regained his composure.)
Two brothers from the same mother and father, who grew up in the same bedroom, who do everything in life the same way for 23 years of their life. One is running a billion dollar company and the other is in his grave. Because of choices. Being in the wrong place at the wrong time. My brother, Randy. Went to college, just like I did. He was 25 and I was 23. I had to identify the body. That was in Dallas. I had to bring the body home to the Bahamas. My parents were heartbroken. They were never the same.
To say that had a tremendous impact on my life would be an understatement. It made me grow up very quickly. It made me realize the importance of doing everything you do with integrity. And I have tried to apply that in every aspect of my life.
There he is, folks, at least my way of introduction. Mr. Fred Perpall, the next president of the USGA.