The Loop
How Fred Couples helped the Seattle Seahawks win big on Monday Night Football
It had been a relatively quiet year for Fred Couples -- until last night. Couples had the honor of raising the flag for his hometown Seattle Seahawks before their big tilt with the New Orleans Saints on Monday Night Football and he didn't disappoint.
"I'm going to act like a nut here for 30 seconds and get them all wound up," said Couples, who snapped a golf club over his knee to fire the fans up even more.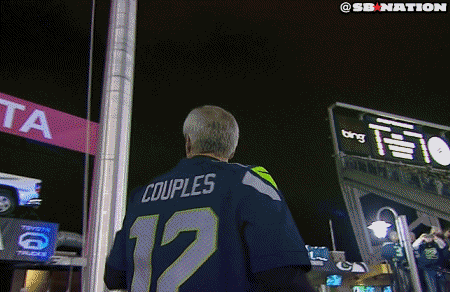 It worked. Behind the support of their 12th man home crowd and led by a budding star quarterback, Russell Wilson, the Seahawks trounced Drew Brees and the Saints, 34-7, to improve their record to 11-1 and take a huge step toward locking up homefield advantage in the NFL playoffs. The team's raucous fans also set a new Guinness World Record mark for the crowd noise, registering 137.6 decibels during the second quarter.