The Loop
Given another chance to make history, Couples embraces the opportunity
AUGUSTA, Ga. -- Will golf justice, elder division, ever make up for the 72nd-hole bogey at the 2009 British Open that cost Tom Watson his sixth Claret Jug at age 59?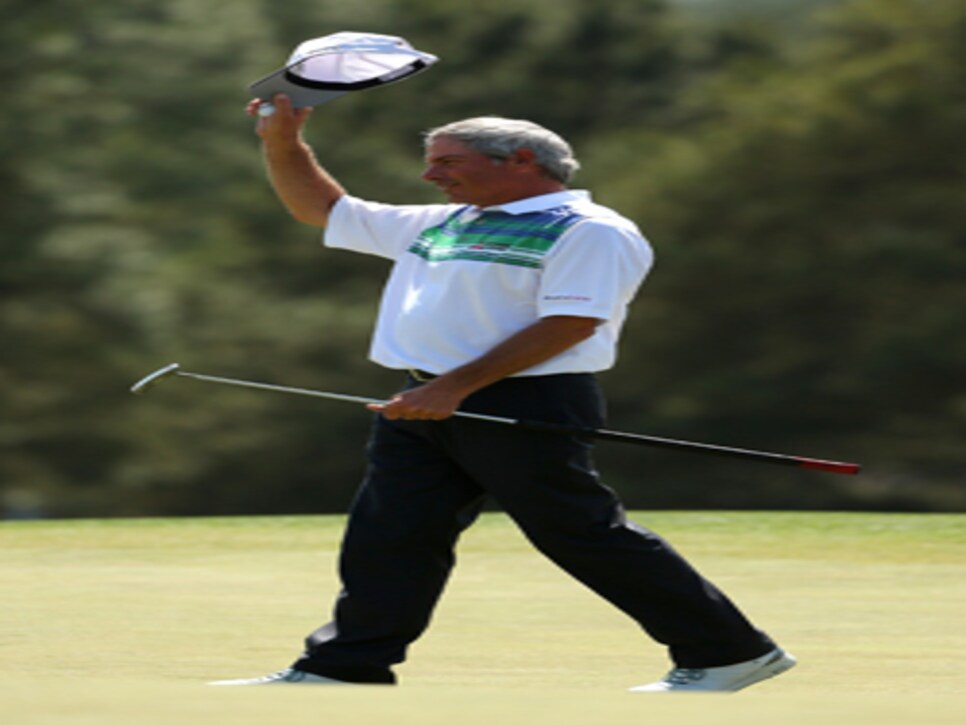 For the second straight year at the Masters, the scales have tipped teasingly toward the affirmative after 36 holes.
Fred Couples, 53, who led at the halfway point last April, is in great position again at Augusta National GC. Another green jacket, 21years after he won his only major championship and a few weeks before he will be inducted into the World Golf Hall of Fame, is in the realm of possibility.
If Couples were a political candidate, he would have won a couple of early primaries but has a lot of work ahead of him. Instead of raising more money and getting more votes, he has to keep hitting it long and making putts.
He is five years older than the oldest man to win a major, Julius Boros, who was 48 when he won the 1968 PGA Championship.
Boros' swing was syrup; Couples is wielding his driver like a sledgehammer, unloading on the ball as if to channel his younger Boom Boom.
"A couple of practice rounds, I just played horrible," Couples said. "Then on Wednesday afternoon, after the Par 3, I told [coach Paul Marchand], 'I'm going to swing as hard as I can.' You can't play this course driving it 275 or 289. On Thursday I went out there and just picked up a little speed. He said, 'Keep your balance and pound it.' And that's what I've been doing."
Couples didn't hold up well on Saturday afternoon a year ago, getting off to a poor start and shooting 75 en route to a T-12. "I think I was four over after five holes," he said of the disappointing third round. "That really wasn't good."
But the memory of that day hasn't tainted his hopes of what could be this year. "I've said it my whole life: This is my favorite spot in the world," Couples said. "At no given time, have I ever come here and not thought I could win. My goal is to always win this. I've had four probably really good shots at it. I got it once."
He is in position to get it again.
"I think it's possible," said Bernhard Langer, another fiftysomething, who is two under after 36 holes, of whether a senior could win the Masters. "I always thought that Freddie, with his length, can win it because he hits it a good 30 yards by me, which helps a great deal on some of these holes. For me to win, everything has to go my way."
Couples will need good fortune too, the likes of which he got in 1992, when his tee shot on No. 12 seemed to defy gravity on the bank and stayed out of the water.
"Hopefully tomorrow will be a little different [than 2012] and I will play well and have a shot at Sunday," Couples said. "I mean, that's my goal. But it is hard. I'm not going to kid you. You know, I did tee off Thursday with the idea of playing well, and it's Friday afternoon late. I mean, I'm surprised, but I'm not going to freak out over it."
The laid-back, bad-back one would save that for early Sunday evening, if everything had gone right to historic proportions.
"I would like to have another run," Couples said. "Last year Jason [Day] and I really struggled off the bat and we really were a non-factor on Saturday, and that was really not much fun."
He can make amends, then perhaps make some history.