Equipment
Francesco Molinari: The intriguing back story behind the club that helped win the Open Championship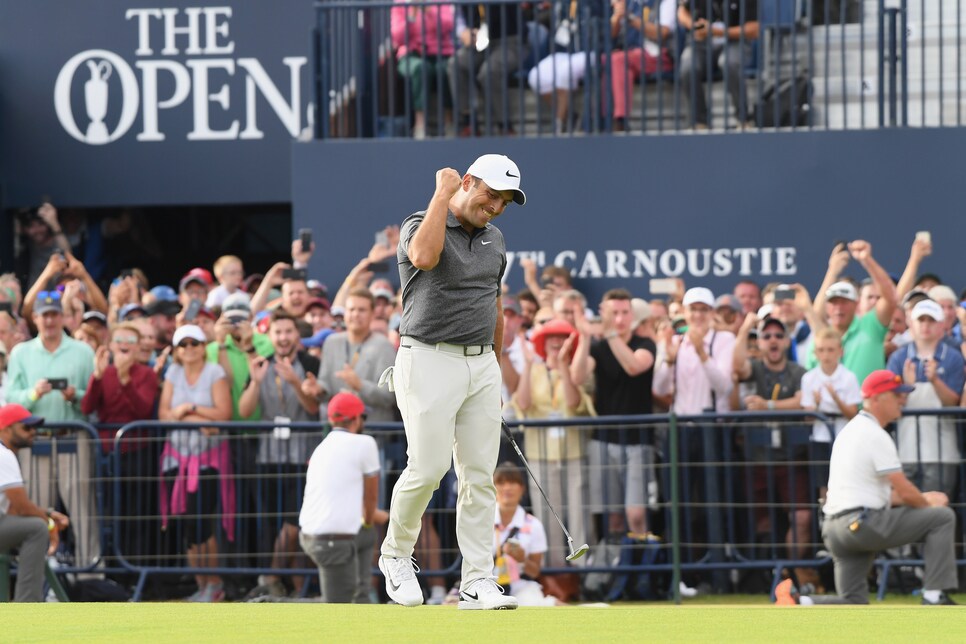 Before winning the Open Championship, Francesco Molinari signed with Bettinardi Golf earlier this year. At the time it seemed like a pretty nondescript endorsement arrangement in which a relatively small puttermaker paired with a solid, reasonably well-known tour player. Instead, it's turned out to be a boon for both sides.
That's because Molinari is in the midst of an incredible run that has seen him win the BMW Championship, Quicken Loans National and his first major, the Open Championship at Carnoustie. In all three Molinari used a custom Bettinardi DASS BBZero with a skull and crossbones stamp in the rear cavity in an Italian flag-themed paintfill. Molinari first put the putter in play at the Players Championship. The putter is 32.25 inches in length with a loft of 2.5 degrees and a lie angle of 70. The grip is Lamkin's Deep Etch. Molinari was T-4 in putts per round at Carnoustie with 111 (27.75 per round).
How Molinari came to use the blade putter, however, is an interesting story. Molinari first tried a production-model BB39 mid mallet then, wanting a higher moment of inertia, switched to a production-model BB56 mallet. He liked that putter so much he even posted on his Instagram account about it.
Then, with feedback from his putting coach, Phil Kenyon, Bettinardi's tour department as well as company owner Bob Bettinardi, he switched into his current putter, which had a heavier swingweight as well as a single sight dot alignment aid. To get to the proper swingweight, Bob had to mill the head to precisely 372 grams, which he did. As an added touch, the company has been sending him different putter covers each week, which Molinari refers to as his "lucky covers."
As for Bettinardi, it's the third major title for the company (Jim Furyk at the 2003 U.S. Open and Vijay Singh at the 2004 PGA also won with Bettinardi flat sticks), and the ensuing media coverage is the kind of free advertising that even the company itself likely didn't see coming when it inked the Italian star.
To shop the latest Bettinardi putters, click here.