The Loop
Francesco Molinari, sadly, doesn't have any great stories yet of drinking out of the claret jug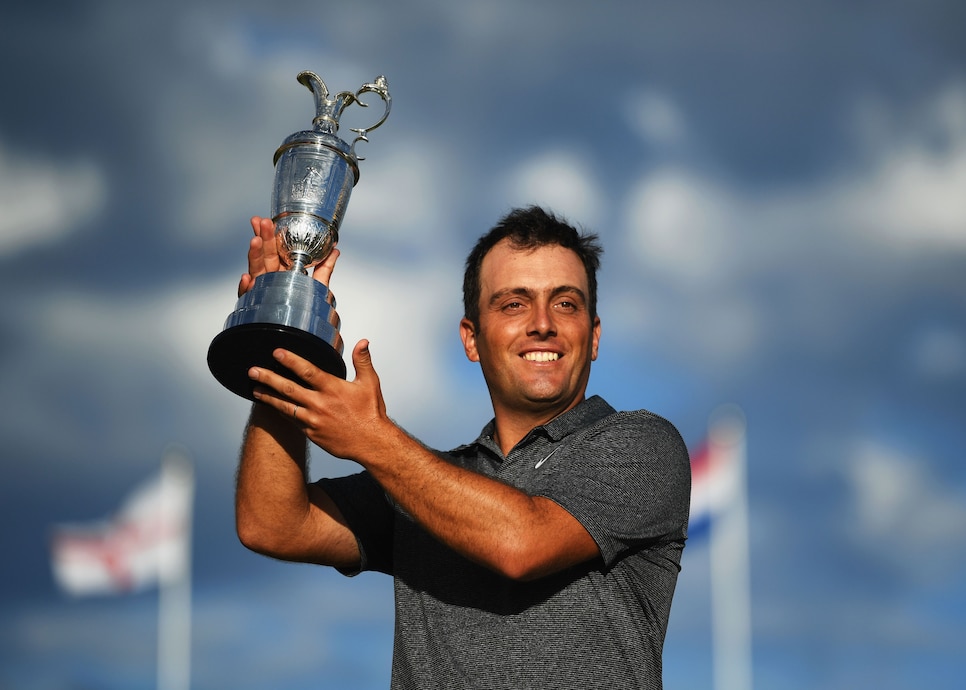 The tales of Open champions celebrating afterward with the claret jug have become legend, and the fun has come to be expected. To the victor goes the spoils, right? (Ask Nick Faldo to tell you about what Greg Norman did with it.)
Truth be told, R&A chief Martin Slumbers is probably happier than he lets on that he gets the thing back in one piece after handing it out to the champion golfer of the year. (When the Challenge Belt was originally the reward for an Open victory, the winner had to offer up a deposit for its safe return.) Once in the possession of the claret jug, it's likely that the winner will, well, "toast" his accomplishment, "soak in" the experience and "drink up" the moment.
Except if you're Francesco Molinari, apparently.
Meeting with the press ahead of this week's WGC-Bridgestone Invitational, his first start since becoming the first Italian to win a major championship with his victory at Carnoustie, Molinari confessed that he has yet to quench his thirst with the world's more ornate wine glass/pint glass.
"Nothing has gone in it [the Claret Jug] yet," Molinari said. "I'm not a big drinker, so to fill it with water would be a bit of a blasphemy it feels like."
Molinari claims he wasn't necessarily in a party mood in the days after winning at Carnoustie. It was more like a time where he was hoping to get some rest. The 35-year-old has been going hard on the course this summer in an attempt to earn enough points to make the FedEx Cup playoffs on the PGA Tour while also moving up the lists to earn an automatic spot on the European Ryder Cup team.
With more important tournaments in the next few weeks, Molinari was content to be quiet, letting the claret jug sit on a table at home for friends and family to look at.
"Last week there was a lot of recovery needed, so it didn't seem like a great time to get hammered," Molinari said. "So maybe end of the season, when everything quiets down, it will be more appropriate."
The jug did, however, have at least one adventure. Molinari says that one of his instructors, Denis Pugh, asked if he could take the trophy to bed with him one night last week. Molinari agreed.
So at least he's letting the claret jug sleep around.