News
British Open 2018: Nick Faldo throws Greg Norman "under the bus" with tale of claret jug shenanigans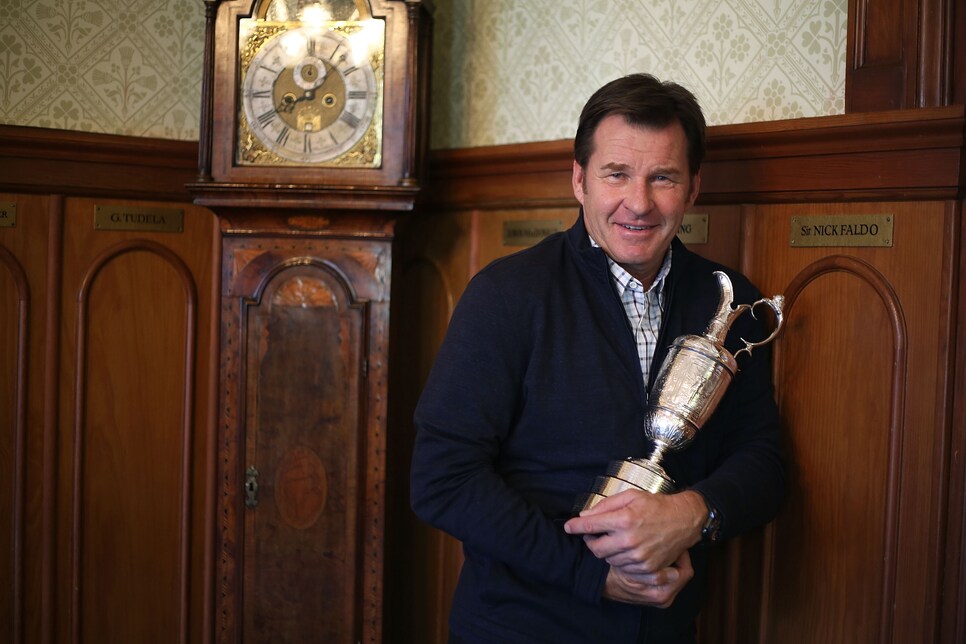 Jeremy Sutton-Hibbert/R&A
Nick Faldo and Greg Norman will forever be intertwined in golf history, most notably for the 1996 Masters. But during the first round of the 147th Open Championship, Faldo found another way to connect the two major champs. Even if he didn't mention Norman by name.
During Golf Channel's coverage from Carnoustie, Faldo and Mike Tirico did a segment with the claret jug in which Tirico asked the three-time Open champ if he'd ever drunk from the famed trophy. Tirico was disappointed to learn Faldo hadn't, but he was pleasantly surprised when he relayed a different type of tale.
"Actually, I'm going to throw somebody under the bus. . . " Faldo said with a smirk before pausing.
"Go ahead, you're there now, so. . ." Mike Tirico egged him on.
"The player who won it before me in 1986, no names mentioned, was playing Aussie Rules with it," Faldo said. "So I lost it for about four months where they had all the dents taken out of it."
You don't say? Norman, of course, was the winner in 1986. And he is an Aussie. Hmm. . . T
"The first time I got it, I immediately had to give it back for a few months because there were a few dings in it," said Nick Faldo, Open champion in 1987, 1990 and 1992.
After Greg Norman's first victory at Turnberry in 1986, the Great White Shark and a group of friends ventured back down to the 18th green in the middle of the night.
"We were drinking champagne out of the Claret Jug and two security guards came along with dogs and were going to kick us off," said Norman, who also won in 1993.
"Eventually, they realised who we were and what we were doing and I invited them to join us.
"So there we were, all having a drink on the 18th at about one o'clock in the morning, and that's what it's all about."
Norman added with a twinkle: "The best story is a good one but I can't tell you."
That's OK, Greg. We think Sir Nick just did.