Q&A
Francesco Molinari hopes being one of Riviera's newest members will come in handy at the Genesis Invitational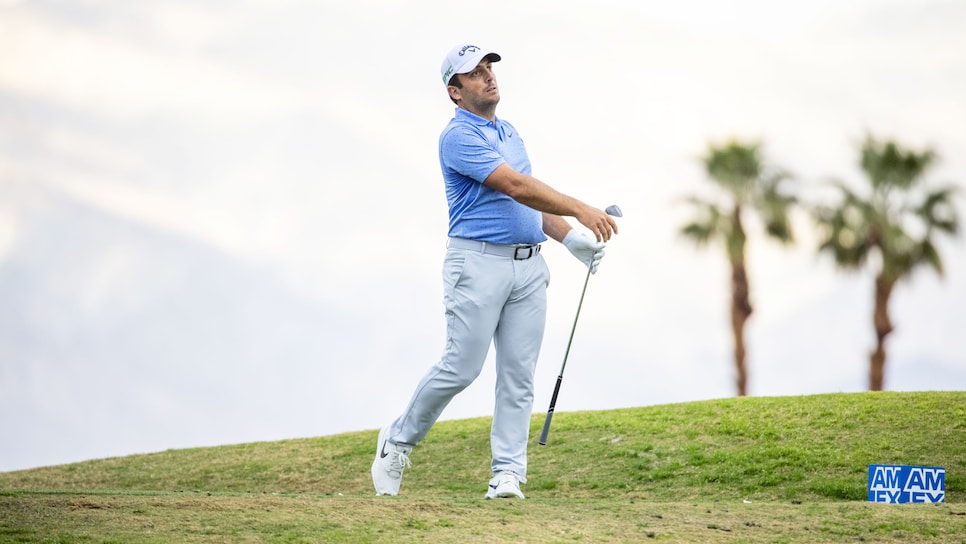 Photo By: Icon Sportswire
Francesco Molinari had glory within his grasp as he made the uphill walk from the 11th green to the 12th tee at Augusta National. It was April 14, 2019, the final round of the Masters, and he held a two-shot lead over a who's who of the game's elite. Having won the Open Championship just nine months earlier, where he stared down Tiger Woods at Carnoustie, and going 5-0 for the victorious European Ryder Cup team a few months after that, more than a few believed the Italian was the best golfer on the planet.
And then he fanned an 8-iron into Rae's Creek, made a double bogey and nothing was the same.
Molinari would make another double at 15 and finish in a tie for fifth, fading quickly as Woods surged to victory. The next week he missed the cut at the RBC Heritage, physically and emotionally drained. Turns out, it was a sign of what was to come. Molinari did not post a top-10 finish in any of his next 21 starts, a barren stretch that saw him fall from No. 7 in the World Ranking to outside the top 100. After missing four of five cuts to start 2020, he put the clubs away for eight months as he moved his family from London, where they'd lived for 11 years, to Los Angeles.
Settled and re-energized in a new home, the 38-year-old posted his first top-10 since that Augusta National collapse at last month's American Express, then followed it up with another at the Farmers Insurance Open. While finishing 59th at the AT&T Pebble Beach Pro-Am, he should feel good about his chances at this week's Genesis Invitational, given that Molinari recently joined Riviera Country Club, the host venue, and has been practicing out of there all winter.
What were those days like after Augusta? Did that take a toll on you?
To be honest, looking back now, there were a few things that were starting to creep in technically [with my swing]. Obviously, in any sport it's hard to take when you lose like that. But I think most of the issues were not so much strictly related to that [final round], it was more just I lost some of the mechanical things that made me play so well in 2018 and early 2019. It took some time to figure them out.
You had back-to-back top-10s last month after a brutal 2020. What's changed? What's clicking?
Well, I've been practicing and focusing way more on golf. Last year, I was focusing at the beginning of the year but just not playing well. Then, March to September, really didn't do much at all.
Because of the move? The body?
The body was healthy enough. Just the move, the general situation. I didn't want really to spend any time thinking about golf. There were other things going on. Getting the family settled over here, finding a spot where we could all be reasonably happy. That took a while. And then the three events I played last fall [MC at Shriners, T-15 at Houston, MC at the Masters], there was no expectation because the prep was minimal. It was just to get back in the swing of things so the beginning of this year was not such an alien thing, to be back out on tour.
Why did you decide on Southern California? What was behind the move?
Two years ago, we were really close to moving there. We had schools sorted for the kids [he and his wife Valentina have two children, Tommaso and Emma], we were looking at houses and then just, we had some other family issues back home. So we couldn't do it at the time. It's simply the place where we've been in the States where both my wife and I feel at home. In some ways, it reminds us of some parts of Italy. And obviously the weather is good enough to practice year-round.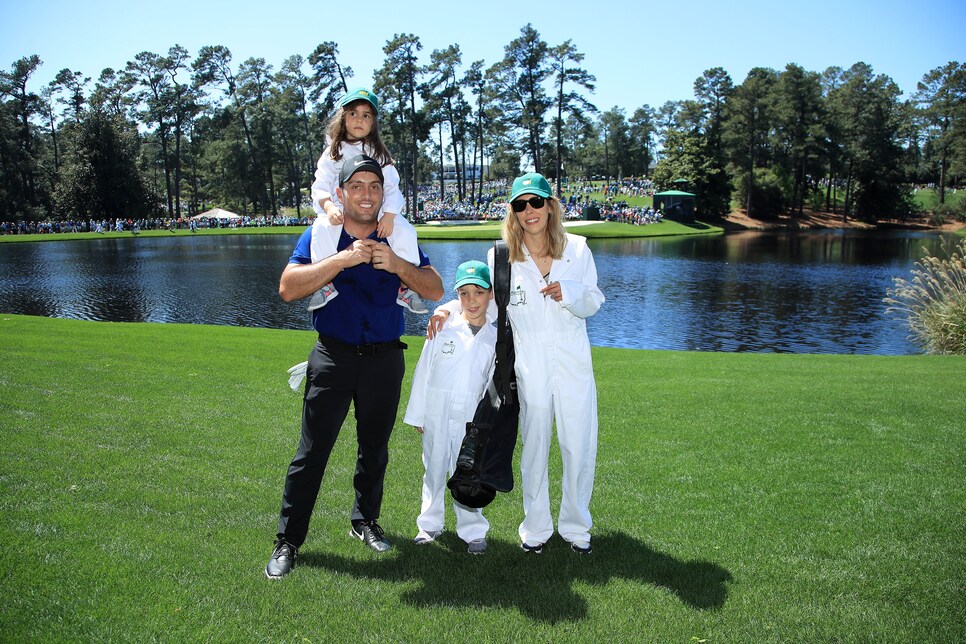 Molinari poses with wife Valentina and their children during the Par 3 Contest prior to the 2019 Masters.
Andrew Redington
You joined Riviera. What's that been like?
Lucky enough to join there in October/November, around that time. Everyone has been great. Todd [Yoshitake], the director of golf, [and his staff], they've all been great. Met a few members, played a few games with them. I've been around the course a few times. Starting to figure it out. It's one of those courses that I like, but I just haven't played well in the event in the past.
There aren't many PGA Tour pros hanging around Southern California. Usually Arizona or South Florida. Does that not bother you, not having other guys around?
Yes, you could argue that it'd be better to play with some of the guys, but Patrick Rodgers has been there. We've played together a couple of times. Patrick Cantlay, during the winter, spends some time there. I've played with them. And then there's a few decent players that are Riviera members. Los Angeles Country Club, there are good players. We play two of them, best ball against me, and it gets pretty competitive.
Still working with Denis Pugh?
Yeah, yeah, we are. He can't travel at the moment [he's based in the U.K.], but I send him videos, we talk. It would have been a lot harder to make the same move without FaceTime.
You've spoken about the motivation that it takes to get to the top and that you were struggling a little bit with summoning the drive to be great. Is that fire back?
From that point of view, it was really important to take a break. If anything good is coming out of the pandemic, it's that I was able to take that break last year. If it was a normal year, I probably wouldn't have done it. I think just being away from it sometimes is the best way to make you understand how much you miss it, how much you want it, how much you want more wins and to play well again. That definitely helped a lot motivation wise.
When you're struggling like you were, do you ever watch videos of your past triumphs? Like, the final round at Carnoustie or Ryder Cup highlights?
To be honest, no. Last year was very weird for anyone, but for me especially from a professional point of view. There were times in August where I haven't played for months, and I'm like, Am I ever going to go back to doing it? Then I felt like I still wanted to do it, still wanted to give it a proper go. Took it a while to figure that stuff out.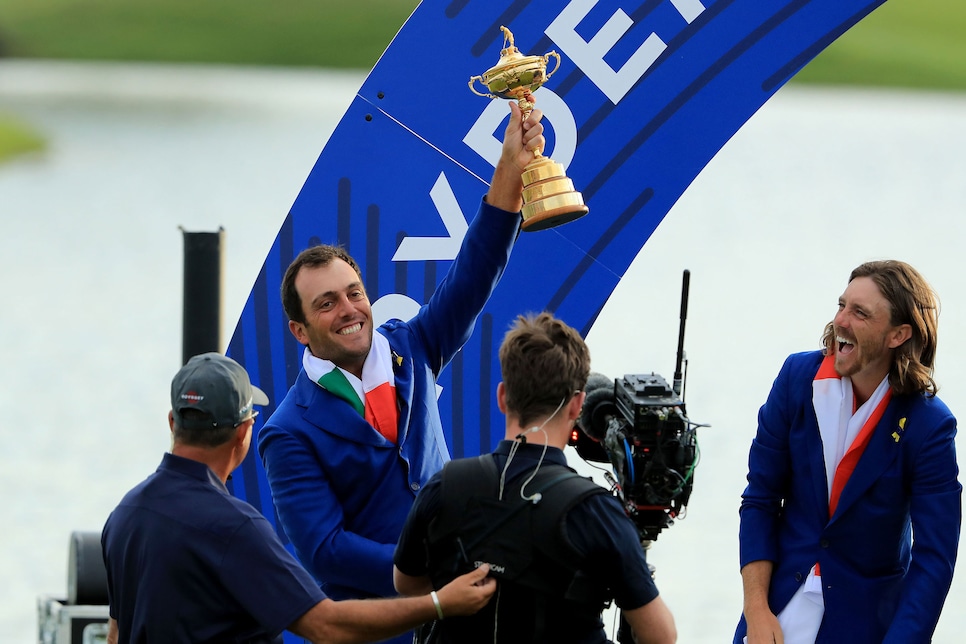 Molinari's best days on the course came in 2018, when he won the Open Championship at Carnoustie and a few months later went 5-0 for the victorious European Ryder Cup team (shown).
David Cannon
Will moving to the U.S. change your schedule? Will you still be trying to play the European Tour as well?
It'll change a little. We'll go back to Europe when the kids have school holidays, so we'll spend the summer there. I'll probably play a few in Europe there, which I normally didn't do. I normally just played the back end of the season there, but yeah, my intention is still to play both tours as long as I can.
Is the game starting to feel easy again?
I'm having fun. It's nice to have Fooch [Mark Fulcher, formerly Justin Rose's caddie] on the bag. He tested positive [at Pebble Beach], so he's quaranting in a hotel room, but great to have him. He's a great character to have around, and obviously loads of experience, but I think he wants to prove something, too. There's a good energy in the team, and I'm really looking forward to the year.
This being a Ryder Cup year, and given the incredible experience you had in 2018, is that extra motivation to figure it out this year?
Yeah. Obviously for everyone, it is. To be honest, I'm so far back now without playing last year that I haven't even looked where I'm at [he's 65th on the European points list and 54th on the World points list]. I've got a long, long way in front of me, but hopefully I'll play well enough. But yeah, at the moment, a long way down the line. I can't deny, obviously I'd love to be there.