How They Hit That
Four seemingly simple shots that make tour players nervous
Sometimes the simplest looking shots can quicken tour player pulses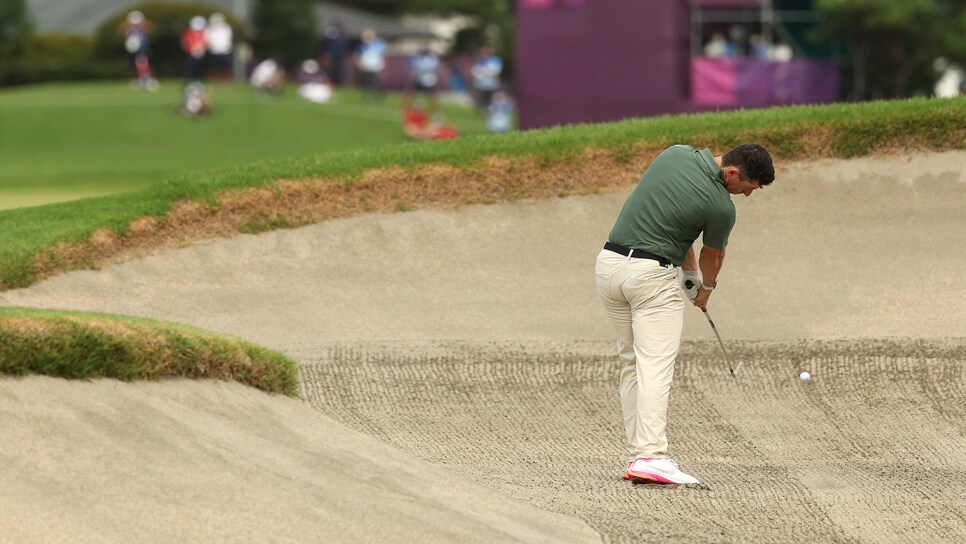 Big, scary water hazards and tiny targets can freak anybody out, but there are a handful of seemingly benign shots that increase even a tour player's blood pressure. We asked Golf Digest Top 50 Teacher Nick Clearwater to provide intel on four of them—and how you can deal with them appropriately when you play.
Rory McIlroy's Uphill Fairway Bunker Shot: Hit the Line Every Time
"An uphill lie will help this shot launch and clear the lip, but none of that means much if you don't do what Rory does here and control the low point of your swing," says Clearwater, who is based at GOLFTEC headquarters in Englewood, CO. "To practice it, draw a line in the sand where you want to hit the ground—and inch in front of where the ball would be. How many times can you hit that line while taking the minimum amount of sand possible? The better you get at that, the better you'll strike this shot." For Tour players, the stress comes from controlling the shot's spin. Come with too much clubhead speed and the ball can zip back too much. "He controls that by hitting the shot softer than he would from the same lie in the fairway," says Clearwater. "By controlling clubhead speed, you control friction."
Adam Hadwin's Into-the Grain Chip: Don't Get Cute
"Because of the hill and the grain, if you hit behind this ball, the club will dig and you could end up rolling back into the water," says Clearwater. "Hadwin picked a shot that eliminated the most risk. The ball is way back in his stance, so the only place the club could hit is basically on top of the ball. Worst case? It goes on the green 10 feet past. But it still gives you a chance to make a putt." Another good rule of thumb? If you haven't practiced a shot, you probably don't want to try it on the course. Default to a more conservative shot that gets you back into position.
Scottie Scheffler's Drivable Par-4: Play For Your Miss
"The 17th at TPC Scottsdale is interesting in that it's drivable with a fairway wood but has trouble all down the left side and short," says Clearwater. "Scheffler's normal shot is a draw, and that could be problematic if he tries to hit it hard and over-curves it. He did a great job selecting a target more to the right, where even a draw or a pull would leave him a chip at it." The elephant in the room for most amateur players is pressure. At the range, your shot pattern might be 50 yards wide with a 3-wood. Get on the course and that pattern changes because bad shots have consequences. "Your goal is to work on your mindset to get to the point where you can stand on the tee and accept that it might not end up perfect, but you're going to make the same swing you did on the range, and adjust your aim point for that dispersion."
Brooks Koepka's Knobby Pitch: Focus Way More On Landing Point
"The challenge to tour players on shots like this is the unpredictability of the turf when you can't land it on the green," says Clearwater. "He had to make an educated guess what the ball would do when it landed short and rolled up to a target he couldn't see from where he was. He did the math on that very well, obviously," For you, the challenge is improve your ability to both pick an appropriate landing spot and hit somewhere near it. "The worse you are at golf, the worse you are at landing it where you intend," says Clearwater. "It might not seem glamorous, but the next time you practice go drop a headcover 20 yards away and hit shots at it. How close can you land to it? Just getting feedback about where you stand is more than most players work on, and when you have that, even a small improvement in your execution will translate into much lower scores."