Fantasy Advice
Fortinet Championship DFS picks 2022: Bet on this past champ who hit it like Rory McIlroy last year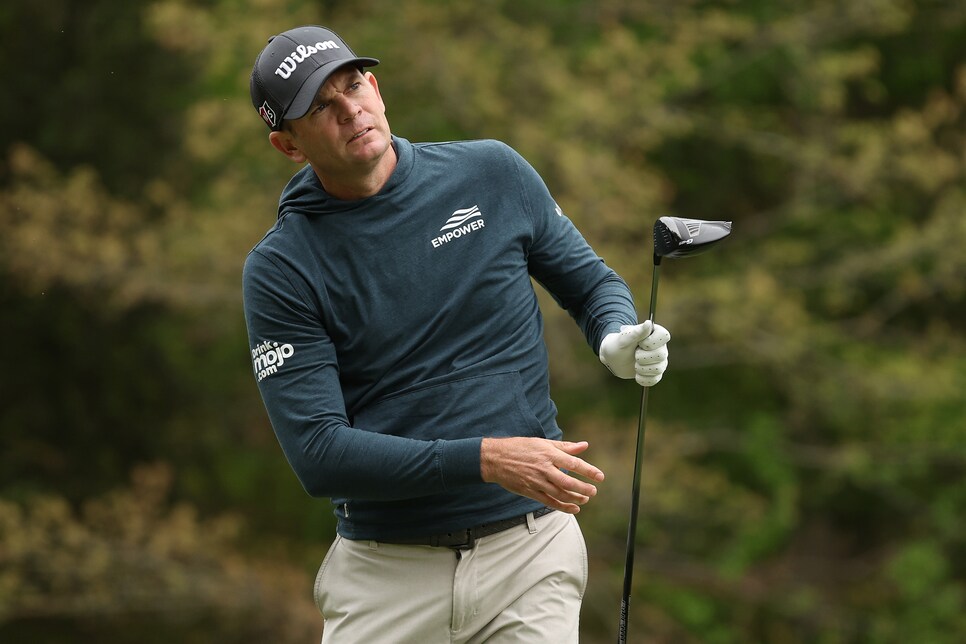 Say what you want about the short, two-week PGA Tour offseason, but the nice thing is we have Golf DFS back for the Fortinet Championship. With a fresh start comes an influx of new tour members, most of which have earned their way in via the Korn Ferry Tour.
These are the weeks that well-researched users will have a significant edge when trying to prognosticate the results. So without further adieu …
Here are the players who have my interest—and those who certainly don't—this week at the 2023 Fortinet Championship.
Golfers I'm Definitely Playing
Max Homa ($10,500 DraftKings | $11,900 FanDuel)
Homa is clearly the class of this field and well-deserving of this price tag. Homa actually struggled at the end of last season, losing strokes on approach in six straight events to close out the campaign. Despite those woes, he still recorded four top-25 finishes during the stretch, which should indicate the rest of his game has been sharp. Now with some time to rest and get his swing tuned up, I expect Homa to vigorously defend his Fortinet Championship title.
Brendan Steele ($8,900 DraftKings | $10,700 FanDuel)
Steele is an enigma—a true ball-striking machine, but he's also the captain of #TeamNoPutt. Starting at the Arnold Palmer Invitational and running through the end of the season, Steele gained 1.55 strokes per round in the two ball-striking categories. Per the RickRunGood.com golf database, that was second to only Rory McIlroy over that span. Steele, however, gave back 0.64 strokes per round on the putting surfaces and ranked outside the top 180 for the season.
There's reason to be optimistic about Steele, particularly this week. He's twice a winner in Napa and is gaining 0.35 strokes per round on the putting surfaces at Silverado. Here's to hoping Steele continues to hit it well and can summon a little bit of that putting magic.
Taylor Montgomery ($8,500 DraftKings | $9,600 FanDuel)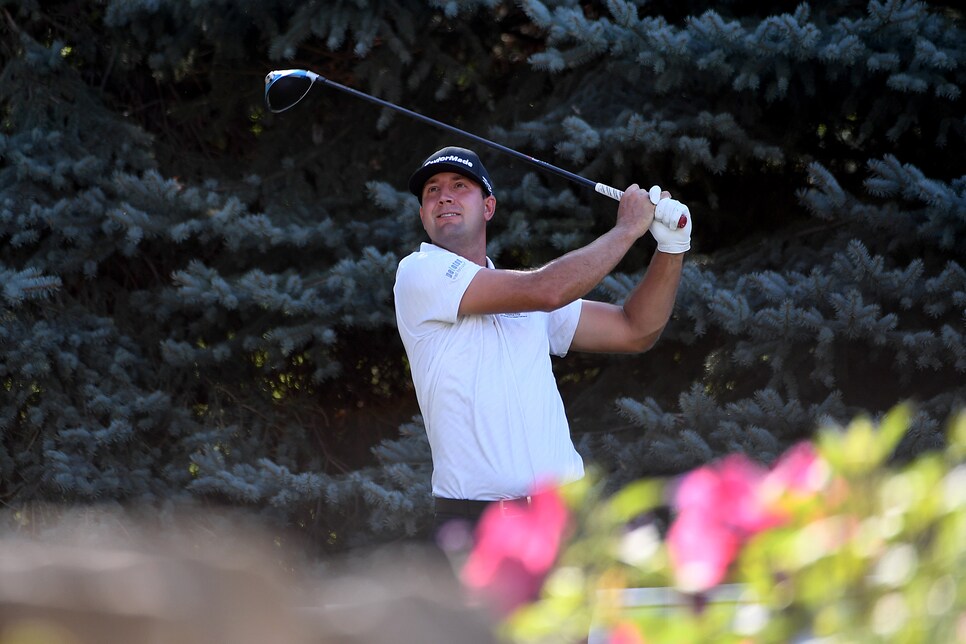 Montgomery was absolutely dialed in on the Korn Ferry Tour last season. He piled up 12 top-15 finishes over his final 16 starts on the circuit. He didn't record a victory, but he did gain at least 10 strokes to the field in five of his final nine events. That's a staggering amount of great play and now he has earned his tour card for the 2022-2023 season. Over the last two seasons he has played one non-major PGA TOUR event, the 2022 Farmers Insurance Open. He finished T-11 that week in a much stronger field than he will battle in Napa.
Taylor Pendrith ($9,800 DraftKings | $11,000 FanDuel)
Pendrith will be very popular this week and for good reason! The International Presidents Cup team member is proving to be an incredible talent and a possible PGA Tour star, finishing off his season with five top-15 finishes in a six-event span—all coming after his return from a fractured rib. He gained 36 strokes to the field in that 24-round stretch, the most of anyone in this field in that same stretch, per the RickRunGood.com golf database.
Sam Stevens ($6,700 DraftKings | $7,700 FanDuel)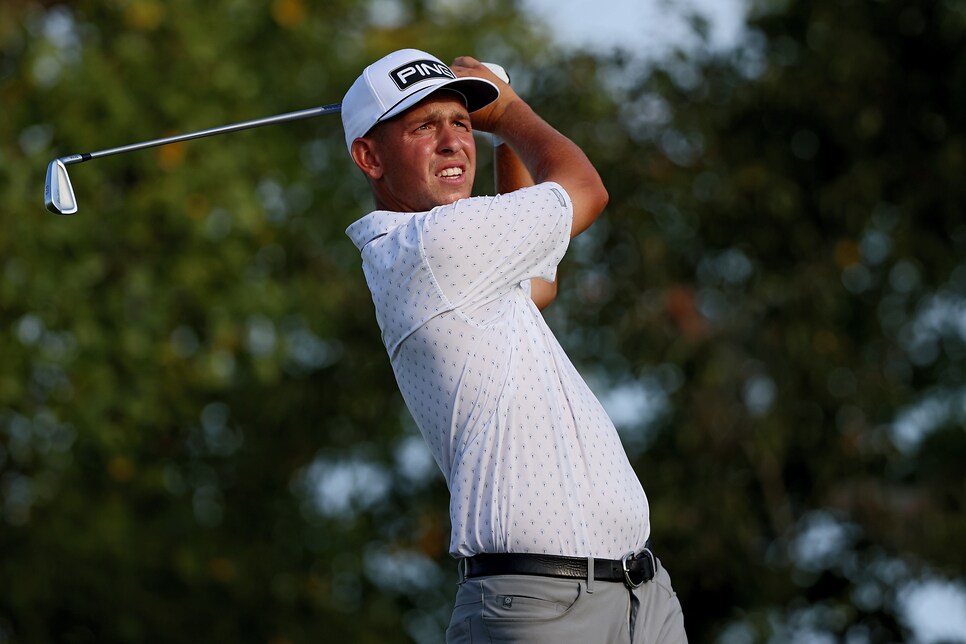 Stevens earned his PGA Tour card in the Korn Ferry Championship a few weeks ago, and I simply love his well-rounded game. He's long off the tee, hits a ton of greens in regulation and can handle himself with the putter. He missed only one cut in his final 15 events of the Korn Ferry Tour season and also earned eight top-20s during that stretch. This is a really good price for a talented golfer who has a knack for finding the weekend.
Michael Kim ($6,900 DraftKings | $8,000 FanDuel)
There's no doubt about it: Michael Kim has struggled mightily for the majority of the last few years, losing his tour card at the end of the 2021 season. He returned to the Korn Ferry Tour and found his game. He's gained strokes to the field in 11 straight events and notched nine top-25 finishes in the process. That was plenty to earn his tour card back as he returns to Napa this week. Kim is playing the best and the most consistent golf of his career.
Carl Yuan ($7,800 DraftKings | $9,000 FanDuel)
Yuan was a force on the Korn Ferry Tour last season, piling up nine top-10 finishes in 22 starts, which included one win and three runner-up finishes. That resume was stout enough to win the regular season points list. He's a long hitter who can make birdies in bunches, which is a skill-set that translates to every tour on the planet.
Emiliano Grillo ($9,200 DraftKings | $10,400 FanDuel)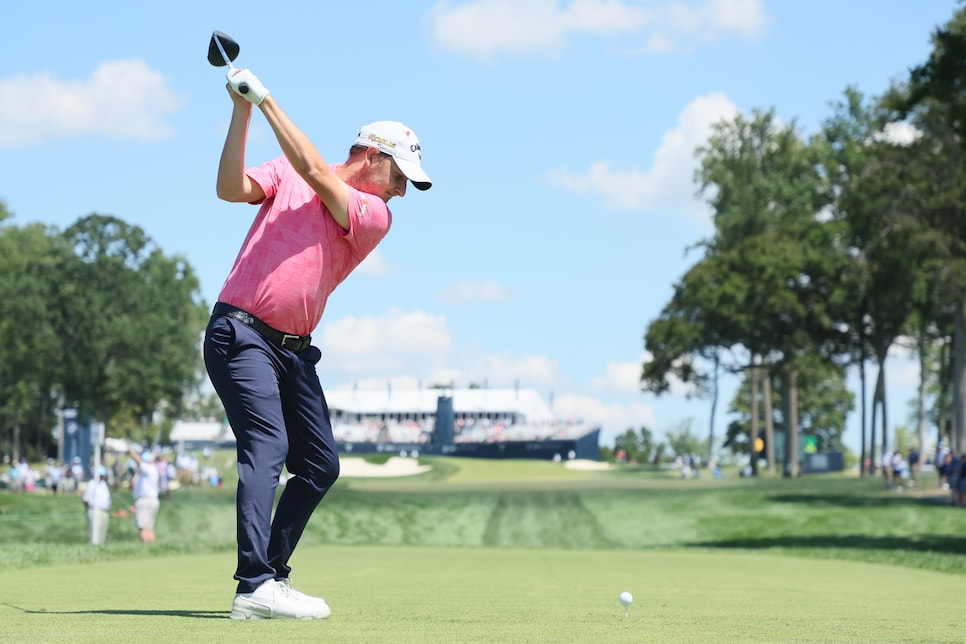 Look out! Grillo has (seemingly) fixed the worst part of his game. He's a notoriously bad putter who gained strokes with the flatstick in each of his final five events last season. It's no surprise that his newfound putting prowess combined with his excellent ball-striking generated two runner-up finishes and a T-19 during that stretch. Now he takes that confidence to a course where he hoisted the trophy to kickoff the 2016 season.
Mark Hubbard ($7,300 DraftKings | $8,900 FanDuel)
Hubbard played on both the Korn Ferry Tour and the PGA Tour last season and finished with a flurry of good results on the big circuit. He parlayed his T-13 at the John Deere Classic into two top-four finishes at the Barbasol Championship and the Barracuda Championship. That helped earn his spot in the FedEx Cup Playoffs and his tour card for this season. In his past three trips to Napa, Hubbard has earned two top-16 finishes.
Austin Eckroat ($7,100 DraftKings | $8,300 FanDuel)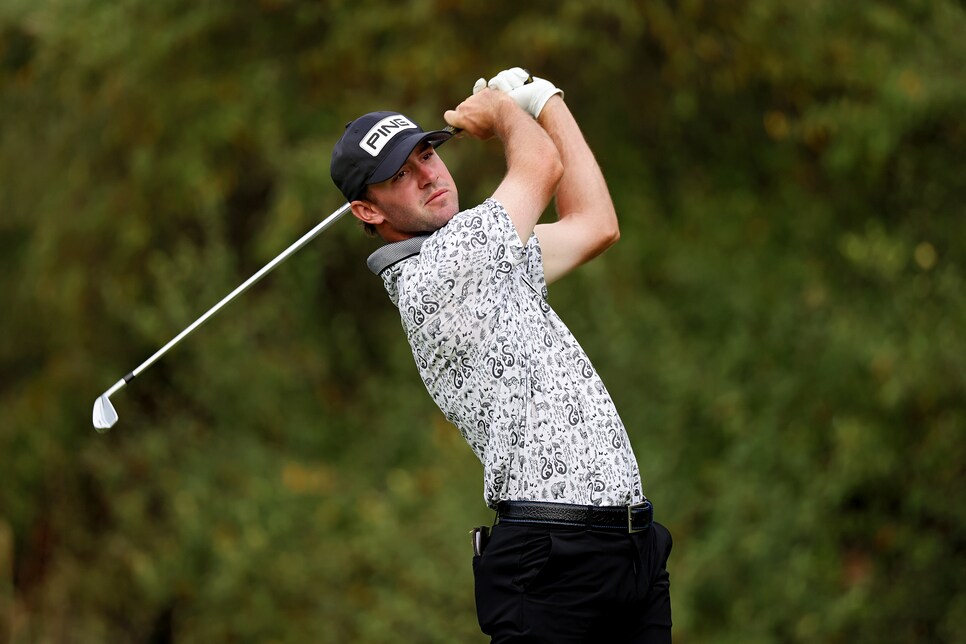 Eckroat is another from a long line of Oklahoma State Cowboys to make it to the PGA Tour. After a slow start to his career, Eckroat is starting to make a lot of noise. His final 14 events last season resulted in 11 top-25 finishes, highlighted by his runner-up finish at the Korn Ferry Tour Championship. His game is sharp and trending in the right direction.
Webb Simpson ($8,400 DraftKings | $10,900 FanDuel)
I think it's fair to take a "wait and see" approach on Simpson for this week and this season. The once-elite Simpson has now lost strokes to the field in five straight events and was a loser in 10 of his final 16 events last season. He's struggling in all facets and his only top 15 at this event was a T-13 in 2009 … over a dozen years ago!
Trey Mullinax ($8,300 DraftKings | $10,200 FanDuel)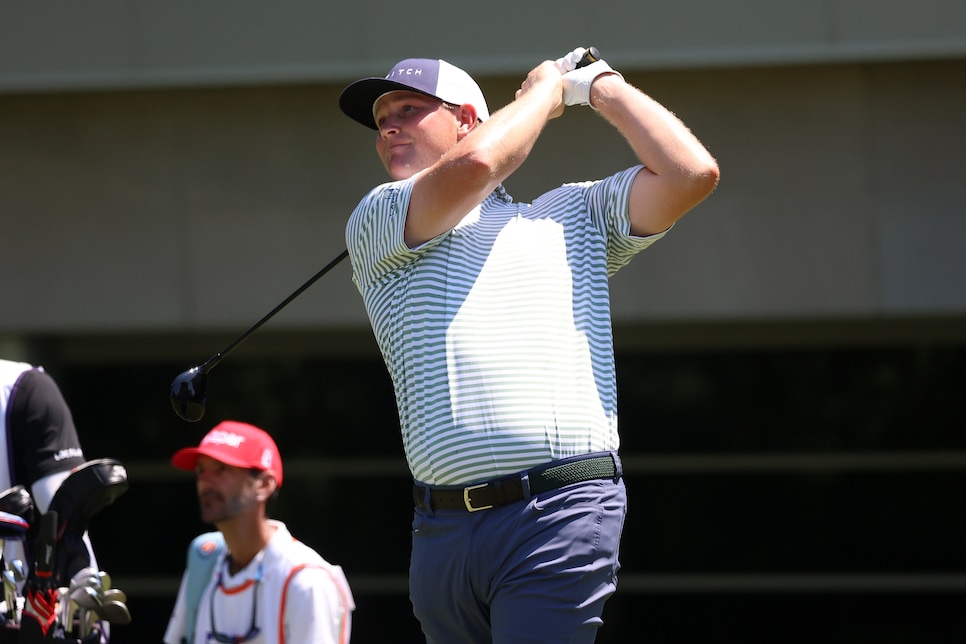 Admittedly, Mullinax had an incredible finish to the 2022 season, which included a win at the Barbasol, a T-5 at the FedEx St. Jude Championship and a T-12 at the BMW. My concern is that it's now been nearly a month!
We've seen this before where a golfer catches fire then is unable to find it again after a break. Mullinax gained strokes on approach in five straight events at the end of last season, something he'd never done before in his career. Combine that likely regression with his three straight missed cuts in Napa, and I think this is a recipe for a fade.
Corey Conners ($10,300 DraftKings | $11,800 FanDuel)
This is a bit of a staggering price tag for Corey Conners, who hasn't been this expensive since the 2019 Puerto Rico Open. With that price, he's going to need a very high-end finish to return the proper value. As much as I love Conners, it's hard to think that he'll find a ton of success at an event that has historically turned into a putting contest. Conners has tallied 10 rounds at Silverado in his career and has lost 9.87 strokes putting. I'd prefer to roster Conners in a deeper field that more properly rewards his ball-striking.
JJ Spaun ($7,500 DraftKings | $9,500 FanDuel)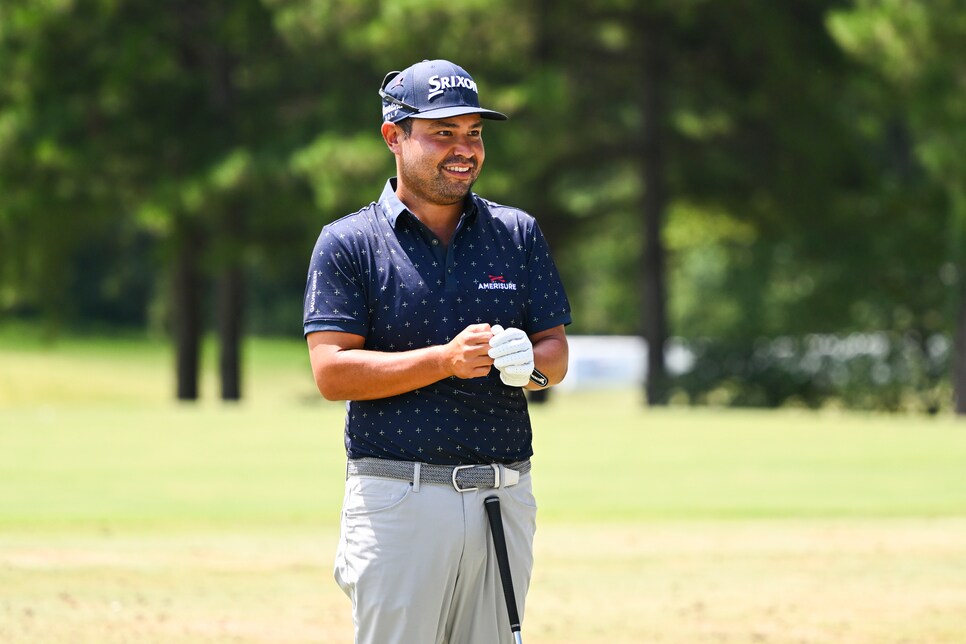 When you see a short par-72 being played on the West Coast, it's logical to consider Spaun … but I have concerns. Since his win at the Valero Texas Open in April, Spaun has mustered little resistance to the rest of the field. In those 12 subsequent starts, he failed to make the weekend in half and only cracked the top 20 once.
Rickie Fowler ($7,000 DraftKings | $8,700 FanDuel)
Fowler is making big changes to his game, parting ways with long-time caddie, Joe Skovron, and coach John Tillery. While I think this is positive in the long term, it's unlikely to generate immediate success. Fowler lost strokes on approach in seven of his final eight starts last season, and he's nowhere near the putter he used to be. Fowler ranked 161st in SG/putting last season, by far the worst mark of his career.