PGA Tour
Carl Yuan, the man with the funky follow-through, is about to become your new favorite golfer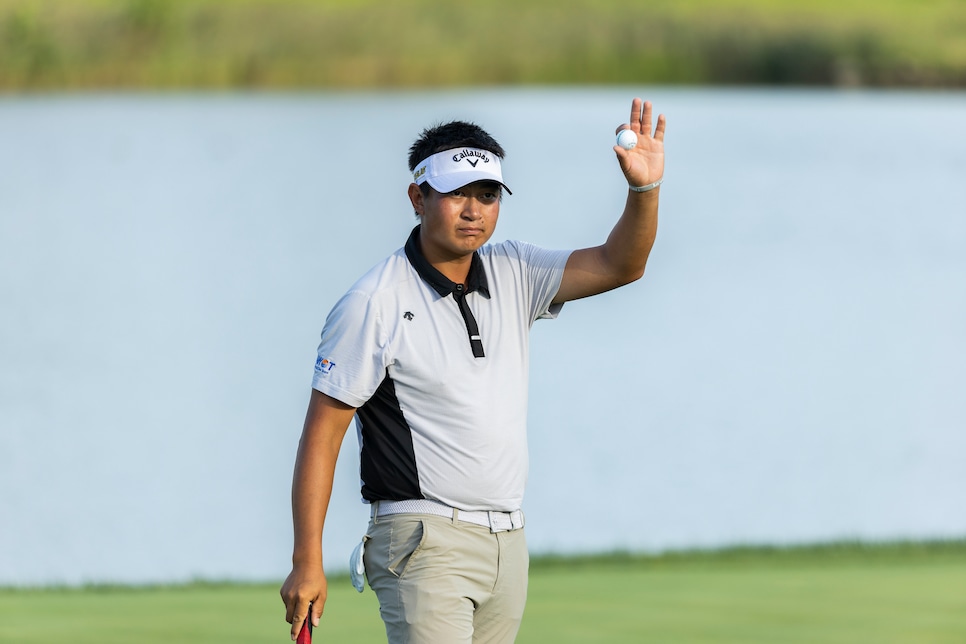 With Matthew Wolff gone to the LIV Golf circuit, Jim Furyk on the PGA Tour Champions and Ho-sung Choi vanishing before he ever even arrived, there's a surprising lack of funky golf swings on the PGA Tour. Enter Carl Yuan.
Yuan, 25, is set to make his fifth PGA Tour start this week at the Fortinet Championship, though it will be his first as a full-time tour member. The former Washington Husky, who hails from China, earned his PGA Tour card this past summer by finishing first on the Korn Ferry Tour's regular-season points standings ("The 25"), capping off a year that featured a win, three runner-ups and four other finishes inside the top seven.
Unless you're a truly sicko golf nut, you've probably never seen and/or heard of Yuan, who has one of the funkiest follow-throughs in the sport. Here it is in all its glory:
Yuan's body english isn't just limited to his driver swings, either. He gets weird with it on iron shots and even shots around the green, and he walks in putts, too. The man is the full package.
The thing he's truly become a KFT folk hero for, however, is his ridiculous range sessions. Yuan does a "hosel drill" in which he essentially shanks shots on purpose, making him the last person on the planet you'd want to warm up next to. He explains the unorthodox method in the video below:
Actually, Carl, it's a terrible drill for amateurs. Legitimately the last drill amateurs should ever attempt at home. Practicing hitting shanks sounds like some sort of sick nightmare, if we're being honest.
He also practices hitting these little hooded hooks, which you can see right around the 51-second mark in the compilation video below, though we'd urge you not to skip to that part and instead watch all three minutes of this electric factory of a human:
If you're thinking Yuan will just be some social-media driven flash in the pan, think again. He's already a proven winner at the professional level, and he likely would have made the PGA Tour last year had he not gone to the Olympic Games to represent China. At the time, Yuan was inside "The 25" on the KFT, and appeared poised to finish there at season's end and earn his PGA Tour card. But he made the decision to play for his country, which caused him to miss the final six events of the KFT season, plus the three KFT Finals events, where 25 more tour cards were available. He finished T-38 in Tokyo.
"It took me time to think through it, but it's not something I am going to regret," Yuan said. "Every athlete's goal is to be in the Olympics and play for your home country. Definitely some sacrifices were made, but I came back this year and played strong."
He certainly did. Now, he'll take his talents to the big tour, where he should have no issue becoming everyone's new favorite golfer overnight.