Monday Superlatives
Forget everything else in life and watch Canadian curling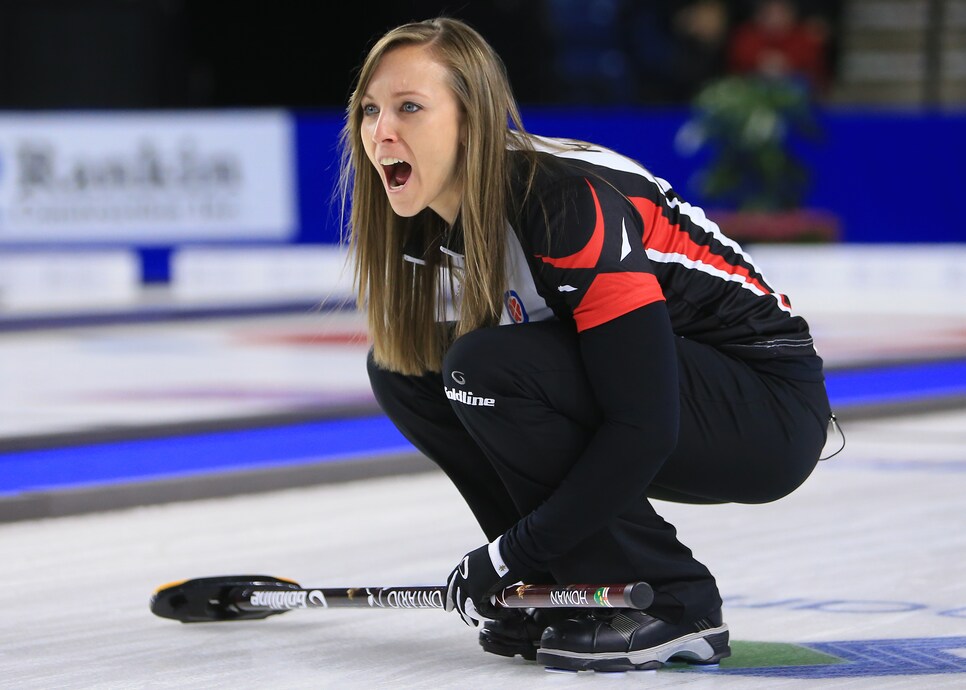 For the past week, every night at 8:30 p.m., I have dropped everything, turned on WatchESPN, and gotten real deep into the Scotties Tournament of Hearts. This is the national championship of women's curling in Canada, it's named after toilet paper, and it's about 3,000% more fun to watch than you would think.
I know it will be difficult to sell you, the average American sports fan, on something like this. I was only watching because a group of degenerate gamblers I know from online organized a betting pool around it, and since I was going to be out of town and away from family responsibilities for a week, I thought, what the hell, maybe this will cure the hotel blues at night. Also, I'm an Olympic freak, and John Shuster's miracle gold medal run for the U.S. in Pyeongchang is one of my enduring winter games memories, so I already knew curling had at least a decent chance of entertaining me.
I had very little idea how much I would enjoy it. All I knew coming in was that it featured the best team from each province, along with a couple wild cards, and that the returning champions played as "Team Canada." Just one week later, I catch myself saying things like, "it's insane that she'd try to draw to the button under hammer pressure when she could have clipped the yellow shot rock and probably stolen two, especially when she's been draw-heavy all night." Now, granted, I'm probably operating at about 30% accuracy, both in terms of lingo and takes, but the point is I care enough to have a (bad) opinion. Curling, which is essentially shuffleboard or bocce on ice, is now embedded in my psyche. The names Einarson, Homan, Walker, and Jones aren't just familiar—they inspire strong opinions. I know the name of the third curler on the Manitoba team, and I know that she won a mixed doubles Olympic gold in 2018. I am fully invested in the rise of Quebec curling under the St. Georges sisters. I am a psychopath.
Now, the bad news is that the Tournament of Hearts ends on Sunday night, so this is a day late and a dollar short for that particular tournament. However, the men's national championship, the Tim Hortons Brier (it's named after the Canadian Dunkin' Donuts and an old tobacco pipe) starts this coming Friday, and I highly encourage you to plan your next ten days around it now.
In the meantime, here's a video of a shot by Quebec's Laurie St. Georges that they call a "through port double":
And here's a "raise double" by Kerri Einarson, the defending champion:
And finally, a "slash double" by Laura Walker of Alberta:
Why is this so riveting? Why is it watchable for hours at a time? The answer is: Don't even bother asking, it just is. Give yourself to curling, and never look back.
The red-hot NBA team of the Week: The Mavs
After a rough start, the Dallas Mavericks are back to 16-16 on the season, and it's thanks to a 7-2 streak that included a road win over the Brooklyn Nets that snapped their own eight-game streak. As usual, the engine behind their success is Luka Doncic, who earned some rare praise from James Harden, who said that "the Mavs got a special one."
Look what he did to the poor Celtics on back-to-back possessions earlier this week. On the first one, they actually played tremendous defense, but none of it mattered:
And then, after the Celtics tied:
His game against the Nets was ho-hum by his standards (27 points, six boards, seven assists) but the highlights are still so much fun to watch:
He's so methodical, to the point that it almost looks like he's moving slowly...and then, every time, the defender is out of place and he manages to get a good shot. We've known that Doncic is magic for a while now, but I'm starting to think he might be the literal reincarnation of Magic Johnson.
Bad Man of the Week: Canelo Alvarez
Alvarez defended his Super Middleweight belt against Turkey's Avni Yildirim on Saturday night, and within a few seconds, it became clear that Yildirim wasn't even going to get himself together enough to counterpunch...not really. The fight ended after three rounds, and it's worth watching Alvarez's pure dominance starting at the 4-minute mark in this video, and through the big knockdown and the conclusion of the round:
That's just pure physical overpowering, and it's against another very big, strong dude. This is why a lot of smart people think that Alvarez is the best pound-for-pound fighter in the world, and his record backs it up—the only loss of his career came to Floyd Mayweather Jr. arguably the greatest fighter in world history, back in 2013. You get the feeling it may be a long time before he ever loses again.
Funniest Career Accomplishment of the Year: LeBron
Ladies and gentlemen, please congratulate LeBron James, for he is now the NBA career leader in ... turnovers.
The great thing about this is that it just proves how good he is. Here's the rest of the top ten, counting down from no. 2: Karl Malone, John Stockton, Kobe Bryant, Jason Kidd, Moses Malone, Russell Westbrook, Isiah Thomas, Hakeem Olajuwon, Patrick Ewing.
Turns out, if you make this list, the only actual conclusion to draw is that you played a long time and are one of the sport's all-time greats. This could be the single best act of re-branding in sports history. Turnovers: They're good now!