News
Forget about Grayson Murray's putter grip and copy his setup fundamentals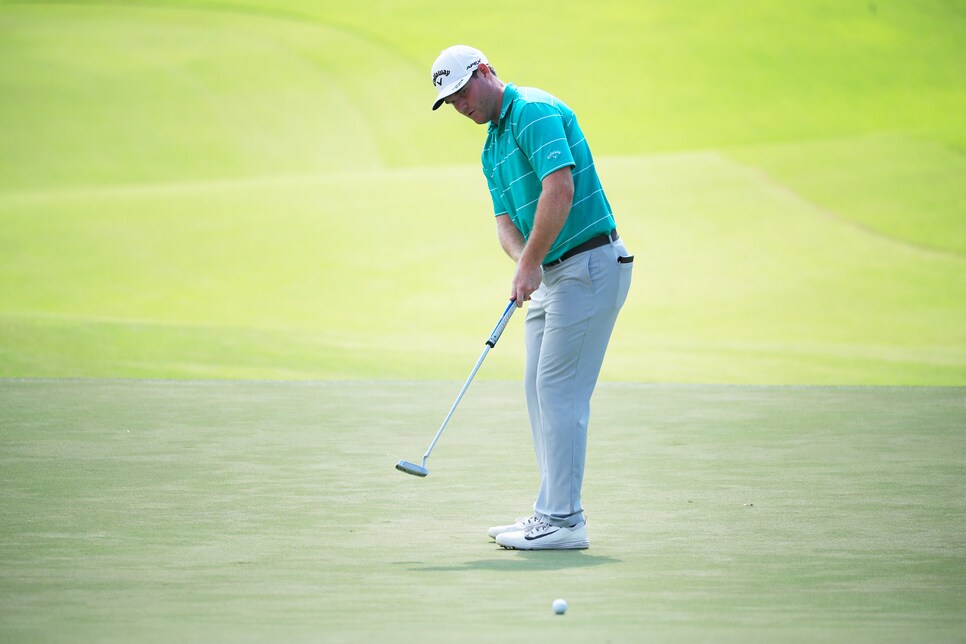 On a day when Quail Hollow played more like a U.S. Open course than a typically-inviting PGA setup, players needed to rely on the putter to save them long-iron approaches that often left them a continent away--or to clean up after a missed green.
Grayson Murray was one of the best on Thursday, taking just 25 putts on his way to a 3-under 68 that left him one behind leader Thorbjorn Oleson. The 23-year-old certainly doesn't look "classic" with his style, using a fat handle and a cross-handed grip, but his fundamentals are right on point--and are ones you can easily copy.
"Whichever way you hold it, you want your forearms to line up with the shaft, which happens when you hold the grip more in your palms than in your fingers--like you would for a full swing," says top Alabama teacher Wayne Flint, who is based at Highland Park Golf Course in Birmingham, Grand Hotel Marriott Resort in Fairhope and the Bay Point Resort in Panama City Beach, Fla. "When you get the grip in your palms like that, it keeps the wrists a little more quiet, which helps you get the ball started on your intended line."
Of course, knowing which line you really want helps, too. "Good putters on the tour are so good at understanding the subtleties of a read," says Flint. "When a player at that level has a downhill putt that slides left to right, he or she doesn't make the mistake many amateurs make and under-read the break or play it with more speed to 'take the break out.' They play the true break and use the right speed, which leaves them with an easy tap-in if they happen to miss. That's a useful skill for anybody to learn, because getting rid of three-putts is one of the fastest--and least complicated--ways of bringing your handicap down.