The Loop
For Woods, Chevron is much more than an exhibition
Last year, going into Sunday with a four-stroke lead, it seemed Tiger would get his first victory since the incident of Nov. 27, 2009, and the subsequent revelations about his personal life. But sloppy work on the greens by Woods early and Graeme McDowell's hot putter late took care of that.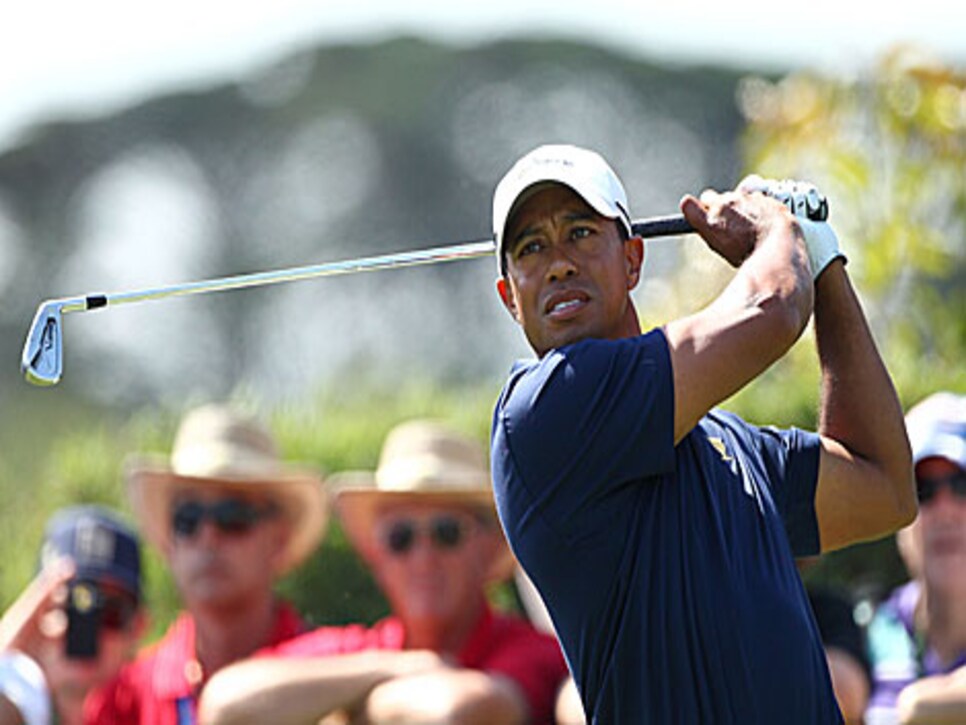 Photo by Ryan Pierse/Getty Images
Well-crafted shots in the wind of Royal Melbourne, a well-behaved driver and, during Sunday's singles play, a reliable putter were encouraging signs. They shouted reason to believe Woods is emerging from a perfect storm of injury, public humiliation, putting woes and a swing change to reclaim a game reminiscent of his old form.
But, to gain perspective, on Sunday at the Australian Open, Woods let the tournament get away with poor drives on Nos. 11 and 13, leading to bogeys on birdie holes. And the match-play format of the Presidents Cup puts less stress on the tee ball than stroke play. Big numbers only cost you one hole -- not the tournament.
The most encouraging sign for Woods in Australia was the way he putted in singles play at Royal Melbourne. The greens were lightning fast with no such thing as a straight putt. Yet, Tiger was confident and aggressive -- almost his old self.
Those eight footers that were once automatic for Woods and have been missing since Y.E. Yang took him down at the 2009 PGA Championship were finding the cup on Sunday in Melbourne. Forget the swing change, the key to Tiger's comeback will be the putter. That is the key -- in fact, crucial -- club in his bag.
When Woods was unbeatable, a huge reason was that he knew he could attack any pin and that if he short-sided himself he'd be able to save par. Truly, no great golfer has ever made as many 12-foot par-saving putts as Woods. He was a magician.
That's been missing during this winless streak. Think back to the Masters this year. After moving into a tie for the lead with a 31 on the front nine, Woods missed what were once automatic putts for him on Nos. 12, 13 and 15.
The most noteworthy of those misses was on No. 15. After stuffing his second shot on the par-5 to seven feet, Woods missed the eagle putt. If there is one thing that has characterized Tiger's career it's that he always followed a hero shot by making the putt. Always.
Even if Woods were to win this week, there will be doubters. They will say he only had to beat 17 other players. They will say he knows the course well. And they will say it was not a regular tour event and that his competition knew they were getting money no matter how they performed.
All that is true. But this is also true: A win is a win. Coming into the Chevron. Woods has played six of his last seven stroke-play rounds in 68 or lower, beginning with the second round of the Frys.com Open. And he was shooting in the mid 60's in his singles match at the Presidents Cup.
Tiger has not had a streak like that since shooting eight consecutive rounds in the 60s from the final round of the Deutsche Bank Championship Sept. 7, 2009 through the third round of the Tour Championship Sept. 26 of that year. That's more than 26 months ago.
On Dec. 30, Woods turns 36. That's not ancient for a golfer, but with four surgeries on his left knee and issues with his right Achilles, Tiger has a lot of miles on a body that has hit a ton of golf balls and has played a lot of competitive rounds since turning pro at age 20. And Woods had even more rounds than that in another decade as a top amateur.
If Woods is to get the five major championships he needs to pass the record of 18 by Jack Nicklaus -- a deed considered almost a sure thing when Tiger won No. 14 at Torrey Pines in the 2008 U.S. Open -- he almost certainly needs to get one next year.
And whether 2012 is a comeback year for Woods could very well be decided by what happens here this week at the Chevron. A win at Sherwood may be a springboard into a big 2012 for Woods.
This is a game all about confidence. And, as hard as it is to imagine, confidence has been lacking in Woods -- one of the most confident athletes ever -- for several years now. All that could change here this week, or the problem could be compounded.
That makes the Chevron World Challenge more than just another annuity at the end of the year for the game's top players. For Woods, this could be the beginning of next year -- and a comeback.
Follow on Twitter: [@ronsirak
](http://twitter.com/ronsirak)