News
For golf instructors, a technology debate rages on
TrackMan and motion-capture systems offer a new, data-driven way for instructors to work with golfers. But are they the best way to teach somebody how to *play* golf?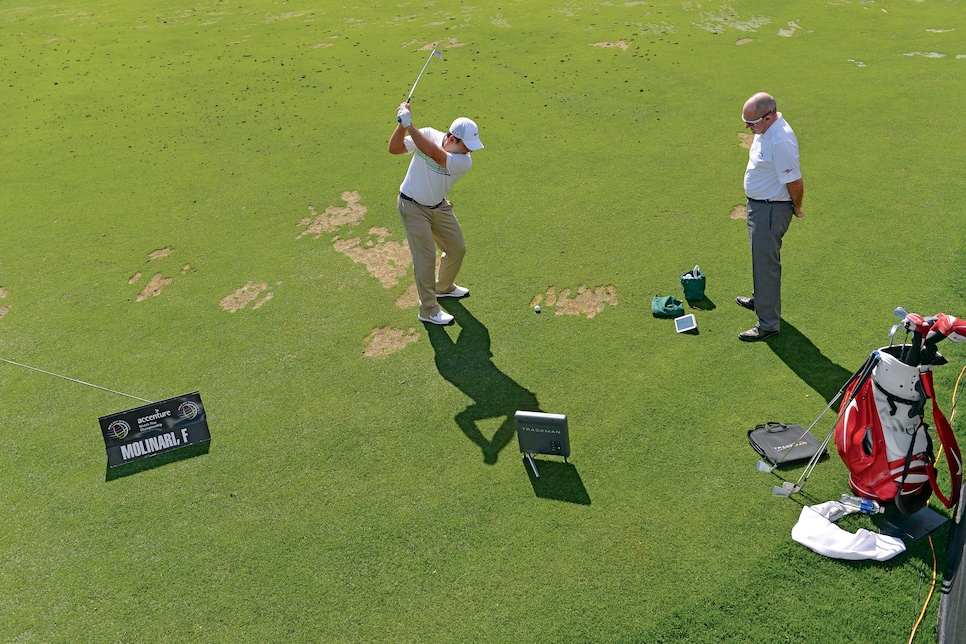 The lesson tee at Royal Oaks Country Club in Dallas is one of the most comfortable places to be in all of golf. Randy Smith works the back of the club's double-sided range with the easy good humor and expertise that has made him a popular and indispensable coach for major-championship winners, club champions, nationally ranked juniors and plain old handicap players for the better part of 30 years, all from right here.
On this day, he pivots easily from a short-game tune up with a PGA Tour player to an energetic lesson with a promising 10-year-old, offering encouragement and subtle technical advice before tossing a friendly reminder to a 12-handicapper at the end of the row.
Smith does all of this without reaching for the iPhone clipped to his belt to take a video. He doesn't look at a TrackMan for swing data after every shot, and he doesn't navigate his players onto force plates to examine their pressure distribution. After each ball, Smith encourages them to analyze and troubleshoot shots themselves, asking them what they felt and what they did differently to produce that result.
"If a student wants a sterile, perfect golf swing to work in a room somewhere, we can do that," says Smith, a Golf Digest 50 Best Teacher who helped Justin Leonard grow from an undersized junior player to the 1997 Open Championship winner. "If you want it to look good, you can do that in a couple of weeks. But being efficient? Hitting different shots under different situations, different lies and pressure? That's a different thing."
That "different thing," as Smith calls it, is the center of an epic debate in the world of golf instruction.
What is the best way to teach somebody to play golf? How do you help talented players win more tournaments? Is it the way teachers such as Smith have been doing it for decades? Or has technology disrupted golf instruction the same way it has so many other industries—and given "modern" teachers new and better shortcuts to lower scores for their students?
The truth—and the art—is somewhere in between.
There are plenty of outspoken proponents of the classic method. Golf Channel analyst and former tour player Brandel Chamblee wrote a book in 2016 dedicated to the idea that players at every level would do better copying the common movements of classic champions from Bobby Jones to Jack Nicklaus. Describing Anatomy of Greatness, he says modern golf instruction lost its way in the 1980s—teaching the generation of speed by turning the upper body while resisting with a stable lower body. Chamblee himself was one of the victims, he says, changing his previously free and flowing swing to something more restricted and controlled—and sending him into the broadcast booth. This "massively incorrect" premise, he says, has stolen modern players' athleticism, rhythm and health—something he has repeatedly pointed out on television about Tiger Woods and many other players.
In short, overanalyzed and over-coached modern players are getting worse, not better, he says.
That is nothing less than a condemnation of the way many "modern" teachers operate—using technology like TrackMan and BodiTrak to optimize swings with data. Chamblee and other "old-school" teachers say it's producing a generation of players with pretty (and similar) swings that don't function well. And don't last.
Smith agrees with Chamblee—up to a point.
"Every day, I see a bunch of junior players come out here with the same beautiful swing," Smith says. "But 90 percent of them come in with no clue how to control distance or flight a wedge. I'll hand them a wedge and ask them to hit a full shot at a yellow pole out there, and every shot is hit with different loft, speed and spin. They're using the club like a full 7-iron, and it wasn't designed for that. They're just hitting everything at full speed. It makes the game hard to play."
"I have students come to me and quote their TrackMan combine numbers, and they can't even tell me if they hit a fade or a draw." —Claude Harmon III
Smith relies on his eyes and his decades of experience to help build players such as University of Texas standout Scottie Scheffler, but in the teaching building at the back of the Royal Oaks range, there's also a hitting bay with a full compliment of teaching technology. Smith will use video and TrackMan data to help verify the progress his millennial (and younger) students are making.
"You're dealing with people who were raised on cell phones, iPads and the instant gratification of electronics," Smith says. "That's where I've had to adapt a ton over the years. I think you need to be a teacher who understands the technology, but also gets the player to feel and own what it takes to hit the golf ball. They need to understand why sometimes it's nice to see the ball curve."
One of the most common criticisms of modern instructors is that they're helpless without information on a screen. Claude Harmon III is in a unique position to arbitrate. He's a third-generation golf instructor, and his father and grandfather are guys you've probably heard of. The original Claude Harmon won the 1948 Masters while serving as the head professional at Winged Foot. His son Butch is the world's most famous golf instructor, and Claude III's father.
The youngest Harmon has access to the institutional knowledge of almost a century of front-line, hands-on teaching. But his studio is also filled with sophisticated teaching technology he uses with Dustin Johnson and Brooks Koepka, among other students.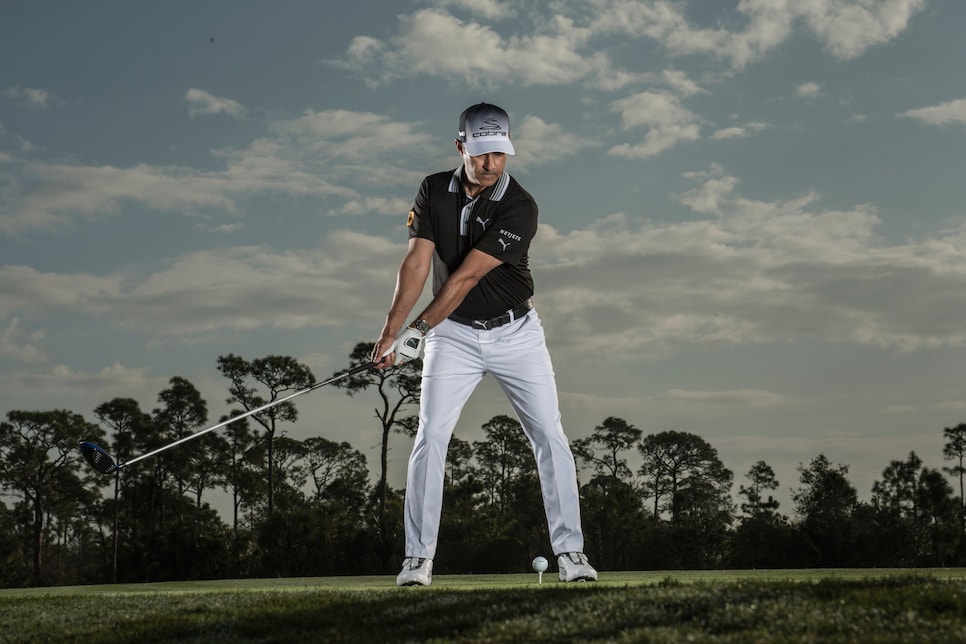 "I can teach golf without a computer, but do I use technology? Absolutely. The best players in the world get their weight into their left heel. If your weight is going into your left toe, that's something to look at," says Harmon, who spent a decade working with players week to week on the European Tour before returning to run the instruction programs at his father's academy, the Butch Harmon Floridian, in 2010. "But if all you're looking at is data, and that's the world you live in, you're going to miss something. You won't see the forest for the trees."
Harmon compares some modern coaches to well-trained chefs who can make exquisite dishes in a professional-quality kitchen, but can't improvise under less-than-ideal conditions. "We're losing a whole generation of teachers getting so wrapped up in the information that they can't function without it," Harmon says. "I have students come to me and quote their TrackMan combine numbers, and they can't even tell me if they hit a fade or a draw. They say, 'I hit a push draw.' I say, 'Well, what did you shoot in your last tournament? 78?' That's the first number I care about."
Michael Jacobs' studio at Rock Hill Golf & Country Club, on Long Island, doesn't look anything like Royal Oaks or the Floridian. Rock Hill is proudly accessible to anybody with the $44 green fee, and you often have to book your tee time around an outing from one of the local fire or police departments.
Adjacent to the golf shop is a room stuffed with more technology than many college mechanical engineering labs. It has a $40,000 GEARS 3D motion capture system, and Jacobs has spent more than $50,000 to commission his own bespoke analytical software to measure forces in the swing. Dozens of teachers and aspiring tour players visit him every month to dissect what's really happening in their swings.
But the lessons Jacobs gives every day have far more similarities to Smith's and Harmon's than they do differences—right down to the ribbing Jacobs gives his favorite regulars. The conversations don't require a fancy science textbook to understand, and Jacobs' everyday space is a piece of turf under an awning—not something that looks like the cockpit of the Space Shuttle.
"Capturing swings with the systems I have is for building my knowledge base," says Jacobs, the 2012 Metropolitan PGA Teacher of the Year and a Golf Digest Best Young Teacher. "When I'm teaching somebody, I'm not even using the technology. I'm using what I learned from looking at all of those swings. I'm using the information to see the patterns and to find the problems faster."
Golf Digest 50 Best Teacher Brian Manzella is one of Jacobs' teaching partners, and he reinforces the point. "I've taught for seven years using a TrackMan, and now, when I'm on a driving range without it, I can hear heel shots and toe shots because of the loop of experiencing them with the machine running and seeing the numbers," he says. "They sound a certain way. It's the same thing with 3D, and with measuring forces. It's training your eye, and helping you learn where to look."

Jacobs has heard plenty of the "tech teacher" criticisms, and he's quick to agree that nothing is worse than a one-trick instructor—whether that trick is a fancy piece of new technology or a worn-out tip passed down from generation to generation.
"The whole reason I got into the research side of it was because I didn't want to be in a position where a student asked me a question and I didn't know the answer," says Jacobs, who has taught more than 20,000 lessons since becoming a full-time teacher at age 20. "My job is to parlay that new information into a style that suits the student in front of me."
Done expertly, even players going through significant, data-driven swing changes feel like they've been treated with a light touch. PGA Master Professional John Dunigan started working with PGA Tour player Sean O'Hair when O'Hair was in the depths of a deep slump and lost his card. Dunigan had access to a mountain of data from TrackMan and a variety of other devices, and he used it to formulate his opinions. But he kept his comments to O'Hair simple.
"I had him hit high draws, and the task reshaped his swing," says Dunigan, who is based at White Manor Country Club outside Philadelphia. "When he got his card back, I showed him the video of the difference, and he couldn't believe it. I told him, 'You don't understand how much I bit my tongue.' A teacher can say things that make it go sideways."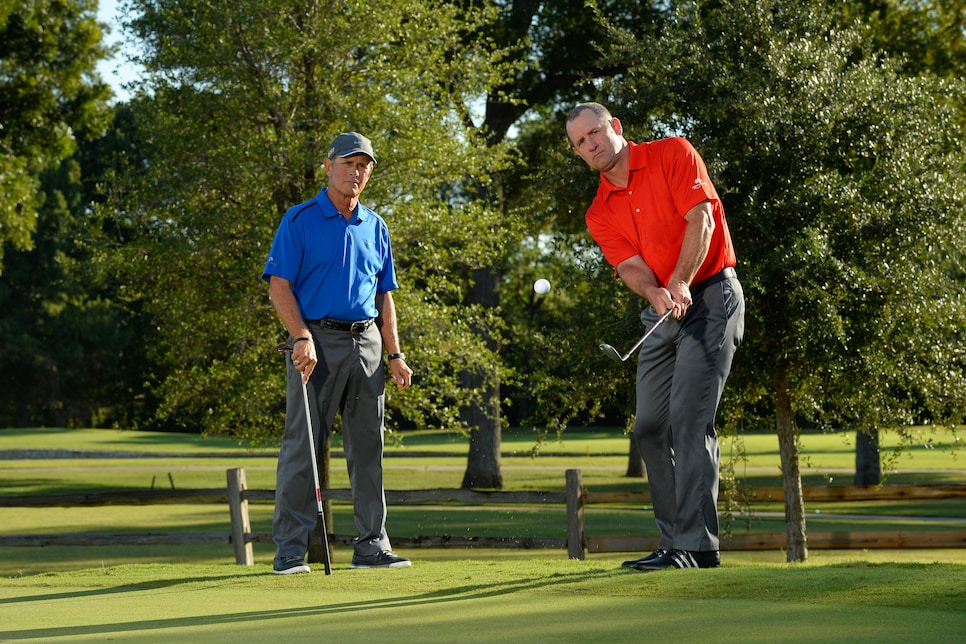 That's a place where Smith, Harmon, Jacobs, Manzella and Dunigan all agree—that getting a message across efficiently and effectively and making students better using whatever tools necessary are better indicators of a teacher's value than an "old school" or "new school" label.
"Whatever side of the spectrum you're on, you have to be able to look at something a variety of different ways—because if all you have is a hammer, the whole world looks like a nail," Harmon says. "That's why you need to be skeptical if you hear somebody saying that there's only one way to do something. Because if you go down that absolute route, your players better be the best. They should be the best players at the club, the best college players, the best mini-tour players, the best tour players. Show me who you're working with, and show me what they're doing."
Where that rubber meets the road—results—is really what it's about, says Hank Haney. And it's not just about tour players winning trophies and millions of dollars.
"Information is great, and every teacher should be trying to get as much of it as possible. But that's not the only piece to this," Haney says. "I'm looking at 20 guys in front of me right now who are slicers. How much do you really have to know to be able to understand why a 20-handicapper slices it? But you have to be able to connect with the player and make him feel comfortable. You have to be able to fix their problem. For some people, that's a gift. But for most, it's a skill you have to develop.
"I don't care what kind of device you use, what you know or what tour pros you say you've helped. To me, it's about being able walk down the line and help the average guy get a little better right away. Wouldn't you say that's what the game needs?"