News
For former college star Patrick Rodgers, winning is a matter of when, not if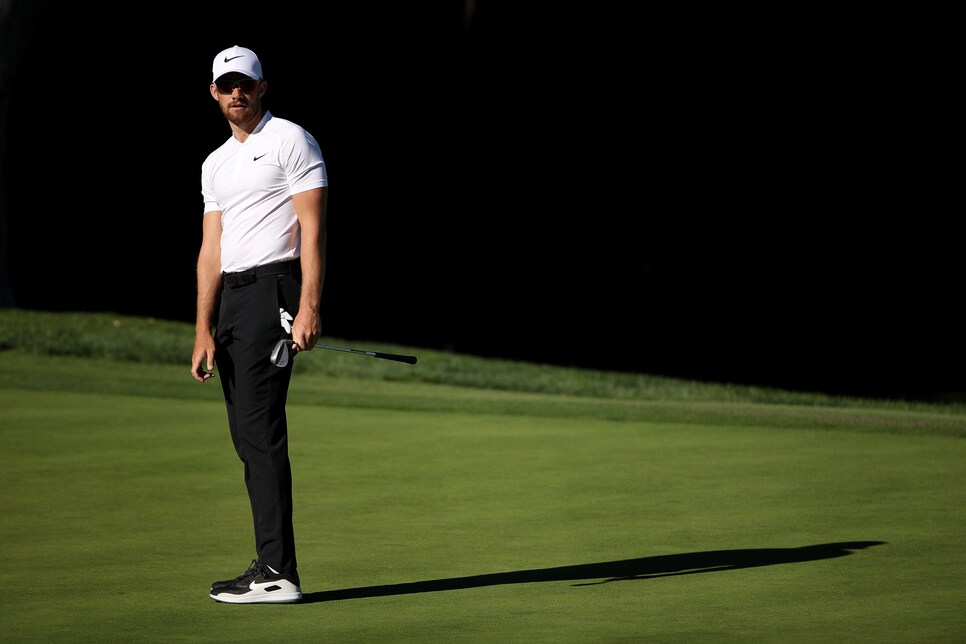 PONTE VEDRA BEACH — Entering the final round of the 2017 John Deere Classic, up-and-comer Patrick Rodgers held a two-stroke lead and looked poised to break through for his maiden PGA Tour victory. While it had been an inconsistent year to that point, it wasn't too surprising considering his impressive amateur record that included 11 wins in college during his standout career at Stanford, the total matching Tiger Woods' school record.
Then, something you can't really plan for happened. Fellow rising star Bryson DeChambeau carded a back-nine 30 to shoot a closing 65, good enough to beat Rodgers by a stroke and earn his first tour win. Bogeys at 14 and 17 didn't help Rodgers, but sometimes it's just the other guy's day. While disappointed with the finish, it seemed clear a win was coming sooner rather than later for Rodgers.
Almost 10 months later, the 25-year-old former No. 1-ranked amateur—a member of the vaunted high school Class of 2011 that included Jordan Spieth, Justin Thomas and Ollie Schniederjans—is still in search of win No. 1. Asking for that victory to come at this week's Players Championship might be a stretch; he's missed the cut in his only two appearances in the event. But he's still optimistic.
"I've been trending very much in the right direction," Rodgers told Golf Digest. "I started working with a new coach in September, his name's Jeff Smith. We had to do a lot of work changing my golf swing, and it finally is feeling very, very comfortable and we're not out here working on anything. So I couldn't find a better time to feel comfortable with my golf swing in the best field of the year."
After an inconsistent start to the 2017-'18 season, his fourth on the PGA Tour, Rodgers has seen progress, making seven of his last nine cuts and registering two top-10s along the way. His short game has been a strong point, as he ranks 41st in strokes gained/around-the-green and 16th in strokes gained/putting, two aspects that recent Players winners have had dialed in down the stretch. If he's able to get everything else in order, he'll be intriguing to watch at TPC Sawgrass.
"It's been a transition phase for sure in golf swing stuff and I think it's really starting to click, and obviously that's the missing piece for having a big year," he said. "I'm ready to get up there in contention and see how it feels."
Contention is something that Rodgers has put himself in a handful of times since turning pro in 2014. In just his 16th event as a professional, Rodgers finished T-2 at the 2015 Wells Fargo Championship, where once again a prime performance from another player on the leader board (Rory McIlroy shooting a course-record 61) proved too much to overcome. Later in the year, Rodgers came in solo third at the Barracuda Championship, one stroke out of a playoff. In 2016, Rodgers was two strokes short at the Travelers Championship.
"Every instance is a little bit different, but it's really hard to win out here, the guys are really good," Rodgers said. "My great chance last summer I felt like I got beat by a guy who played amazing down the stretch, hats off to him."
DeChambeau's back-nine heroics that week, in addition to his eclectic persona and storied amateur career, have made him a household name on tour, something many expected Rodgers to be already. Yet if the pair were coming down the same fairway most casual fans would know the guy with the one-length clubs and the Puma, Ben Hogan-style hat. Rodgers believes his play will soon do the talking as well.
"I know I'll have a lot of chances and I'm going to have a long career, and I'm just trusting that it's only a matter of time," he said.