Apparel
A closer look at FootJoy's newest collection featuring artwork from patients at St. Jude Children's Research Hospital
Several players teed it up in Memphis wearing FootJoy St. Jude's prints, honoring the charitable beneficiary of this week's tournament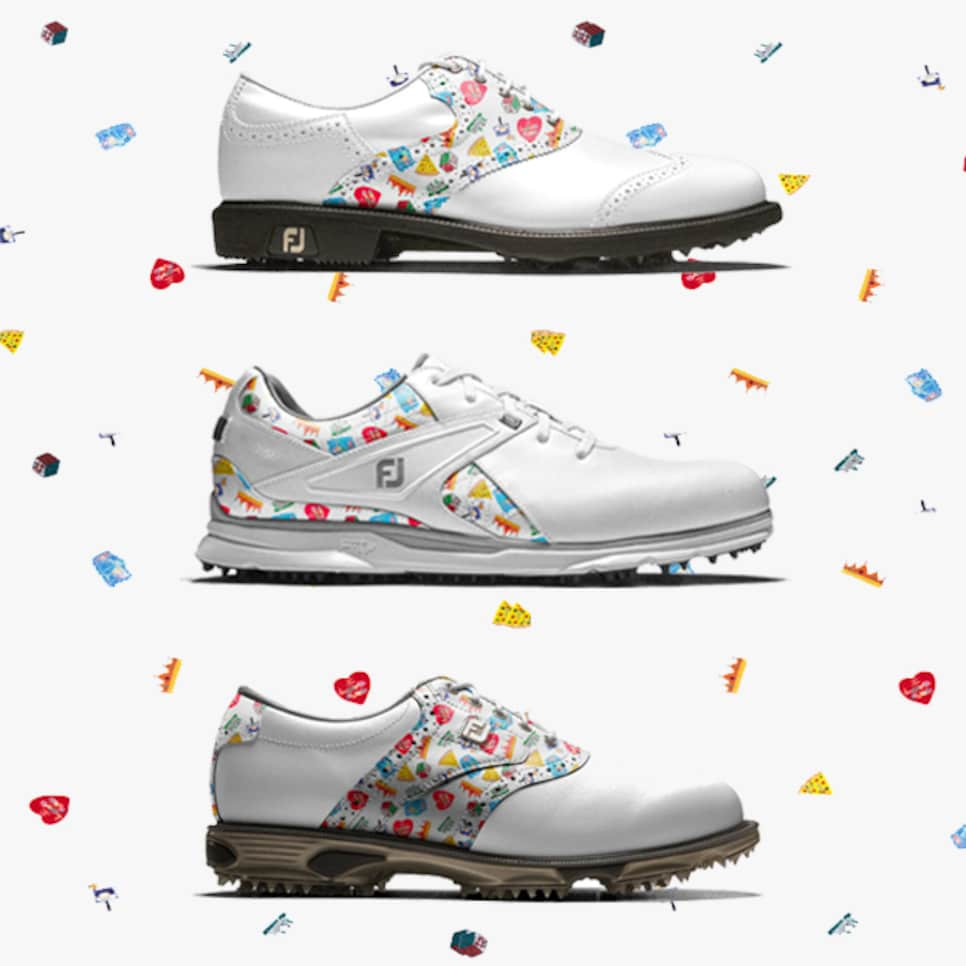 In honor of the WGC-FedEx St. Jude Invitational, FootJoy has released a charitable collection that was designed by patients at the St. Jude Children's Research Hospital. More than 30 golfers in Memphis will showcase the whimsical pattern across the collection of golf shoes, apparel and gloves. The main collection—which includes a pattern comprised of artwork from several patients includes images of pizza, hearts, crowns, koala bears and more—is available now on the FootJoy website.

Related: Best Golf Gear for Summer 2020
*All products featured on Golf Digest are independently selected by our editors. However, when you buy something through our retail links, we may earn an affiliate commission.*
Justin Thomas, Webb Simpson, Cameron Smith and Abraham Ancer are wearing custom shoes featuring a single patient's drawing. Thomas showed off his pizza golf shoes on Twitter from St. Jude patient, Nate, and Cameron Smith announced he'd be lacing up a koala design from patient Dakota.
The DryJoys Tour ($220) incorporate the St. Jude's print stylishly across the saddle and heel detail of the classic golf shoe. The bright design lightens up the dark outsole that encases the cleated part of the shoe for a balanced look you won't have to worry about clashing with.
For a sportier look, the Pro SL Golf Shoe ($210) features the artwork on the back half of the primarily white exterior. The lateral power harness is layered over the pattern to support the swing and cleverly add contrast to the fun design.
It's no surprise that the colorful drawings pair extremely well with the ICON Shield Tip Golf Shoes ($300). The busy pattern enhances the simple, old-school shoe design, without going overboard. The black outsole almost acts as a frame for the inspiring artwork.
For a full-patterned look, the St. Jude Limited Edition Print Lisle Self Collar Golf Shirt ($75) is a great summer look. The micro-pattern almost looks like confetti from afar, and the designs are simple so you'll avoid any distracting details. It's got a ton of stretch built in, anti-microbial technology and durable double-stitched seams that'll keep you looking and feeling fresh.