News
Five unique Ryder Cup pools for obsessives and degenerates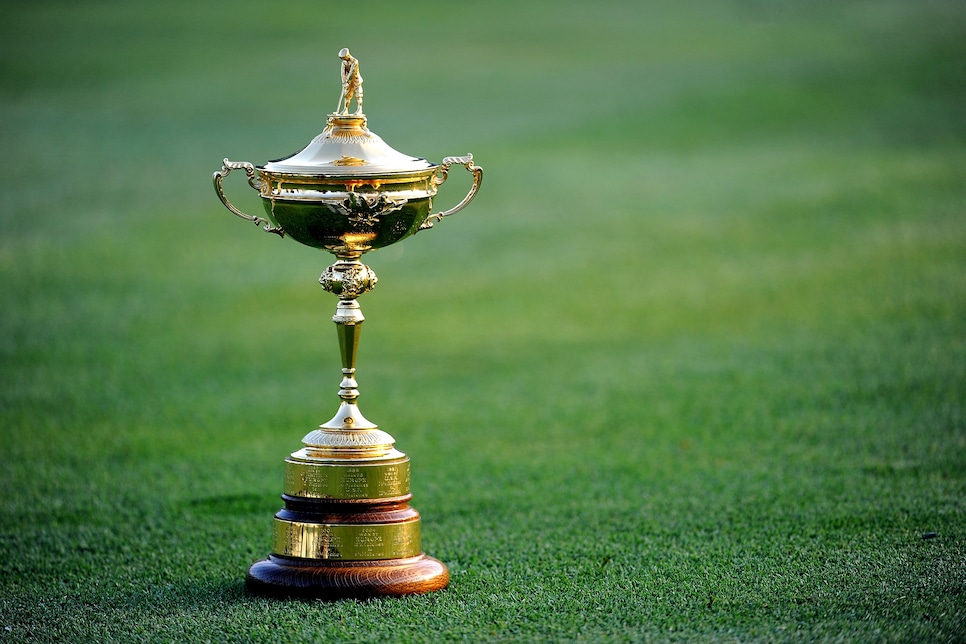 There are certain sporting events that lend themselves to gambling pools, and certain ones that just don't. March Madness is the capital-K King. There are a thousand brilliant ways to exploit that tournament for your degenerate kicks, including the classic bracket pick 'em. The World Series? Ehhhh...there's not much there, and any off-the-wall ideas end up feeling like a stretch.
In golf, the majors don't really lend themselves to fun, interactive, dynamic pools. Sure, you can do the thing where you pick a player or two from various world ranking categories, but for a sports pool nut like myself, it feels a little empty, a little dull. The Ryder Cup, on the other hand, is that rare event whose format is so unique that it practically begs you to devise sophisticated games of chance. Along with being one of the best sports exhibitions on the world, it's also a bed of fertile soil for pool-minded zealots like myself.
I fully intend to indulge my mania during this year's Paris event, and since the Ryder Cup pool represents an under-developed market, I'm about to do you and your golf-and-gamblin' friends a solid and give away five ideas for FREE. Real fans will play them all...are you a real fan? Are you?
Makes loud chicken noises for added peer pressure.
This pool, invented by yours truly for the 2016 incarnation, is tried and true and very fun. I'm leading with it because if you partake in just one pool, it should be this one. It would take more space than we have to explain the rules, so I'm going to refer you to this post from the Hazeltine Ryder Cup that details everything. The pod pool is a true joy, and it works best with at least 10 people (we had around 35 last time). The new pods for 2018 are below...feel free to tweak if you disagree:
Pod 1: Dustin Johnson, Patrick Reed, Justin Rose, Rory McIlroy Pod 2: Brooks Koepka, Justin Thomas, Ian Poulter, Jon Rahm Pod 3: Jordan Spieth, Tiger Woods, Tommy Fleetwood, Henrik Stenson Pod 4: Bryson DeChambeau, Rickie Fowler, Francesco Molinari, Alex Noren Pod 5: Phil Mickelson, Bubba Watson, Paul Casey, Tyrrell Hatton Pod 6: Webb Simpson, Tony Finau, Sergio Garcia, Thorbjorn Olesen
Very simple idea here, which I first tried in 2014 and will be bringing back this time around. It works best with six for fewer people, and the idea is that after the buy-in, each entrant gets 100 fictional units of currency. From there, all 24 Ryder Cup golfers are auctioned off one by one. The entrant whose final roster accumulates the most points at the Cup wins the pool. There are no limits on how many or how few players each entrant may acquire. The strategy is what makes this one a blast—do you spend big bucks on a guy like Reed and hope he goes H.A.M., or do you try to load up on as many cheap players as possible and diversify? You can run the auction order however you want, from best to worst, alphabetical, etc. I prefer a random order to keep things spicy, and will be using this site, which conveniently allows picks to be revealed one by one. All bidding starts at 5 units.
The real joy of this one, of course, is watching the one guy who waits too long, gets out-bid on his favorite player, and ends up spending 60 units on Thorbjorn Olesen. I personally plan to bully someone into spending too much on Webb Simpson, then getting stuck with him when I press it too far.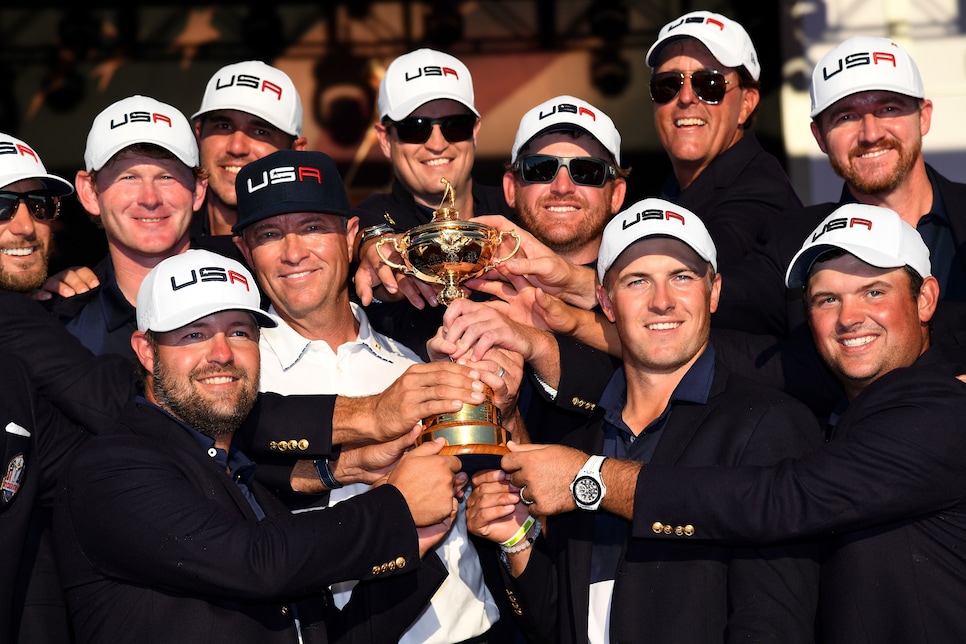 The rules here are simple: You pick one golfer per session, and in order to survive, your golfer must WIN. By my rules, a half is no good—it's win or go home—but you can certainly change that, especially if you have fewer entrants in your pool. In Sunday singles, you divide the 12 matches into two sessions (first six matches, last six) to add a round. Obviously, you cannot pick the same player twice. If there are multiple people still alive at the end of the six sessions, either split the pot or give the victory to the entrant whose six players won by a wider cumulative margin. I'm partial to the latter.
(The one quirk here is that picks must be made before a session starts, and the "afternoon" sessions in Paris will start quite early in the U.S., especially on the west coast (4:50 a.m.). If your pool isn't full of zealots who will be up to make their picks in real time, let the stragglers pick a list of three or four golfers ranked by priority ahead of time to make sure they get an active player.)
One last note: I hate buy-backs in survivor pools, but have at it if you must.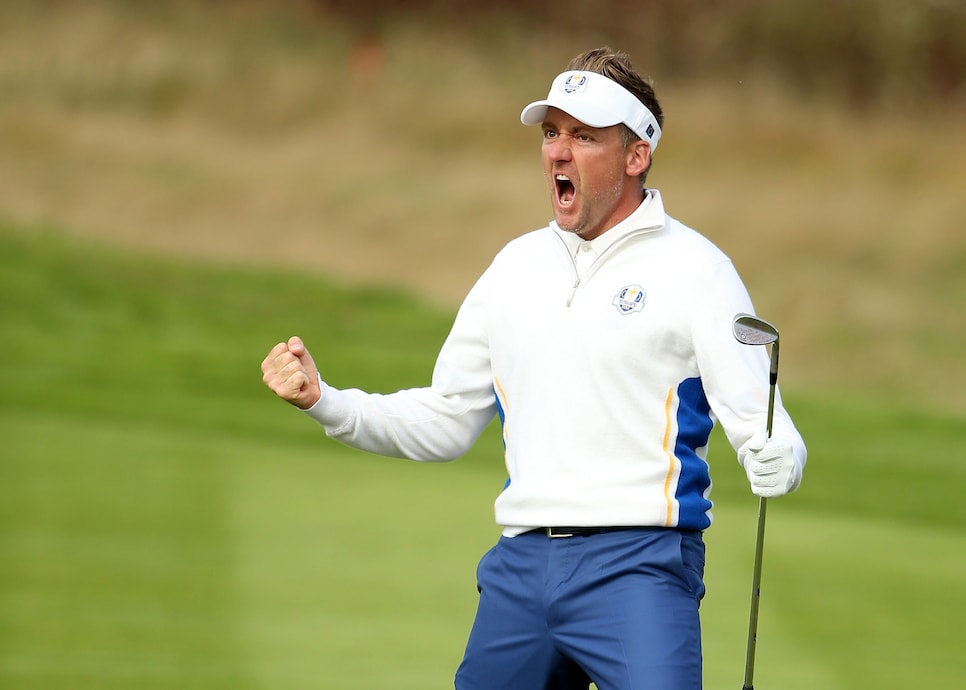 Ross Kinnaird/Getty Images
The basic version of this pool goes like this: Before any lineups are set (ie, before Thursday at about 11 a.m. eastern), each entrant picks five players—one for each session, no repeats. Points are gained or lost by how that player performs in his session, based on the hole where the match concludes. If the player wins on the 16th hole, that's +3 points. Lose on the 18th? That's -1. Halves his match? Zero points. And if the player picked does not actually play in the session in which he's picked, that's a -3 penalty. By Sunday's conclusion, the entrant with the most points wins.
Don't get me wrong—the basic version is good and could end up being very dramatic on Sunday when you need Rory to win on the 15th hole and Bubba to lose by the 17th. But since I love to complicate matters and screw with your brains, here are a couple wrinkles to add some perplexing strategy to the picks. These will work especially well in a larger pool:
—Any golfer not selected by a single entrant becomes a demon spirit known as a "Poulter-geist." If one of these Poulter-geists beats your golfer in the session you chose, you are eliminated. (I personally can't wait to have my weekend ruined by Tyrrell Hatton.)
—The most-picked player falls under the "Gardner Dickinson Curse" (holder of the all-time best Ryder Cup record among players with ten matches played), wherein his losing points are doubled and his winning points are cut in half.
After the buy-in, each entrant has 100 units to invest in 16 golfers before lineups are announced. You can go long or short on a player. If you're long on someone, you triple your initial investment for each win, win half for each half, and lose triple for each loss. If you short a player, it's flipped: You triple your investment for each loss, lose half for each half, and lose triple for each win.
I like to set a limit of 15-20 units spent on any player in order to force diverse investment strategies, but that's up to your discretion.
There you have it. If any of you ends up playing all five pools—I plan to, but might take a pass on number five—send me a tweet and I'll bow to your Ryder Cup obsession. Enjoy!