One of my only talents in this life—and in fact my greatest contribution to society—is inventing sports pools. Other people cure diseases, or start families, or build cool things, but my special genius lies in sitting in front of my computer (ideally in bed, with food spilled all around me) and using my God-given brain power for the sole purpose of creating intricate, beautiful, fun gambling pools based around major sporting events. I won't bore you with my long and glorious resume, but just to give you a taste, I devised a pool for the Rio Summer Olympics which involved picking nations to win specific events, but losing massive points if America beat that country. It was called "The Great Satan Pool," it was a total mind-distorter, and it led to dozens of people cursing me for making them root against their country. One guy liked it so much that he designed and mailed me a Great Satan t-shirt.
Enough about me—this weekend is the Ryder Cup, and in some ways it's the white whale of sports pools. Unlike March Madness, we don't know the match-ups beforehand, and things happen too quickly over the weekend to re-pick before each session. The problem was so tough that I realized, earlier in the week, that I couldn't solve it with my brain alone. Recognizing my limitations, I huddled with my friends Scott Prime and Brad Brezinski in a meeting of the minds that can only be compared historically to the team of masterminds JFK summoned to avert nuclear disaster during the Cuban missile crisis.
The stakes were high, but we delivered. The pool I'm about to describe involves strategy, risk, and huge potential point fluctuations during the weekend. It's intellectual and visceral at once, a stimulant to both mind and body. It's also complex—this can be enjoyed by casual fans, but will be right in the wheelhouse for golf obsessives. Here now, in six steps, is the world's greatest Ryder Cup pool, ready to be utilized by you and your friends.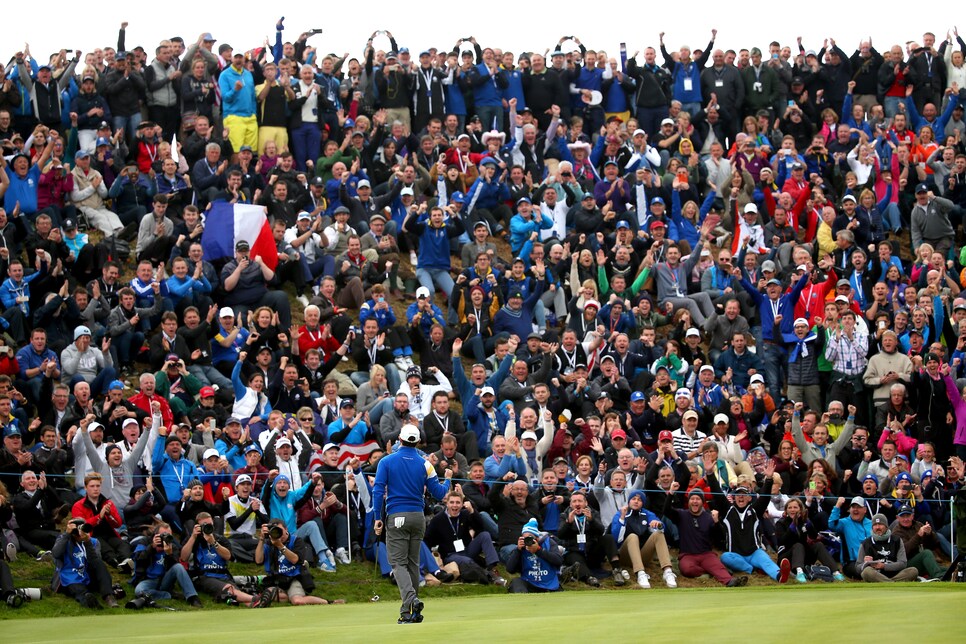 1. Each entrant will pick a team of six players—one, and only one, from each of the six pods laid out here:
Pod 1: Dustin Johnson, Jordan Spieth, Rory McIlroy, Justin Rose
Pod 2: Patrick Reed, Phil Mickelson, Henrik Stenson, Sergio Garcia
Pod 3: Jimmy Walker, Matt Kuchar, Danny Willett, Lee Westwood
Pod 4: Rickie Fowler, Brooks Koepka, Martin Kaymer, Rafael Cabrera Bello
Pod 5: Zach Johnson, J.B. Holmes, Matthew Fitzpatrick, Andy Sullivan
Pod 6: Ryan Moore, Brandt Snedeker, Thomas Pieters, Chris Wood
2. The goal is to score the most points over the course of the entire weekend (shocker!), but the scoring will not be straightforward. Here's how the points work:
GLORIOUS ANNIHILATION WIN on 14th hole or earlier: 15 points
EVERLASTING SHAME LOSS on 14th hole or earlier: -15 points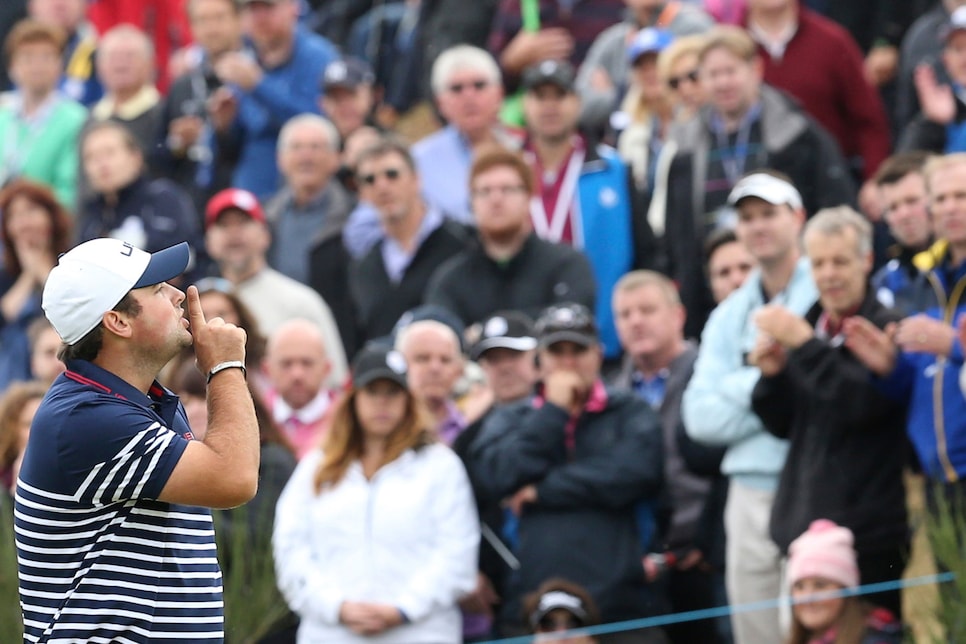 What if I have two players on the same team in one of the fourball or foursomes sessions? Will I get double points?
Including double negative points if they lose?
What if I pick an American and a European player, and they face each other? Do they cancel each other out?
This is the strategic element—do you put all your hope on a Stenson/Rose team, and risk getting killed by double negative points if they lose, or do you choose the players you think will do best (like Rory and Reed, for instance), and hope they don't face off? TOTAL CONUNDRUM!
4. BOOSTING: Here's where it gets good.
—You may use one and only one DOUBLE on any player you pick from Pod 1 or Pod 2. This will double that player's total points for the weekend (pool points as outlined above, not Ryder Cup points), including negative points.
—You may use one and only one TRIPLE on any player you pick from Pod 3 or Pod 4. This will triple that player's total points for the weekend.
—You may use one QUAD on any player you pick from Pod 5 or Pod 6. I know I'm insulting your intelligence by explaining this at this point, but yes, this quadruples that player's total.
Here's the catch—you don't have to use any of the boosts. Maybe you think none of the Pod 5 or Pod 6 players will end up with positive points, so you don't use your quad.
5. In the unlikely event of a WD or DQ, should they happen, the match will be scored using the system above based on the hole where the match ended.
6. The tiebreaker, if needed, will be the player with the highest-scoring individual golfer. If that's also a tie, you'll go down the line to the next-highest, until the tie is broken.
And that's that! I'm in this pool with 30 other golf fanatics and counting, and though I haven't yet finalized my picks, here's where I'm leaning at the moment:
What can I say? I'm a patriot. Enjoy the pool.