The Loop
Fitness Friday: Leave the cart in the barn
*Every week my colleague Ron Kaspriske, Golf Digest Fitness Editor, presents Fitness Friday on the Instruction Blog. This week he talks about the benefits of walking, and why there's really no excuse for taking a cart. Look for Weekend Tip tomorrow, and remember to follow me on Twitter: @RogerSchiffman**.
__Here's Ron:__Two hours, 28 minutes. That's my personal best walking the 7,259-yard Pine Barrens course at World Woods Golf Club in Brooksville, Fla. Granted, I was playing by myself on a nearly empty course, but I've also clocked the 18-hole trek in under three hours while walking and playing two balls tee to green. And my usual foursome near Golf Digest's office in Connecticut routinely plays in less than 3-1/2 hours. All walking. All carrying.
The point I'm trying to make is that walking does NOT slow down play. I often hear golf courses use this excuse as a reason for making players take a cart or restricting the times a golfer is allowed to walk (usually late in the day). The truth, more often than not, is that a golf course wants cart revenue so they hide behind a "no-walking-to-keep-play-moving policy."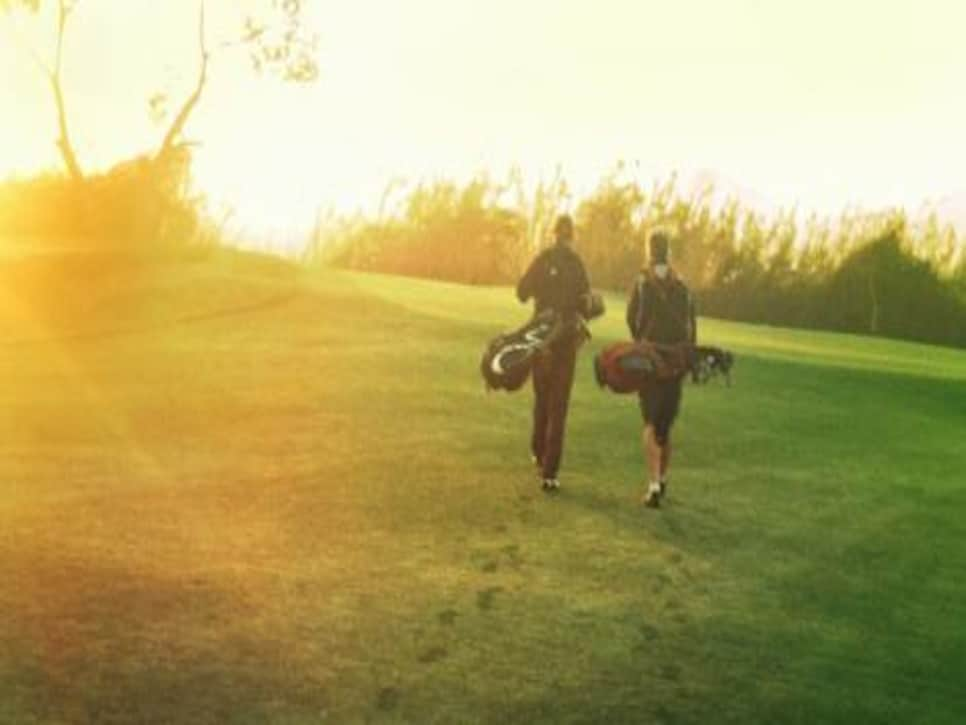 I'm going off on a rant here, because golf season is in full gear, and it's time to encourage as many golfers as possible to leave the cart in the barn and walk when they play. If you currently play a course that allows walking, and you're physically capable, there's no excuse for getting a cart. And if you currently play a course that doesn't allow walking, ask the pro or manager for permission. Tell him or her that you promise to keep up with the group in front of you and if you don't, they can kick you off the course. Some walkers even offer to pay a "trail fee" so they can walk and the course gets the revenue. If they still say "no," then tell them you'll find another place to play.
The benefits are too numerous to ignore. Whether you carry your bag or use a push/pull cart, walking counts as a moderately intense physical activity by the Centers for Disease Control and Prevention and the American Council for Exercise. Walking 18 holes, when compared to riding in a cart, burns at least 630 more calories. It also improves strength and flexibility in several muscle groups--most notably the glutes, quadriceps and hamstrings. Finally, it improves blood flow and heart strength and reduces the risks of Type II diabetes and high cholesterol (LDL).
Golf Digest recently teamed up with Humana for its "Walk It" program. Thousands of pedometers were given away to help encourage golfers to not only walk, but track their steps. Also launching a walking campaign is the Hospital for Special Surgery and the PGA of America. In addition to giving away thousands of pedometers at the Senior PGA Championship, the PGA Championship and the Ryder Cup later this year, a new website was just launched where you can track how far you've treaded. Go to http://www.hss.edu/golf to check it out.
So how far do you walk when you play 18? And do you walk farther if you spray the ball versus keeping it in the fairway? Back in 2009, fellow editors Ashley Mayo (@ashleykmayo) and Jeff Patterson (@1stiwasafraid) helped me put together an article in Golf Digest tracking the distance traveled by golfers (male and female) who rode in a cart with no restrictions, who rode in a cart with a "cart-path-only" restriction and who walked. This study was done on several courses over several months counting every step for each round. Their findings should convince you, once and for all, to get out of the cart. Click here to see the results.