The Loop
First Golfer Obama: A Story?
It comes as no surprise to this editor that the Obama story has already generated some stick-to-your knitting responses. From Illinois of all places comes this letter: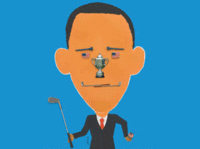 Dear Editor:  At a time when the mainstream media is fawning and gushing over Obama while many of the rest of us are trying to forget him, is it asking too much for Golf Digest to stick to golf and not get sucked into Obama worship? In your February issue I counted six or seven pages of Obamamania, not including the one-page-with-photo Editor's Letter. So the guy's a casual golfer who likes the game and shoots in the 90s. This deserves a swing analysis by three top teaching pros? Give us a break. It would be interesting to go back to review your issues shortly after George W. Bush was elected to see how many pages you devoted to his golf game. But I figure everybody's entitled to a quadruple bogey once in a while--and your February issue was at least that.