Find Your Fit
Shopping for golf equipment doesn't have to be painful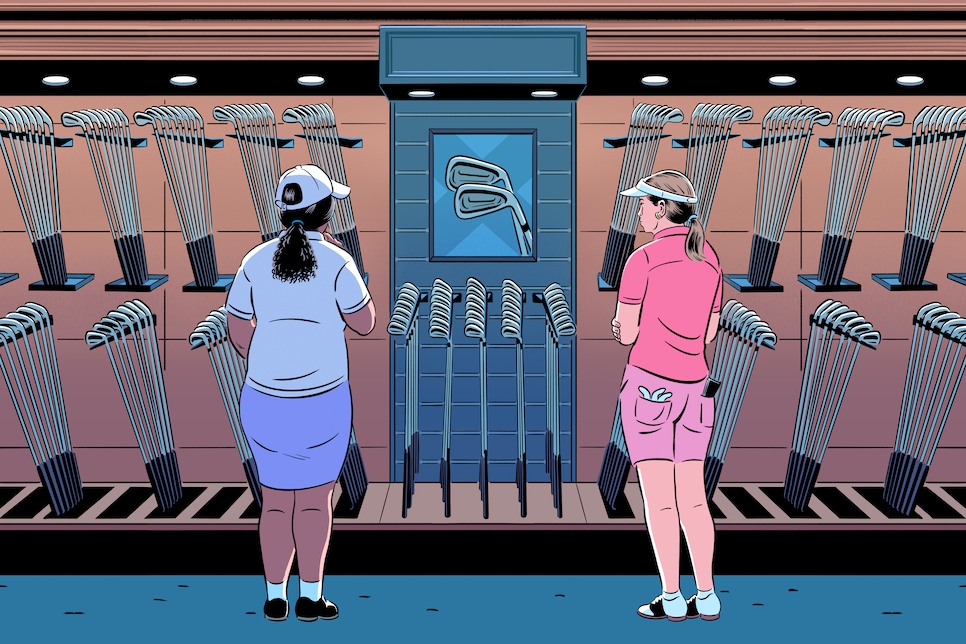 Illustration by Madison Ketcham
Kim Fogel shot 85 for nine holes in her first official round, not including 40 swings that missed the ball. In the 18 years since, she has gotten her game down to a 7.8 Handicap Index and is on her fourth set of clubs. Her progress in the game mirrors her progress in how she has selected her clubs. All those whiffed shots ago, she purchased a packaged set labeled "Ladies." Now she's on her second set of custom-fit irons with a men's senior-flex shaft.
Getting better meant becoming her own advocate when she went shopping for clubs. It helps to work with a technician like John Pak at Golfdom, one of Golf Digest's 100 Best Clubfitters. Says Fogel, "When I went for this last fitting, John said, 'What do you need in your game?' I said, 'I'm tired of my shots hitting the green and running through. I want the ball to land and stop.' I ended up with clubs that gave me a better trajectory and landing angle so that my shots landed on the green and stopped. That was very big for me."
Fogel's learning curve and periodic equipment adjustments should be the typical process of any player. The golf industry, however, hasn't quite figured out how to serve women golfers as well as it serves men. This would seem to be a key issue given the recent surge in female golfers. Unfortunately, it's not necessarily going well. According to a Golf Datatech report, women's equipment sales represent nearly one-fifth of the U.S. market (or about $1 billion annually), but only six in 10 avid female golfers say they are very comfortable entering a golf-retail store to shop for new equipment, and only three in 10 said their local golf shop was an inviting place to shop for new equipment.
Said one female golfer: "It's ridiculous to offer the same women's club to an 80-year-old and a 30-year-old. There should be shafts and club characteristics that fit the golfer regardless of gender. I've been playing golf for more than 50 years and have never had a good experience when I have walked into a golf store for clubs." That's an avid player. Imagine the uncertainty and frustration that awaits new female golfers.
National Golf Foundation figures state that of the 25 million current golfers in the United States, almost one-fourth are women, a 7-percent increase in one year. What a beginner needs to remember is the same advice male golfers have been given for years: Ask someone who knows. Your swing instructor, your club pro and an expert fitter are good starting places.
The equipment market for women is broader now than it has been. Companies used to introduce women's versions of men's clubs in lighter weights or shorter lengths and in an aesthetic deemed feminine, usually by a group of men. It's what some insiders refer to as "shrink it and pink it." It hasn't completely gone away, but women's club designs have improved. For example, Cobra's LTDx Max and TaylorMade's Stealth drivers offer subtly distinct women's versions, and the Callaway Rogue ST Max women's driver looks just like any other version, save the lighter grip, shaft and swingweight. Golf Datatech's survey was revealing when it asked women what was important about the aesthetics of a club: Nearly 75 percent said, "I'm more interested in how the clubs perform than what they look like."
How does a beginning golfer balance those competing interests of aesthetics and performance with the uncertainty of what to buy and how many? We talked to experts who have worked with women and their equipment needs at all levels. Here are some key points:
• Your needs are unique. "A woman with an athletic background is probably stronger and might find a full men's set in regular flex a better fit," says Jim McCleery, founder of McGolf Custom Clubs. "A woman who hasn't been involved in a stick-and-ball sport or professes little athletic ability might find a short set of women's clubs more suitable to her needs."
• The relatively low cost of a prepackaged boxed set gets you in the game, and the weights and lengths might be ideal. That said, depending on your height, strength and athletic ability, a boxed set designed for senior men might be an even better option to start.
• Ignore the 14-club rule. "A beginning female golfer should focus on contact and launch," says Ryan Johnson, master fitter at Carl's Golfland. "It's common to see a beginner come in with hand-me-down men's clubs, long irons or a strong-lofted 3-wood. With the slower swing speeds, getting the ball some height is not achievable with those clubs. I've had success fitting 7-woods, 9-woods and even 11-woods." Johnson's colleague Brad Coffield said the number of clubs is a problem with those boxed sets. "The player gets way too many clubs, and there are little to no customization options," he says. "Whenever I get a beginning female player to come in for a fitting, she rarely needs to buy more than six or seven clubs."
The six clubs you need starting out are a club to hit off the tee (driver with at least 13 degrees of loft), a club to advance the ball from long distance (a 7- or 9-wood), a club to advance the ball from middle distances (a 7- or 8-iron), a club for short distances (a pitching wedge) and a club for shots around the greens and bunkers (a game-improvement sand wedge) and a putter.
• If you've never played golf, don't get fit. Buy a used women's 5-wood, sand wedge and a putter online and take some lessons. If you like it enough to want new clubs, go see a clubfitter.
• "Stay open minded," says Olivia Pizii, a PGA professional at Carl's Golfland. "Do the research, read reviews and talk to the club experts. Often a basic fitting and trying out clubs can tell you a lot about what works for you."
Kim Fogel says those conversations weren't happening at the start of her golfing odyssey 18 years ago. "When I first started, women's stuff just wasn't exciting," she says. "You maybe had a couple of choices. Now I research and know more about what I'm looking for."
That's just plain club smart, no matter your gender.