The Loop
Final Notes From St. Andrews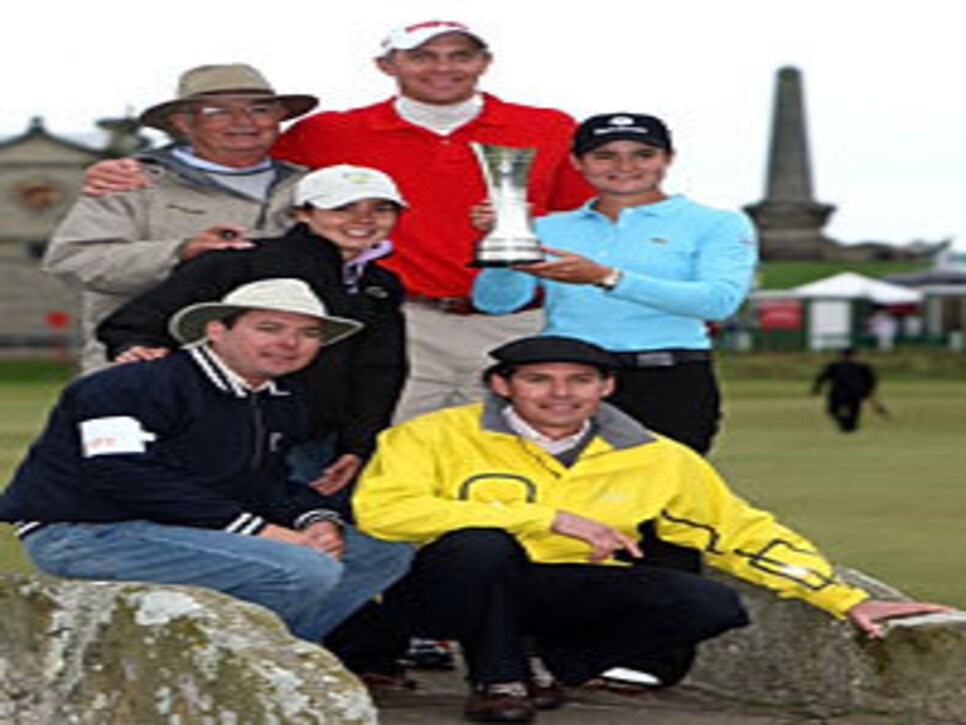 ST. ANDREWS, Scotland -- While seven potential members of the U.S. Solheim Cup team headed for Sweden on Monday for a practice round at Halmstad Golf Club, site of the competition against Europe in September, Ricoh Women's British Open champion Lorena Ochoa, who is not Solheim Cup eligible, departed for a vacation cruise through the fjords of Norway. She's traveling with her sister Daniela and brothers Javier and Alejandro, all of whom did a little partying last night at the Dunvegan Hotel, where more of the 25-member Ochoa entourage was staying (that's Ochoa, her caddie and family members on the Swilcan Bridge in the photo). She'll next compete at the CN Canadian Women's Open in Edmonton on Aug. 16-19 and return home to Mexico for what will likely be a hero's welcome in late August. ...
Ochoa continues an interesting streak this year. All four LPGA majors were captured by first-time major championship winners. Morgan Pressel grabbed the Kraft Nabisco Championship, Suzann Pettersen won the McDonald's LPGA Championship and Cristie Kerr took home the U.S. Women's Open. The three men's majors played so far have also been won by first timers: Zach Johnson (Masters), Angel Cabrera (U.S. Open) and Padraig Harrington (British Open). Maybe that's a good omen for Sergio Garcia at this week's PGA Championship. ...
British TV made good sport of Thad Kael, orange-haired caddie for Linda Wessberg at St. Andrews. Kael was constantly sprinting yards ahead to check out shots, the most absurd being on No. 14 Sunday when, after Wessberg drove out of bounds and was getting ready to put her provisional ball in play, Kael ran a good 200 yards down the fairway. Other caddies, watching in astonishment on TV, broke into laughter when British commentator Peter Alliss, taking note of Kael furiously scribbling in his yardage book after another excursion down the fairway, said, "Perhaps he's penning his memoirs." It certainly didn't help pace of play. ...
Louis Suggs, the 84-year-old LPGA founder who flew in to witness the first women's pro tournament at St. Andrews, headed off to Edinburgh on Monday morning where she waited over night for the LPGA delegation to return from Sweden. She'll then join them for the flight back to her home in Florida on Tuesday. ...
It was probably not how Paula Creamer planned to spend her 21st birthday, but she had a perfect view for the key hole Sunday. Creamer watched from the balcony of her Old Course Hotel room off the 17th fairway as Ochoa negotiated the last scary hole at St. Andrews. The Pink Panther finished T-7 at 2-over 294, seven strokes behind Ochoa, and still seeks her first major. ...
Last thoughts on St. Andrews: The British Open should be played here as often as possible, both the men and the women. Actually, coming just every five years or so does add to the special feeling, but there is no question this is a magical place if you care at all about golf. The great thing about links golf -- and the Old Course is a shining example -- is that you have to think on absolutely every shot. You can't just reach for the driver off the tee or play a high shot with spin as your approach to the green. It's fun to watch, fun to play and it makes you realize why the Europeans do so well in the Ryder Cup. They have more shots. ...
Cheers mate, see you down the road.